Uzès, land of authenticity
With its narrow cobbled streets, Uzès has preserved its genuine medieval charm. In the countryside of Le Gard, this little town stands in the midst of landscapes comprised of vines and olive-trees, symbols of the laid-back Southern lifestyle so dear to its residents and visitors.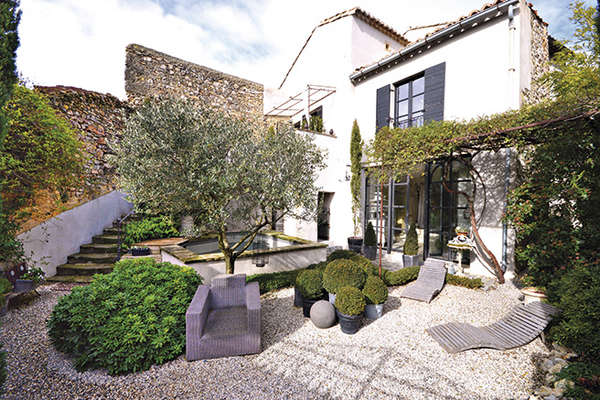 Ten minutes from Uzès, this superb 18th-C. village house of 270 m2 with several gardens and a guest cottage has been treated to sumptuous restoration using authentic materials. 670.000 €. Catherine Labruyère immobilier (04 66 03 41 71).
32 km from Alès, 40 km from Avignon and 25 km from Nîmes, Uzès benefits from easy access. A "Town of Art and History", and the first Duchy of France, it boasts many buildings either listed or forming part of France's Historic Monuments. Its remarkable architectural legacy, its feudal towers, cathedral, châteaux and church all bear witness to its rich past and offer esthetic appeal appreciated by all. On Saturdays, beneath the arcades of the Place aux Herbes and in the neighbouring streets, its colourful market proposes a wealth of local produce.
Hervé de Maulmont, Director of Catherine La Bruyère Immobilier, has an optimistic view of the property market in Uzès : "In 2016, it was very buoyant. Furthermore, with the onset of 2017, even though the positive pre-election effect we are seeing does not necessarily guarantee a good performance for the market in the second half of the year, we are still counting on steady prices. Our agency has opted to promote properties which, in our opinion, represent indispensable features". In fact, only properties offering authenticity and quality draw the attention of Hervé de Maulmont, aiming to meet the requirements of a clientele looking for precisely those criteria. "We benefit from particularly remarkable architecture in our region, often more refined than in other areas in the South of France. We once laid claim to a flourishing silk trade which was a real economic blessing." For a property to be seen as truly appealing, it must fulfil three conditions : a good location, a high sense of decorum, and a coherent price. In an elegant neighbourhood a 7-minute walk from the centre of Uzès, a beautiful 18th-C. property of 250 m2 in 9,700 m2 of grounds thus ticked all the boxes for clients who acquired it for just under 1 million euros. Eight km from Aubussargues, the agency sold a 17th-C. "mas" of 490 m2, with 300 m2 to restore, also priced at around 1 M €. Finally, in an ideal location in the historic centre of Uzès, a small 2-bedroomed apartment, beautifully restored, found a taker at 3,900 € per sq. metre.
For Cathy Matera of Uzès Résidences, the town has some weighty arguments : "It is a very lovely medieval town, only 30 minutes from Avignon and Nîmes. It benefits from easy access and lots of sunshine". The market for old buildings comprised of stone properties set in grounds with pools draws lots of interest. These residences have often been renovated and can then post prices from 600,000-700,000 €. For more modest budgets, some can be found if the grounds are replaced by a courtyard, and the pool by a pond. For even lower prices, one usually has to search a little further out. Less than 10 minutes from Uzès, for example, the agency just sold a charming stone house of 130 m2 with a small "vicar's garden", priced at 340,000 €. Within walking distance of the centre of Uzès, a smart contemporary property in very private grounds of 3,000 m2 offering a lovely view and infinity pool found a new owner at over 1.8 M €. These two transactions involving second residences are good illustrations of the current market, a dual market, as pointed out by Cathy Matera : "Properties acquired as holiday homes are often destined to become permanent residences when their owners retire".
Johanne Meurant has managed Cigal'immo for the past 18 years. "Uzès is a town on a human scale, offering all the amenities needed by its residents, and lively all year round." In her case, demand is mostly for villas with 3 or 4 bedrooms, a garden and pool, priced around 350,000 €. She in fact just sold two recent villas offering the same amenities : comfortable, well equipped and maintained, living space of 120 and 135 m2 with an en-suite bedroom on the ground floor, two more on the upper floor, gardens and pools, both priced at 390,000 €. As for apartments, Johane Meurant mentions the arrival of new developments which can be bought off-plan, at 4,000 € per sqm. These properties appeal to an older clientele wanting to benefit from the advantages of a select residence with a lift, garages, outdoor areas and a pool. Cigal'immo recently handled the sale of two such apartments. Like her counterparts, Johane Meurant confirms that Uzès's property market is above all a two-tier market : "67 % of the buyers are not from Le Gard. Most of them treat themselves to a holiday home, then move here permanently".
You will also like