The Franco-Swiss region known as "Le Pays de Gex"
Between the Jura mountains and Lake Geneva, the main assets of Le Pays de Gex are its magnificent green scenery and, above all, its immediate proximity to the cantons of Geneva and Vaud. A strategic position, boosted by very efficient transport networks.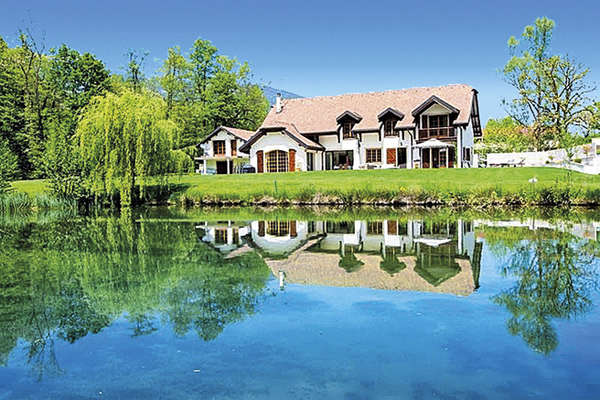 This majestic property in Thoiry is edged by a large pond and a stream. Nestling in a leafy setting of over 8,000 m2, it offers usable living space of 560 m2. 1.980.000 €. Immobilac (04 50 28 44 33).
This arrondissement in L'Ain is home to some 70,000 people. Comprised of Divonne-les-Bains, Ferney-Voltaire, Gex, Saint-Genis-Pouilly, Prévessin-Moëns, Sergy and Thoiry, it lies between the Jura mountains and Lake Geneva. Here, picture-postcard landscapes follow one another in the nature reserve of Le Haut Jura. Many people working across the Swiss border choose the area as their main home, especially as the largest communes offer all the amenities required for pleasant family life, and the choice of schools, up to Bac + 5, is wide, international, and enjoys a good reputation. Throughout the entire area, the local economy is largely dependent on its Swiss neighbour, the main pool of employment for its residents.
"The stock of available properties is currently quite large. Buyers have a choice, though prices which have declined over the past few years are now tending to stabilize," explains Jean-Louis Spiller, manager of the agencies ORPI Lion d'Or Immobilier in Saint-Genis-Pouilly and Voltaire Immobilier in Ferney-Voltaire. Accommodation in Le Pays de Gex is mostly comprised of detached houses, with the few apartments mainly to be found in Thoiry and Saint-Genis-Pouilly. "In older residences, 1-bedroomed apartments of 50 m2 start from 200,000 to 220,000 €, 2-bedroomed apartments of 70 m2 from 250,000 €. In new developments such as the River Park residence, currently being marketed, a 1-bedroomed apartment can be acquired from 241,500 €, parking place included. The most freqent requests, however, are for houses of 100 to 120 m2 with gardens of 500 m2, priced around 500,000 €," adds Jean-Louis Spiller who, by way of example, mentions a property in Thoiry, built in 1875 and now fully renovated in contemporary style. Offering living space of 240 m2 including an independent 2-bedroomed apartment, and with a garden of 420 m2, it just sold for 540,000 €. In Ferney-Voltaire, a very select address, prices are higher. Justifiably so, due to its immediate proximity to the airport and large Genevois institutions drawing a clientele with higher purchasing power. "To set your sights here on a pleasant detached house with 3 or 4 bedrooms, you need a budget of at least 600,000-700,000 €." There is also a substantial stock of available properties here, with buyers in a strong position and bargaining rife on the ground.
This observation is shared by Patrice Figuet, in charge of the Immobilac agency, offering expertise on Le Pays de Gex since the year 2000. "Our market is still rather taut and particularly held back by the attitude of banks which continue to tighten their conditions for the granting of loans. Even so, demand is very real, though rapid completions are rather rare," deplores this specialist, who also sheds light on another aspect of the market, that of building land. "Some buyers are actively looking for building plots which, in this area, can be found from 450 to 600 € per sq. metre." The market for new developments is lively, backed by a strong wind in its sails : one example is a select development in Sergy where 40% of the lots on offer from 4,000 to 4,200 € per sq. metre have already been sold, with delivery slated for the end of 2016. Many more developments are in the pipeline on other communes, especially at the heart of the commercial zone of La Poterie in Ferney-Voltaire, which should be entirely redefined over the coming years with the construction of several thousand new homes.
You will also like