Le Pays de Gex, a privileged location
At the gateway to Geneva with its airport and international institutions, Le Pays de Gex appeals for its natural, quiet and residential setting. Benefiting from efficient transport networks, shops and amenities, this area in the north-eastern part of the département of L'Ain is comprised of communes undergoing extensive development.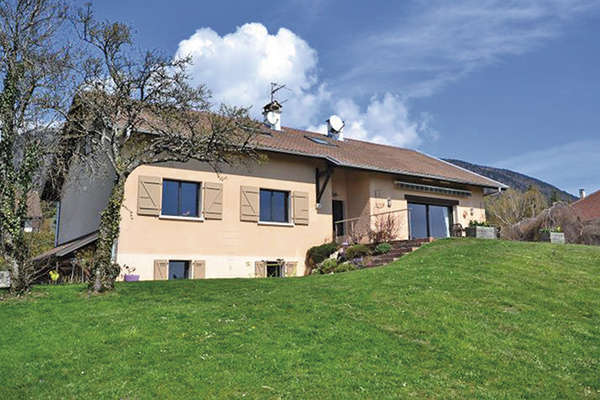 This 6-bedroomed villa in Gex benefits from a self-contained apartment and grounds of 1,427 m2. 795.000 €. Immobilac (04 50 28 44 30).
Nestling between Switzerland and the Jura mountains, Ferney-Voltaire, Divonne-les-Bains, Saint-Genis-Pouilly, Gex, Ornex, Thoiry, Prévessin-Moëns etc. have undergone strategic urbanisation over the past few years. Within the agglomeration of Geneva, Le Pays de Gex stands out for its large protected stretches of nature, and communes with a rich past. Le Cern, the Technoparc and the large Val Thoiry shoping mall have boosted the attractiveness of this area offering a harmonious mixture of old and recent buildings. Following a drop of about 15 % in prices, all kinds of homes combined, the property market in Le Pays de Gex seems to have enjoyed a certain liveliness since the start of the second quarter of 2017.
"Most of the sales we have handled recently involve main residences acquired by first-time buyers, including numerous "frontaliers" (people working across the border)," says Patrice Figuet of the Immobilac agency, opened about 10 years ago and covering the entire Pays de Gex. With budgets ranging from 450,000 to 550,000 €, these buyers are looking for pleasant family villas. With budgets of 250,000-350,000 €, they can also envisage 2-bedroomed apartments. "We are currently marketing several new developments in Thoiry, Ferney-Voltaire, Ornex and Saint-Genis-Pouilly. These apartments are pegged from 4,200 to 4,800 € per sq. metre. Buyers, including a few investors, are drawn by these residences offering a full array of modern facilities along with appealing energy standards. With the bonus of reduced notary's fees, it is easy to understand that new-builds meet with a certain success. Delivery times are the only thing that make those in a hurry hesitate." In the case of houses, the most attractive communes are Divonne and Prévessin-Moëns. Also highly-prized, building plots currently cost from 500 to 600 € per sq.m. "We only offer small plots from 400 to 500 € per sq.m," says Patrice Figuet. "Clients pay close attention to a plot's capacity to ensure the type of construction they want, within a global cost of around 450,000 €. Due to the rarity of building land, plots have not been affected by the overall price decline we have seen over the past two years."
Launched in 2008, the Orpi agency in Ornex specializes in sales and real-estate expertise all over Le Pays de Gex. Mostly Swiss and "frontalière", its clientele took the time to observe the market throughout the pre-electoral period in France. "Announcements concerning certain draft laws have led to a more hesitant approach on the part of Swiss buyers, especially those with generous budgets, from 1 to 2 million euros," explains Francis Choy. "Today, whether for a house, a building plot or an apartment, the budgets we see most frequently range from 300,000 to 650,000 €. As large plots of building land are chased by local and national developers, individual buyers set their sights on small plots being sold off from larger properties which, in the southern area, are proposed from 250 to 550 € per sq.m depending on their location and attributes. Despite a gap which is still wide between sellers' expectations and market reality, activity seems to be picking up. Buyers have a rather wide choice of offerings, especially in the case of houses of quality, up for sale from 400,000 to 900,000 €."
You will also like