The border market of Le Pays de Gex
In the north-eastern part of the département of L'Ain, Le Pays de Gex benefits from its immediate proximity to the border with Switzerland. An advantage fully understood by developers...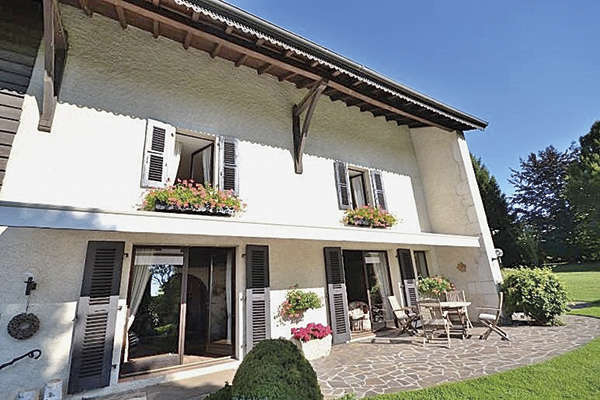 This farmhouse dating back to the 18th century is in impeccable condition. It offers a garden of 450 m2 and an attic of 100 m2 suitable for conversion. 645.000 €. Immobilac (04 50 28 44 30).
Lying between the mountains of Le Jura and Switzerland, the communes of Ferney-Voltaire, Divonne-les-Bains, Saint-Genis-Pouilly, Gex and Ornex are undergoing strategic urban development, mainly turned towards the agglomeration of Geneva. At the heart of Europe, the area benefits from a dense transport system and proximity to Geneva's international airport, while enjoying vast stretches of well-preseved nature. Despite the slowdown caused by the financial crisis and a few reforms making some buyers postpone their decisions, demand is still strong, especially from many people working across the border, drawn by lower prices than those posted in Switzerland. Le Pays de Gex is also seeing the emergence of large-scale projects such as the "Cité Internationale des Savoirs" occupying almost 25 acres of land in Ferney-Voltaire. This hub of skills dedicated to knowledge transfer, the service sector and innovation will accommodate training institutions and an important NGO. Delivery of the first building of 5,000 m2 is scheduled for the beginning of 2015.
Jean-Louis Spiller, developer and director of two estate agencies in Le Pays de Gex (Lion d'Or Immobilier created in 2005 in Saint-Genis-Pouilly, and Orpi Ferney-Voltaire), is actively participating in the expansion of Le Pays de Gex through his activity as a property developer. "The four most sought-after communes are Saint-Genis-Pouilly, Divonne-les-Bains, Gex, with Ferney-Voltaire topping the list, highly-prized by Swiss clients and French people working across the border, as it is right on the frontier and in immediate proximity to numerous international organizations." Here, new high-quality apartments are proposed from 4,800 to 6,000 € per sqm. The average price of apartments on the other communes is around 4,000 € per sqm. Houses are also in demand from families who can find all the infrastructures necessary for children in these communes. "In Saint-Genis-Pouilly, a villa of 140 m2 in excellent condition, offering 4 bedrooms and a garden of 1,000 m2, is up for sale at 650,000 €," says our expert, who is also marketing many new apartments in pleasant contemporary residences with the low-energy BBC label. One example is "River Park" in Saint-Genis-Pouilly, a development comprised of 30 apartments with terraces in two buildings, whose sales were launched this spring.
Patrice Figuet, manager of Immobilac, a subsidiary of a Swiss agency based in Ferney-Voltaire for the past 15 years, has noted a setback in demand which is, however, set off by dynamism and adaptation in terms of offerings. "Le Pays de Gex is renewing and significantly extending its housing possibilities. We are currently marketing about 30 new developments in all of the communes, some as sole agent." By way of example, he mentions the "Eden Square" estate in Saint-Jean-de-Gonville. "With this development, the municipality plans to densify this small commune while encouraging home ownership, especially for first-time buyers. The prices posted are therefore 10 to 15 % below the market. Buyers can thus acquire a semi-detached villa with a small garden from 290,000 €, on a contemporary development meeting RT 2012 standards." Confronted by these competitive prices, the re-sale market is inevitably suffering and seeing sharp declines in prices. "Only impeccable properties in prime locations continue to appeal," comments Patrice Figuet, whose clientele is mainly comprised of Swiss buyers and French "frontaliers" looking for houses with average budgets now ranging from 380,000 to 420,000 €.
You will also like