La Chautagne, an authentic region
At the north-western tip of the département of Savoy, La Chautagne consists of 8 communes on the banks of Lake Bourget, the largest natural lake in France.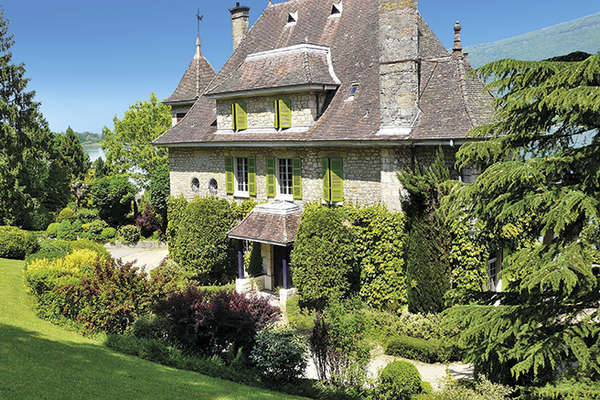 In Conjux, this exceptional "Belle Epoque" property offering living space of over 450 m2 in a landscaped park of approx. 2.5 acres with a pool stands on the banks of Lake Bourget. 3.850.000 €. Concept'immo (08 05 69 64 30).
Comprised of Chanaz, Conjux, Chindrieux, Ruffieux, Serrières-en-Chautagnes, Motz, Saint-Pierre-de-Curtille and Vions, La Chautagne and its immediate surroundings have retained all the beauty of mountain and rural scenery. A wine-producing region, La Chautagne was awarded the "Vignobles et Découvertes" label in 2011 thanks to the quality of its artisanal produce : wines, cheese, spirulina, walnut and hazelnut oil. Its historic heritage includes the Abbey of Hautecombe overlooking Lake Bourget, the most widely-visited tourist attraction in the département.
"With their train stations taking passengers straight to Geneva, Seyssel and Corbonod are the most sought-after communes in the area by people working across the border, often in their forties or early fifties," says Géraldine Vergnes, negotator for SCP Lafay-Dogneton. Posting more affordable prices than those in the Pays de Gex, for example, La Chautagne is of interest to this clientele ready to spend longer travelling back and forth in order to gain in space and quality living conditions. "The clients appreciate recent homes which just need freshening up." Among her latest sales representing the current trend, Géraldine Vergnes mentions a house of 150 m2 built in Anglefort in1995. Offering 3 bedrooms and grounds of 1,468 m2 with a clear view of Le Val-de-Fier, it just changed hands at 240,000 €. "Activity is very lively. Buyers have realised that the market, which saw a constant decline in prices these last few years, now offers real opportunities to be snapped up quickly, as prices are now tending to stabilize," adds this negotiator.
Her observations are shared by Sylvain Ojeda, an expert on the area for the past 13 years who launched the Concept'Immo agency four years ago. "More than ever, the market in La Chautagne is in the hands of buyers who find themselves in the best possible position. The stock of properties is reasonable, prices too, and mortgage rates are still very low." Mostly with budgets of 200,000 to 300,000 €, the agency's clients are ideally looking for 3-bedroomed villas in good condition with gardens of around 1,000 m2. Very highly-prized, the values of properties at the water's edge are beginning to rise. These properties are worth around 1 million euros.. Very few apartments are available in the area, and new developments are rare. Currently, a modern residence consisting of 8 apartments with delivery scheduled for the second quarter of 2016 on the commune of Chindrieux is thus an exception. "Marketing has just begun. These apartments will draw a local clientele of seniors preferring to live in apartments and buyers from abroad or other regions of France, fond of green tourism and sailing, in search of a small second home ideally located at the heart of the mountains and close to Lake Bourget.". Offering both charm and a full array of modern amenities, this new address on a human scale proposes 2- and 3-bedroomed apartments from 2,000 to 2,400 € per sq. metre, depending on their living space and appointments. By way of example, Sylvain Ojeda cites a 2-bedroomed apartment of 62 m2 on the ground floor, benefiting from a private garden of 65 m2, on offer at 151,000 €.
You will also like