Trends on the border with Switzerland
At the gateway to Geneva, between the Jura and Lake Geneva, Le Pays de Gex offers luxuriant scenery. Already very lively, the area is still undergoing development, benefiting from its closeness to Switzerland.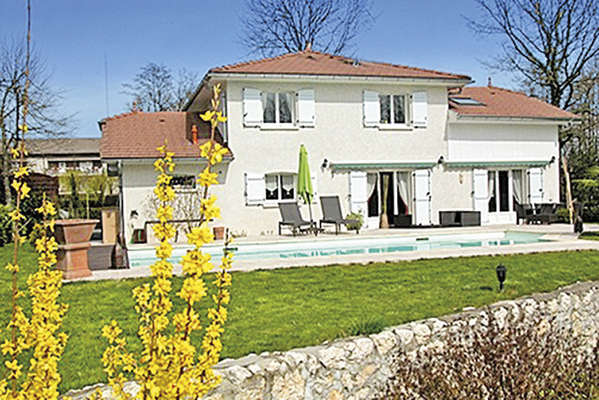 In Divonne-les-Bains, this family villa of 220 m2 offers 7 main rooms in grounds of 1,155 m2 benefiting from a pool. 1.090.000 €. Divonne Immobilier (04 50 20 01 80).
Gex, Divonne-les-Bains, Ferney-Voltaire, Saint-Genis-Pouilly, Prévessin-Moëns and Thoiry are the main towns in this historic region lying north-east of the département of L'Ain. Home to about 70,000 people, it continues to welcome new arrivals, mostly "frontaliers", ie. people working across the border - and especially families drawn by its proximity to the Swiss capital, and the high quality of schools, amenities and living conditions to be found here. Between the Col de la Faucille, Mont-Blanc and the nature reserve of the Upper Jura, a succession of magnificent landscapes unfolds.
"Nowadays, the bulk of demand comes from buyers with budgets ranging from 400,000 to 550,000 € for detached houses on all the various communes," says Francis Choy, manager of the Orpi agency in Gex opened in 2008. "Since the series of government measures which hardly encourage investment in France, the Swiss are no longer among our potential buyers. So top-notch properties worth around 1 million euros are now having a tough time finding takers. Today's clientele is composed of young families looking to buy their main homes," explains our specialist, whose catchment area encompasses all of the communes in Le Pays de Gex. "This situation requires sellers to post their properties right from the start at the right market price, or even a more competitive price if they want sell quickly. Today's market is clearly in the hands of the buyers."
This observation is shared by Catherine Arrou-Vignod, manageress of Divonne Immobilier, an agency based at the heart of this charming thermal spa in the Franco-Valdo-Genevoise agglomeration, home to over 100 different nationalities. "Since 2012, our sector has suffered from various laws and measures which have had a direct impact on the local property market. Prices, which were high, have dropped to reasonable levels. Many properties currently represent genuine opportunities, as Divonne-les-Bains is still a sound investment." This charming commune forming part of Greater Geneva does indeed offer a pleasant life-style, appreciated by a well-off international clientele. Furthermore, Divonne, near the cantons of Vau and Geneva, offers the advantage of being just 15 minutes from the international airport. "Most enquiries now concern properties around 800,000-900,000 €. Those over 1 million euros do not easily find takers." On the other hand, families in search of very large apartments can now acquire high-class properties offering excellent value for money. By way of example, our estate-agent mentions an apartment of almost 105 m2 on offer at 596,900 €. In a new residence undergoing delivery - La Villa Toscane -, it benefits from numerous assets including a view of Mont Blanc, a terrace and a double garage. "New residences post prices around 5,500 € per sqm. Apartments up for resale range from 4,000 to 4,500 € per sqm, depending on their condition." The only properties not to have suffered from the overall decline - which has seen some prices on the commune fall by 15 to 20 % - are building plots of 800 to 900 m2 priced from 500 to 600 € per sqm, due to their rarity.
You will also like