Uzès : a town of undeniable charm
A few kilometres from Nîmes and Avignon in Le Gard, this town of art and history just brims with charm. The commune of Uzès draws both French and foreign buyers looking for homes in an enchanting region.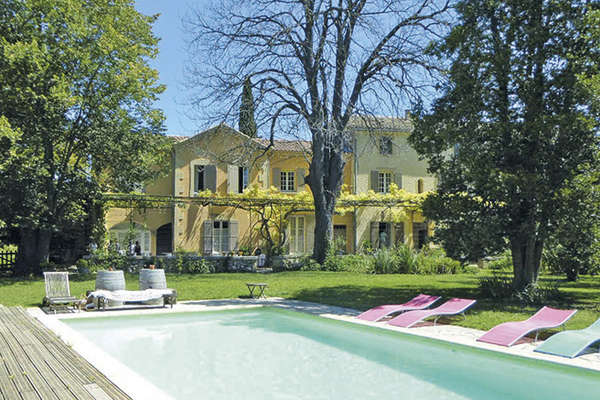 Between Remoulins and Nîmes, this property stands in a landscaped park of approx. 9,430 m2. Its living space of 500 m2 has been tastefully renovated. 885.000 €. Coté Soleil - Uzès (04 66 03 33 33).
Uzès is a small pleasant town on a human scale. Its Provençal atmosphere and way of life appeal to all kinds of clients : a few first-time buyers rub shoulders with foreigners and retirees in this little hideaway in Languedoc-Roussillon.
Most buyers here are looking for holiday homes, though not all of them, as explained by Yann Wojtera, director of the Côté Soleil Immobilier agency : "There is a market for first-time buyers, mostly working in Nîmes or Avignon. Their budgets are slightly lower than those of other clients, ranging from 300,000 to 380,000 €." Even at these prices, lots of options exist. Within the region, prices vary depending on a property's closeness to Uzès. In the town centre, an apartment will cost from 3,000 to 4,000 € per sq. metre, whereas village houses 15 km away can be found for about 2,000 per sqm. An elegant split-level apartment of 56 m2 at the very heart of the town, rather like a loft, cleverly blending old and modern styles, is up for sale at 149,800 €. "You have to understand that people buying a property in Uzès would not opt to live anywhere else in the region. They have fallen in love with the town : its gastronomy, wines, its charming setting... The commune is active all year round, there are railway stations close by, all making it an ideal holiday address for people from outside the region," adds Yann Wojtera. Provençal "mas" are, of course, iconic properties in the region. Côté Soleil Immobilier is currently proposing one such home of 230 m2 priced at 545,000 €. Surrounded by vineyards, in grounds of 3,079 m2, it benefits from a swimming pool and a large peaceful courtyard.
"The property market in Uzès can be split into several zones," says Aurélia Vincens, manageress of the Terres du Sud Immobilier agency. "The town's historic centre is highly sought-after and expensive, the neighbourhood of La Lauze (a 5- to 10-minute walk to the centre) is also popular, with some very lovely properties with good-sized grounds. Another highly-prized area is the periphery of Uzès, where one usually finds recent properties in grounds from about 2,000 to 5,000 m2." Terres du Sud Immobilier covers all of the market, following the rule of only handling properties which "reflect the going market price or are slightly above it". A philosophy which very recently enabled it to sell a holiday home of 170 m2 in Les Rochelais, 4 km from Uzès, with 4 bedrooms and an annex. Priced at 530,000 €, this villa benefited from grounds of 2,671 m2 with a swimming pool. According to Aurélia Vincens, first-time buyers in this region are pretty rare. "The market is very expensive for young buyers. It's hard to find properties under 200,000 €. There is strong demand for properties in the 400,000-600,000 € bracket. Foreigners are looking for holiday residences, while permanent homes are usually acquired by retirees." Most clients are home-hunting within a radius of 10 km around Uzès, though some are prepared to head a little further out in search of properties with genuine charm. Such as a renovated old "bergerie"with a price-tag of 695,000 € : in a small village 12 km from Uzès, it offers living space of 200 m2 in 6,300 m2 of grounds with a pool.
Properties of charm constitute the main focus of Catherine La Bruyère Immobilier, managed by Hervé de Maulmont : "Our idea is to propose only properties which really strike a chord, in which refinement, charm and character are the main essentials, without any price distinction. Our portfolio thus contains houses and apartments priced at different levels, but always offering the charm we hold so dear." Such is the case for an 18th-C. village house of 190 m², near to shops. Up for sale at 265,000 €, it offers superb authentic materials on two floors for the main house, with an adjoining guest cottage, in a delightful medieval village at the heart of the triangle formed by Nîmes, Avignon and Uzès. "The traditional base of our offerings has always been "old stone", though an emerging clientele is becoming increasingly interested in ultra-contemporary properties," adds Hervé de Maulmont. He mentions, for example, a property of 266 m² just 5 km from the historic centre of Uzès. On offer at 995,000 €, it promises a rare setting and lifestyle : the sleek lines of its architecture seem to be in communion with surrounding nature, and it enjoys enchanting panoramic views to the south. It also benefits from a salt-filtered pool, accompanied by a summer kitchen.
You will also like