Treasures in Le Maine-et-Loire
"Angevines", manor houses, renovated "longères"... Properties of charm and character are far from lacking in the département of Maine-et-Loire. From Angers to Cholet via Saumur, the type of homes and their prices vary depending on whether you opt for urban life or the peacefulness of the countryside.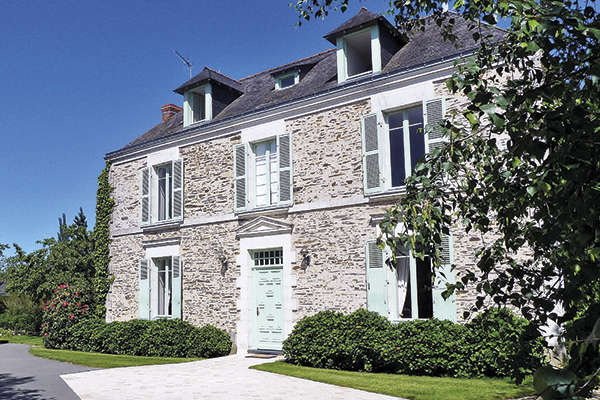 This property south of Angers comes with a guest cottage, outbuildings and a 3-car garage. 895.000 €. Laurendeau Immobilier (02 41 79 27 23).
A primarily rural département, Le Maine-et-Loire can lay claim to many large properties and renov­ated farmhouses set in vast grounds. Crossed from east to west by the River Loire, the region is France's N°1 horti­cultural zone. At the crossroads of motorways heading for Nantes, Paris, Tours and Lyon, Angers is the main urban centre, followed by Cholet, Saumur and Segré. Occupying 11,362 acres of land, including 1,575 acres of natural spaces, the historic capital of Anjou is a good example of large modern towns in western France. Its univ­ersity, museums and artistic activities make it a cultural centre in which the Château du Roi René, built in the 13th century, plays a leading role. Visitors admire "La Tenture de l'Apocalypse", the largest collection of medieval tapestries known to this day. The commune lies on the front­ier with Le Val de Loire, listed in UNESCO's World Heritage since the year 2000, and the Loire-Anjou-Touraine regional nature park. Angers has been awarded the "Cité d'Art et d'Histoire" label.
Its property market has inherited a legacy of old houses and buildings, especially in La Doutre, the historic centre, and at the heart of the famous "Golden Triangle" of Lafayette-La Madeleine-Foch. "These homes are partic­ularly popular among the locals", says Dimitri Léger, manager of the Guy Hoquet agency. "The typical property in the town centre is the classic Angevine house, built between 1890 and 1920." It offers real stylishness and character with vast rooms, high ceilings, noble parquet floors, fireplaces, and a liberal use of regional materials such as freestone from Le Val de Loire. The ground floor is comprised of the living-room, kitchen and hallway, with bedrooms on the upper floor. "Often benefiting from small gardens and garages, these houses are proposed at around 400,000 €, depending on their surface area and overall condition : some need freshening up, or even total renov­ation." Among his most recent transactions, Dimitri Léger mentions an Angevine house of 134 m2, renovated throughout to offer top-notch appointments, which just sold for 385,000 €. In the same neighbourhood, on Place Lafay­ette, another example of 187 m2 with an outhouse and cellar in need of renovation found a taker at 395,000 €.
In La Madeleine at the heart of the "Golden Triangle", the Laurendeau Immobilier agency even has a waiting list for this type of property. "This prime location is the N°1 choice of families in Angers. Some of our clients wait for a house or mansion to become available before putting their homes on the market. They are, in fact, very sound investments," explains the agency's manageress, Sandrine Laurendeau. Prices are pegged around 2,200 € per sq. metre if renov­ation is required, from 2,600 to 3,000 € for impeccable examples with high-end appointments. The agency also proposes a good number of large properties about 30 minutes from the town centre. However, over the past two years or so, potential clients for these country residences have become more rare : more demanding, they take their time. By way of exemple, a master residence of 330 m2 in 4,000 m2 of grounds with a pool, 3-car garage and an outbuilding, on offer at 850,000 €, is still waiting for a new owner despite its undeniable assets.
This observation is shared by Thomas Monin, founder and manager of the Mandat & Moi agency. "Today, as soon as you leave town, you can see a market full of opportunities," he says. Just 10 minutes from Angers, for instance, a renovated "longère" (an old farmhouse whose specific feature is having been built lengthwise) in 8,000 m2 of grounds on the banks of the Loire is on offer at 598,000 €. Or again, right in the centre of Les Ponts-de-Cé, a house in need of total renovation but offering high potential is on the files at only 175,000 €. "There is a flagrant disparity between prices in Angers and the rest of the département, where the market is clearly dominated by buyers." Recently, a house posted at 500,000 € finally sold for 395,000 €. Bargaining is thus now common­place in this lovely countryside with its pastoral charm.
You will also like