Tournefeuille : a residential area in Toulouse
A suburban commune with over 26,000 residents (3rd largest town in Haute-Garonne) bordering on Toulouse, Tournefeuille offers quality living conditions in the midst of a dynamic agglomeration. A reputable address popular among senior executives.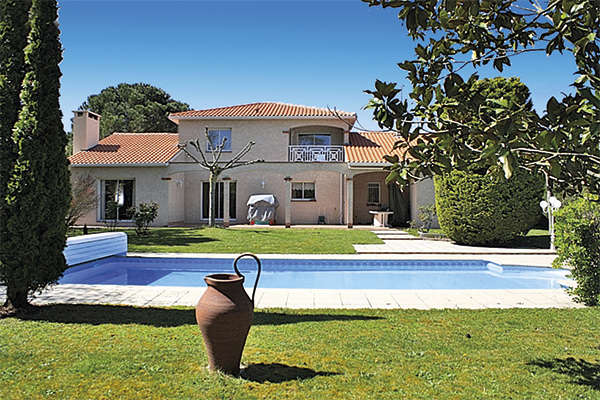 Designed by an architect, this house in excellent condition comprises total living space of 220 m2 in 1,400 m2 of grounds with a pool. 599.000 €. Guy Hoquet H2OC (05 62 48 63 30).
In the 1960's, Tournefeuille (south-west of Toulouse) had a population of less than 1,000. But the village soon benefitted from the city's vitality, multiplying its population figures by 17 in hardly 30 years. Even so, its urban dev­elopment has never been aggressive : the construction of blocks of apartments has remained marginal in favour of that of "pavillons" (suburban houses) and small estates. Today, Tournefeuille thus proposes a pleasant life-style just a few kilometres from Toulouse intra-muros, in immediate proximity to the city's liveliest sectors (Airbus site in Blagnac...).
"For the few apartments available, prices range from 2,000 to 3,000 € per sq. metre," says Laurence Delrieu-Bagur, manageress of Delrieu Immobilier Tournefeuille, an agency opened in 1990 covering a radius of up to 20 km around the town. For houses, "prices have returned to the same level as before the financial crisis". For example, she has just sold a 1-storey house of 73 m2 in the centre with a garden of 280 m2, priced at 231,000 €, and a villa of 300 m2 in a quiet sought-after neighbourhood, in grounds of 1,500 m2 with a pool, at 655,000 €. "We have also placed on the market a village house of 100 m2 in the centre with a garden of 150 m2, at 260,000 €." Building plots are very rare : "We currently only have one in our portfolio, of 580 m2. In a quiet spot 1 km from the town centre, it is up for sale at 190,000 €". Laurence Delrieu-Bagur's clients are mostly executives working in Blagnac or large national and international companies based in Toulouse.
Based in Tournefeuille since 2005 and working with the same type of clientele, the Guy Hoquet H2OC agency covers the entire western part of Toulouse (particularly Plaisance-du-Touch, Cugnaux, La Salvetat-Saint-Gilles, Lardenne...). Its manager, Henri Sarrans, estimates that sales of apartments account for only 20 % of the market in Tournefeuille : "Extremely rare, apartments with 1 main room will fetch about 80,000 €. Prices then rise to 300,000 € for lovely 3-bedroomed apartments of 80-90 m2 in the centre". As for houses, our estate-agent says that prices range from 2,600 to over 3,200 € per sqm. "You find lots of houses with 4 or 5 main rooms, such as one new example of about 110 m2 with 3 bedrooms and a garden of 220 m2, on offer at 332,000 €, or a villa of almost 130 m2 with 4 bedrooms and a garden of 835 m2, priced at 445,000 €." Finally, with regard to building plots : "Offerings are very limited and mainly arise from the division of land, which explains the high prices : from 220 to 250 € per sqm".
You will also like