Toulouse : a buoyant real estate market with stable prices
The fourth most densely populated town in France with close on 450,000 inhabitants, Toulouse is an attractive address with a seemingly endless source of vitality. The hyper-centre is in particularly high demand. And prices now seem to be stabilizing.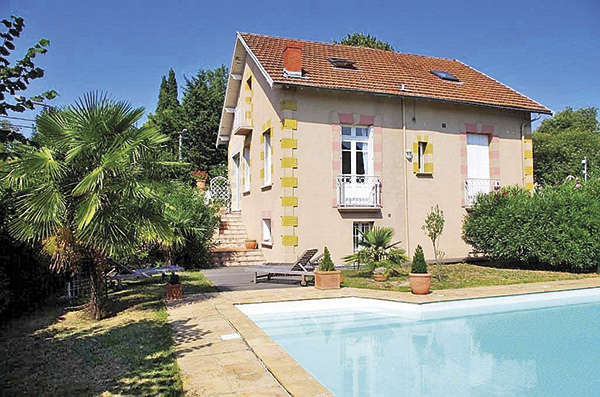 On the Côte Pavée, this house of 200 m2 offers 8 main rooms, a garden of 500 m2 and a pool. 937.000 €. Square Habitat (05 62 30 36 90).
The agglomeration of Toulouse has the highest population growth of all French cities. And for good reason : firstly, it is a lively economic hub (with many spearhead industries, including Airbus), making it an appreciable pool of employment. Then it is a major student centre (100,000 in all), with a rich cultural scene (theatre of Le Capitole...). Its original architectural heritage is also worth a mention. Not forgetting that the city boasts the country's highest purchasing power in terms of real estate, according to mortgage-broker meilleurtaux.com...
Gerald Auzer, manager of the Orpi Saint Cyprien agency launched in 2007, chalks up 90 % of his sales in the hyper-centre of Toulouse : "While notaries report a 1.5 % drop in prices in the Haute-Garonne property market overall, it certainly doesn't apply here ; prices are holding steady due to demand outstripping supply". Which does not, however, prevent long negotiation periods - about 3 months for an apartment, 4 to 5 months for houses -, except for properties corresponding to market realities which are "snapped up within a week". Most transactions involve apartments with 2 or 3 main rooms, rather those with 1 main room : "Investors are currently biding their time, observing the way the market is going to react to the Alur law". Small town houses, now rare, are also highly sought-after. One of the agency's most recent sales was one such example with living space of 120 m2 and a small back garden : "This 1950's house in the Casselardit neighbourhood, with high ceilings and stripped parquet floors, sold very quickly for 300,000 €, even though it needed refurbishment to the tune of 75,000 to 100,000 €". Gerald Auzer's clients are mostly in their thirties, envisaging a sale-and-purchase operation, "so as to acquire a larger home". A 3-bedroomed apartment of over 80 m2, for example, sold recently in the Saint-Cyprien neighbourhood for 239,000 €.
Nicolas Agut is sales director for the twelve Square Habitat agencies (Crédit Agricole property network) in Haute-Garonne (four agencies in Toulouse) : "We propose a wide choice of apartments, suitable as both main homes and rental investments, currently ranging from a studio at 61,000 € to an apartment in the hyper-centre at 670,000 €". In the case of individual housing : "Our portfolio ranges from a town house on offer at 200,000 € in the Saint Simon neighbourhood to a private mansion priced at 937,000 € in La Côte Pavée". Prices are seen as "stable", despite a slight decline. "More than ever before, sellers should seek the advice of a professional with in-depth knowledge of the market, so as to propose their properties at coherent prices if they don't want to be disappointed," comments Nicolas Agut. What about new homes ? "Our particularity is to offer our clients a choice of old properties, but also a wide selection of new developments. New homes are complementary to old ones : they meet certain buyer requirements, especially in terms of energy performance, the layout of the rooms and size of the terraces, which are always highly-prized. Tax leverage for rental investments and the advantage of mortgages with zero interest rates for first-time buyers are also important factors."
Appointed Director of the Era Honoré Serres agency two months ago, Yan Reynes, who proposes home staging and interior decoration services, gives details of prices : "For a studio, one can expect to pay from 50,000 to 100,000 €. A 1-bedroomed apartment costs up to 150,000 €, 2 bedrooms 150,000 to 250,000 €, more in the case of outstanding examples : for instance, a tastefully renovated top-floor apartment with 1 bedroom in the hyper-centre found a taker at 299,000 €. As for 3 bedroomed apartments, from 80 to 200 m2, they start at 250,000 €. One example of 110 m2 in Saint-Cyprien is up for sale at 640,000 €". Often covering the residential neighbourhood of Les Chalets, "very highly-prized", Yan Reynes receives lots of requests for town houses : "Particularly popular among Airbus employees, the starting price of these homes can quadruple, and they certainly haven't seen any decline. Quite the contrary, they are seeing a modest rise. Otherwise, prices overall have begun to stab­ilize". In addition to well-off clients living in residential areas, Yan Reynes has noticed a return on the part of first-time buyers who now comprise 20 to 25 % of his clientele. "We are also contacted by a good number of rental investors."
You will also like