The wild and fascinating Pink Granite Coast
Particularly well-preserved from urban development, the "Côte de Granit Rose" with its very unusual colour offers sublime, authentic scenery over a stretch of about 10 kilometres. An address whose quality living conditions leave no-one indifferent...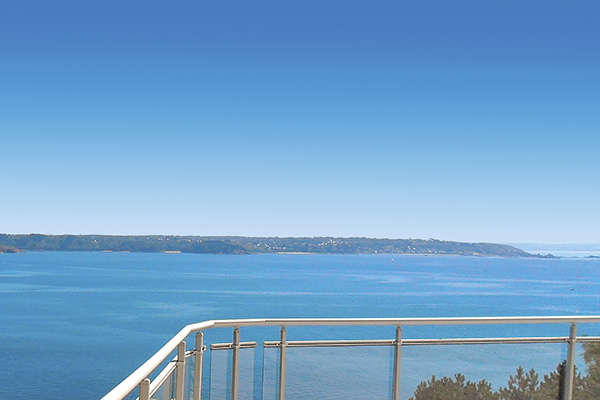 This architect-designed house of 180 m2 in Trébeurden is set in grounds of over 5,000 m2. 875.000 €. Immobilier Côté Ouest02 96 15 09 00).
A well-protected craggy shoreline with changing landscapes, dotted with superb beaches, hiking paths and colourful rocky outscrops, the Pink Granite Coast consists of the pleasant communes of Trébeurden, Pleumeur-Bodou, Trégastel and Perros-Guirec. Particularly worth discovering : the archipelago of Les Sept-Iles (France's oldest and largest private bird sanctuary and a reproduction site for grey seals), the Customs Officers' path (characterized by its chaotic piles of granite stone), l'IIe Grande (magnificent and very varied scenery) and a rich architectural heritage (high-tide mill in Trégastel, châteaux of Kerduel, Kergrist and Costaérès, church of Brélévenez, numerous megaliths...).
Founded in 2011, the Immobilier Côté Ouest estate-agency (fees reduced by 30 to 50 %) covers the area 20 km around Trébeurden (even further afield for unusual properties), a tourist resort with 4,000 inhabitants, a sailing harbour and sandy beaches facing south - a rare bonus in northern Brittany : "For apartments, the price per sq. metre starts at 1,500 € in the village of Trébeurden, rising to 4,500-5,000 € on the seafront," explains negotiator Mickaël Lageat. As for houses, those in contemporary style are pegged at around 1,700 € per sqm, while "Neo-bretonnes" tend to cost about 1,600 € per sqm. In constant demand, "longère" farmhouses fetch almost 1,800 € per sqm. "We recently handled the sale of an outstanding property in Pleumeur-Bodou : a house of over 250 m2 designed by an architect, right at the water's edge, with an indoor pool and movie lounge, priced at 799,000 €." Finally, building land, one of the agency's spec­ialities, costs on average 100 € per sqm, or 150 € per sqm with a sea view. "Offers are rather limited, though they are good investments as their prices remain stable."
Colette Campion, manageress of Marinimmo, is based in Perros-Guirec, a well-known seaside resort with 7,500 year-round residents. Her agency opened in 2008 proposes properties of charm, stone and contemporary houses all over the Pink Granite Coast. "For an apartment with sea view, one can expect to pay from 2,500 to 4,800 € per sqm, as compared to prices on the second row ranging from 2,000 to 3,000 € per sqm. Properties that are new or in the town centre are pegged from 3,700 to 4,800 € per sqm." On the market for houses, the agency's most recent transactions consist of a home of 200 m2 in need of renovation with direct access to the beach, priced at 605,000 €, and a stone property of 250 m2 at 535,000 €. What about building plots ? "In the town centre or at the water's edge, they are rare and thus relatively expensive : from 100 to 160 € per sqm. Otherwise, a plot without a sea view and further out from the centre costs from 70 to 100 € per sqm." Prices which, according to our expert, "are still slightly down but stabilizing". Her clientele is mainly comprised of seniors looking forward to retirement in this region with a delightful life-style.
You will also like