The south-eastern part of Lyon, undergoing strong development
While Meyzieu and Décines are a natural continuation of the city of Lyon, Bourgoin-Jallieu, 42 km from the centre of the Préfecture of the Rhône and 70 km from Grenoble, is drawing more and more fans. Over the past few years, a growing number of people have been moving to the eastern and southern areas, as opposed to the highly-prized west, with communes located between France's third largest town and the River Isère taking on a more colourful appearance.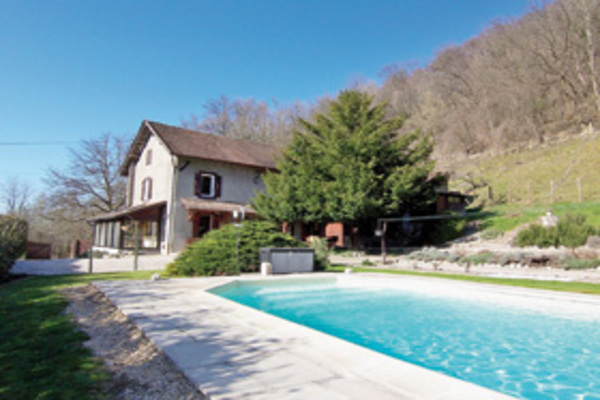 This house offers living space of 137 m2 (four bedrooms) in grounds of 12,088 m2 just 3 minutes from the centre of Bourgoin-Jallieu. 365.000 €. Immobilier Centre Investissement (04 37 03 06 71).
The population of Meyzieu, now around 29,380, rose by 30 % between 1975 and 2006. Thanks to the tramway, introduced precisely five years ago, it takes 26 minutes to reach La Part-Dieu, while the Rhônexpress, in operation since last year, whisks travellers to the airport in under 15 minutes. The site plays host to an industrial zone of about 518 acres, a housing stock largely renewed over the past three decades, and public facilities designed to cater for the booming population. Leisure amenities are also in good supply, starting with Les Vagues, a spanking new aquatics centre, and Le Grand Large, an area of 395 acres devoted to sailing, not forgetting the Parc des Servizières offering over 27 acres of natural greenery in the midst of the urban area. Décines and its 25,000 residents also benefit from the proximity of the TGV station and Saint-Exupéry airport. Right on the periphery of Villeurbanne and Bron, the locality has astutely combined its growth with preservation of its natural heritage. The Canal de Jonage runs through its territory. The centre is being treated to a facelift, while Le Toboggan attracts fans of culture. The programme for the coming months includes the creation of a healthcare centre, construction of the football ground (Grand Stade de l'Olympique Lyonnais) and the "Anneau Bleu" project aimed at enhancing stretches of water. Home to 24,700 residents, Bourgoin-Jallieu lies to the north of the River Isère. Long focusing on textiles and the manufacturing of cardboard, the economy is now centered around the service sector, though some companies specializing in photovoltaics are replacing the traditional industries.
"In Meyzieu, new accommodation, targetted by first-time buyers wanting to benefit from the Zero Percent Loan, is priced around 3,500 €/m2, while residences built in the 1970's, often four floors high, without elevators, range from 1,800 to 2,300 €/m2. With elevators, they cost from 2,300 to 3,000 €/m2, becoming dearer the closer one gets to residences built after the year 2000," explains David Bozouklian of Solvimo Meyzieu. This suburban area is characterized by its "pavillons" : semi-detached, they start at 200,000 €, detached, at 280,000 €. As soon as they offer living space of 90 m2 and a garden of 400-500 m2, they fetch around 320,000 €. Often working in La Part-Dieu, 90 % of buyers want to be close to Lyon and benefit from the convenience of public transport. Despite an excellent first quarter, David Bozouklian refuses to predict the future, probably concerned about the possible effects of higher interest rates. The market in Meyzieu is very similar to that of Décines in terms of budgets and buyer profiles. The choice of one rather than the other in fact boils down to a matter of taste.
"One should, however, take a few slight differences into account. Firstly, Décines is before Meyzieu on the tramline. Secondly, it has a larger quota of apartment buildings and estates, rather intimate, in fact, which start at 2,200 €/m2 and attain 2,700-3,200 €/m2 in the case of recent developments," says Damien Boucq of Guy Hoquet L'Immobilier. Houses start at 210,000 € and cost from 250,000 to 260,000 € if they are terraced or semi-detached. Our estate-agent reports steady demand for "pavillons" of 100-110 m2, prolonged by gardens of 500-600 m2 and priced between 300,000 and 340,000 €, demand which is hard to meet given the lack of offers. He also credits the arrival of the tram to the appearance of a demanding clientele, in search of detached houses of good quality. Not so long ago as mid-May, one client paid 480,000 € for a home of 150 m2 with contemporary appointments and a garden of 900 m2. The eastern and southern parts of Lyon are winning their spurs in fields hitherto considered as monopolized by the west.
"In the Bourgoin-Jallieu area, there's no lack of jobproviders," pursues Sébastien Ferry of Immobilier Centre Investissement. "There's the industrial and logistic platform of St-Quentin-Fallavier, the towns of Grenoble and Chambéry, but above all Lyon : this locality is only a 23-minute train-ride from La Part-Dieu." Prices here prove to be even more appealing than in Décines and Meyzieu : a 2-bedroom apartment of 65 m2 costs about 140,000 €, a house of 95 m2 with a garden of 700-800 m2, 250,000 €. And Bourgoin-Jallieu is right at the heart of a zone which is the subject of an urban and commercial development plan. The local authorities intend to create a link between the capitals of the Rhône and L'Isère, without disrupting the scenery. For the time being, the commune proposes both the advantages of a town and the attract-ion of the countryside. The Médipôle was inaugurated in early May. As a sign of the area's potential : 35 % of the clients who enter the agency are looking for investments, intent on treating themselves to new apartments at an average price of 2,500 €/m2, combining rental income with tax benefits under the Scellier scheme.
You will also like