The incomparable peninsula of Lège-Cap Ferret
Seventy km from Bordeaux, between the Atlantic Ocean and Bassin d'Arcachon, the peninsula of Lège-Cap Ferret is still well-preserved, despite its on-going success since the early 20th century and very high numbers of visitors throughout the summer season.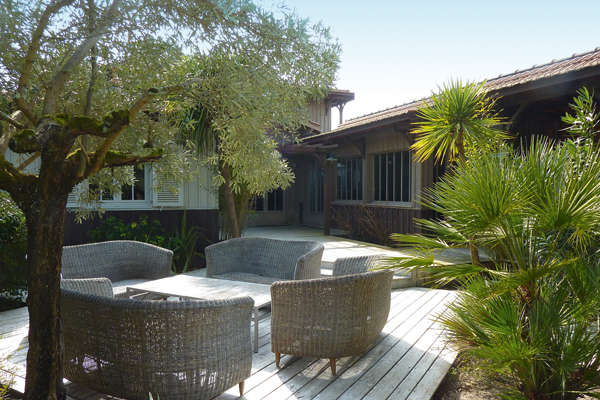 In the sought-after neighbourhood of Le Mimbeau, this lovely villa has been very tastefully renovated and redecorated throughout. It is comprised of a large lounge with hearth, a dining-room with open-plan kitchen, 5 suites and a very private garden. 2.400.000 €. Barnes (05 56 54 58 78).
The atmosphere that reigns here is unlike any other. The beautiful scenery, the authenticity of small oyster-farming villages, the pine forest, beaches, biking paths... Cap Ferret is a wonderful place to relax, and living here is a real privilege. Many are those who dream of owning a home here in which to spend as much time as possible, and estate-agents are reporting even steadier demand over the past few months.
Barnes, the leading agency on the luxury property market around the Bassin d'Arcachon, naturally covers Cap Ferret, a favourite spot among buyers in search of nature, vast beaches, and a summer atmosphere both casual and chic. "These clients are above all looking for turnkey properties with tasteful decor and high-quality finishing touches," says Sophy Vaissié. "Villas in quiet settings, yet near the beaches, shops and trendy addresses."The area stretching from La Vigne to Les 44 Hectares, with a preference for the Plage des Américains, the neighbourhood around the market, Le Phare and Le Mimbeau, is highly sought after. The charm of small villages such as Le Canon, L'Herbe and Piraillan still casts its spell, and prices here are more affordable. "This is a niche market on which most of the sales are conducted in all confidentiality," adds Sophy Vaissié. "Which is a speciality for us here at Barnes, as owners who are selling, especially if they are public figures, insist upon total discretion." While prices are high, clients nevertheless acquire properties at the going rate, depending, of course, on their attributes. On Cap Ferret, properties are extremely diverse. "We currrently have a very pretty villa up for sale in Le Canon at the heart of the fishing village, and a very beautiful villa, tastefully renovated, near the beach of Le Mimbeau." According to Sophy Vaissié, the market is lively, though narrow and seasonal : properties in prime locations always sell quickly.
As confirmed by Céline Leblanc of the Agence de l'Estérel : "Location is the N°1 criterion, and prices vary accordingly. It is, in fact, impossible to calculate an average price per sq. metre, as estimates are made case by case. The potential offered by the grounds and the possibility of extension are also major factors".
It is, however, possible to identify starting-prices in the various areas. It is, for example, hard to find a villa under 550,000 € in Claouey, under 650,000 € in Petit Piquey and Grand Piquey or on the heights of Piraillan, under 800,000 € near the Bassin, or under 1 million euros in Cap Ferret itself. French clients, either living in France or ex-pats, Belgians, Germans, Swiss and a few Americans set their sights here on very desirable second residences. Most of the time, they are looking for houses to renovate and often enlarge, between Claouey and Le Canon, with budgets ranging from 500,000 to 850,000 € (plus the cost of the work), even more if they are on the Bassin side (800,000 to 1 million euros). And prices are higher for a renovated or recent villa, or one in Cap Ferret itself, for a view of the Bassin or an oceanfront location. Buyers are prepared to pay top dollar in order to enjoy an unimpeded view of the Bassin d'Arcachon (from 1.5 million euros). On the peninsula, apartments are rare, due to urban planning regulations and technical specifications. The few residences on the peninsula nevertheless enable some lucky buyers to acquire a small pied-à-terre.
You will also like