The growing appeal of Le Cannet
Just 2 km from the Mediterranean, offering a panoramic view from the Lérins Islands to the Estérel hills, the charming commune of Le Cannet has succeeded in retaining its village atmosphere while developing to the point of becoming a select and trendy little town. It is proving to be a good fall-back market for Cannes, its next-door neighbour.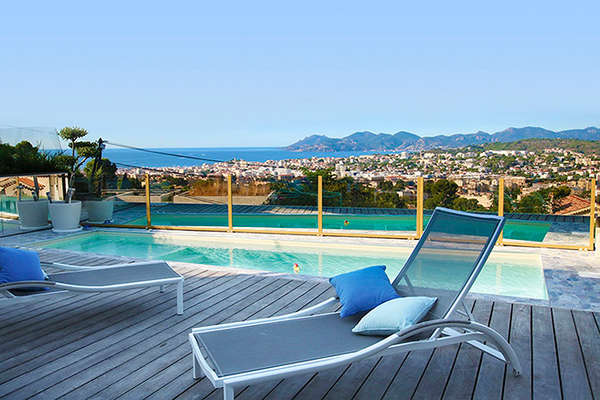 In a residential area, this apartment of 137 m2 with 3/4 main rooms benefits from a deep terrace with a small private pool and beautiful sea view. Two garages and a cellar complete the property. 1.250.000 €. Agence Baxton (04 93 45 13 13).
The Agence Bellevue is located in the residential area near the Town-hall of Le Cannet. Alexandre Beuvain works here with a portfolio of discerning clients. "Today, our clients really know what they want, and what budgets they will need," he says. "They are often people who have sold their properties in Paris, Mougins or abroad, and are looking for a setting that is quiet but near amenities." Le Cannet thus seems like an ideal solution. The commune offers a market mostly comprised of apartments. One can expect to pay from 350,000 € to 400,000 € for two bedrooms, around 500,000 € for three bedrooms. There are three main neighbourhoods, all with their fans. Le Cannet-Mairie is especially popular among retirees who give priority to be being able to do everything on foot. They are not, however, alone : in this neighbourhood, people working in Sophia-Antipolis are looking to acquire very smart contemporary houses of 200 m2, renovated throughout, in grounds of 1,000 m2 which could take a pool, for around 830,000 €. Up above Le Cannet-Mairie, another ultra-residential area extends over the hills, proposing larger surface areas on well-maintained estates with pools and caretakers, or villas from 150 to 250 m2 priced from 1 to 2 million euros, depending on whether they enjoy a sea view or not. Finally, the historic part of Le Cannet plays host to small village houses (250,000 to 300,000 €) and small apartments attracting Dutch, Swedish and Italian buyers in search of charming holiday homes within walking distance of a good array of restaurants and shops.
Facing the Town-hall, Gilles Schwarz runs the Agence Baxton he opened in 1999. He comments straight away : "The market for year-round homes is increasingly active." The agency's clients are mainly retirees who have sold their homes in the hinterland, or come from another part of France. Their enquiries regarding their new homes are based on precise criteria : a large apartment or a large house with an outdoor area, a large living-room and a lovely view. "In Le Cannet, there many residences with caretakers, parks and pools, though sometimes their monthly charges are high, which gives food for thought," says Gilles Schwarz. Likewise, many properties are in need of renovation, to correspond more closely to today's life-style (larger living-rooms with open kitchens, even if that may mean reducing the size of the bedrooms). These factors are, of course, to be taken into consideration when negotiating the price. According to Gilles Schwarz : "It is essential to post realistic prices : a property's value has to be adjusted constantly to reflect the market, but also with regard to its location, quality and appointments. The work involved in providing an estimate is very important : it is not professional to give average prices per sq. metre for a neighbourhood without visiting the property. The average price can, in fact, vary from 3,000 to 7,000 € per sq.m". For example, the agency has just sold an apartment of 135 m² on the hills, with a terrace, a lovely sea view and two garages, for 905,000 €. In Le Vieux Cannet, a house of 150 m2 to renovate with a garden of 450 m2 found a taker for 530,000 €.
You will also like