The Gard coast from Le Grau-du-Roi to Aigues-Mortes
Home to 8,180 residents, Le Grau-du-Roi is just next to La Grande-Motte. Until 1920 it focused mainly on fishing, now­adays it makes its living from the tourist industry. Aigues-Mortes, with 8,340 inhabitants, is about 30 km from Montpellier, 35 km from Nîmes. Like its neighbour, it places its bets on the marina concept combined with an authentic old town centre.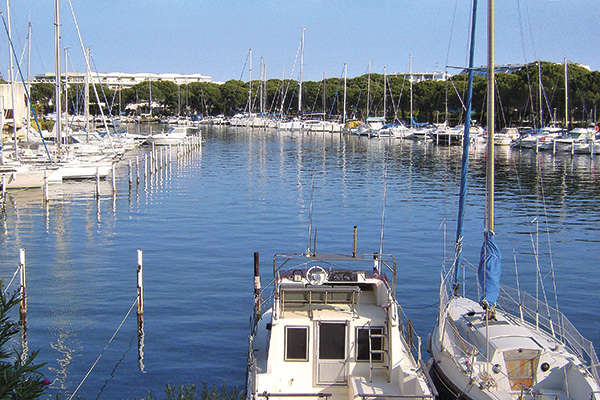 This 2-bedroom apartment in Port-Camargue offers living space of 48 m2 facing due south and giving onto a terrace of 10 m2. 295.000 €. Optimhome (06 27 24 19 69).
As its name suggests, Le Grau-du-Roi lies on both sides of a "grau", ie. an inlet on the coastal strip, between Le Vidourle and the Rhône. The commune boasts 18 km of sandy beaches ; its centre has retained a typical setting. Le Boucanet is on the right bank, while the left bank accommodates the neighbourhood of Le Palais de la Mer and Port-Camargue, a marina development launched in 1968. Part of the territory of Aigues-Mortes is comprised of "étangs", or stretches of water. The Canal du Grau-du-Roi serves as a junction between the locality itself and the Mediterranean. The salt marshes were exploited as long ago as the Roman era. Today, salt is still dredged here, bulls and horses are bred, and tourists arrive in considerable numbers to discover the medieval heritage dating back to the 13th and 14th centuries within the fortified village.
"Le Grau-du-Roi offers an extremely diverse choice of housing," says Cyril Larouzière of Optimhome. "It ranges from cabin studios to villas, 2- and 3-bedroomed apartments and "marinas". Port-Camargue is one of Europe's largest marine centres with about 150 acres of basins, 5,000 moorings afloat, almost 25 acres of earth platforms and 175 shops, two-thirds of which are open year-round." Over the past 20 or so years, retirees and families with children have been keen to move in. A junior school and villas of approx. 120 m2 with pools, priced from 450,000 to 500,000 €, are under construction. Over the past 18 months, however, the market for houses has become complicated. Potential buyers are finding it hard to sell their homes in their native regions, and are therefore postponing their plans to live in the South of France. A classic apartment in a residence without a view of the marina is pegged at 3,500 to 4,000 € per sq. metre, 4,000 to 5,000 € with. A home on the front row, in need of refurbishment but benefiting from a 3 x 9 metre mooring, can be had for 5,000 €/m2, or 7,500 €/m2 following complete renovation with a 5 x 15 metre mooring. These prices are undoubtedly the highest per sq. metre in Le Gard. Le Boucanet lies next door to La Grande-Motte, where prices have traditionally been more expensive. At the moment, this address just 20 minutes from the centre of Montpellier, characterized by an appealing value-for-money ratio, is rather buoyant, accounting for half of the enquiries, even if Port-Camargue is a strong rival. The area is laid out around one of the loveliest beaches of Le Grau. Fairly estimated, an apartment will sell in about four weeks at around 4,000 €/m2. The centre, posting prices of about 3,000 €/m2, offers neither easy access nor generous parking facilities ; seafront residences with their own car-parks cost close on 5,000 €/m2. From the historic heart of town, the TGV train takes holiday home owners back to Paris in 3 hrs 30 mins. Finally, Le Palais de la Mer on the left bank and cabin studios, rented out on a seasonal basis and constituting long-term assets, are of interest to investors.
"Port-Camargue is now shared out equally between main and second residences. Fans of yachting, both French and British, are fond of this address," says Anne Sorlin of Anne Madeleine Immobilier. Generally speaking, they prefer the Port-Camargue marinas which enjoy better access to the sea than those of Aigues-Mortes. The average bud­get ranges from 400,000 to 550,000 € for living space of 80 m2 with small mooring spots. On the other hand, "marinas" in Aigues-Mortes are more spacious, some benefiting from gardens and swimming pools. Furthermore, the accommodation here is more recent and better-suited to today's taste. By way of example, one seller is asking 1 million euros for a house of 250 m2 in a garden of 600 m2 with a pool. Many clients, wanting to be within walking distance of everything, opt for the area within the ramparts, 60 % occupied by the locals. A house of 140 m2 in perfect cond­ition, giving onto a patio and small pool, is up for sale at 570,000 €. One can also find properties awaiting restor­ation, priced from 200,000 to 250,000 €. The "marinas" and Aigues-Mortes intra-muros are, in fact, micro-markets which do not obey the usual rules applying to real estate in Le Gard.
You will also like