The attractive region of Clermont-l'Hérault
This pleasant commune with over 8,000 inhabitants lies in the midst of L'Hérault, which is now undergoing substantial development. A promising market with appealing prices.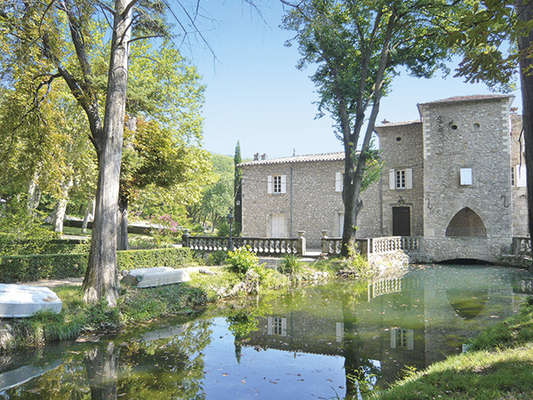 40 minutes from Montpellier, this property is comprised of a house, an old mill, stables and outbuildings. 780.000 €. Saint-Benoit Immobilier (04 67 57 37 37).
Benefiting from an advantageous central position in the département and particularly well-connected thanks to the motorway network, Clermont-l'Hérault and its surrounding area are indeed very attractive. The area's infrastructures (hospital, primary, intermediate and secondary schools), economic dynamism (notably thanks to the activity park of La Salamane) and affordable prices make it a fall-back zone for Montpellier, just 40 km away. It also draws a tourist clientele thanks to sites such as the lake of Le Salagou and the dolomitic Cirque de Mourèze, and the proximity of communes such as Saint-Guilhem-le-Désert and Pézenas.
Hugo and Jean-Louis Dreuille of Via Sud Immobilier, an agency based in Béziers since 1991, are currently focusing their attention on Clermont-l'Hérault and its nearby region, convinced that it is a "market with high potential". Their latest sale : a village house of 110 m2 in good condition but without a garden, priced at 99,000 €. "We also have a villa of 157 m2 for sale, with a garden of 650 m2, at 290,000 € - the type of property widely sought after by clients from Montpellier -, an early 19th-century residence of 400 m2 with a garden of 700 m2, at 490,000 €, and a vineyard prop­erty of 200 m2 with outbuildings on 296 acres of land (including almost 50 acres of vines), at 1.1 million euros." As for building plots on subdivisions, they cost from 180 to 200 € per sq. metre. "Our portfolio contains, for instance, a plot of 580 m2 with an open view priced at 115,000 €."
Christophe Joullié, manager of Saint-Benoit Immobilier, an agency opened in Aniane in 1998, specializes in houses of character in the back-country behind Montpellier. This peaceful commune with less than 3,000 residents is about 15 km north-east of Clermont-l'Hérault and only 30 minutes from Montpellier on the motorway. "Here, a 2-bedroomed village house without an outdoor area costs from 100,000 to 150,000 €. With a terrace, one can expect to pay from 150,000 to 180,000 €. If it has a garden, from 180,000 to 220,000 €. For villas, prices range from 200,000 € for four main rooms and a garden of 300 m2, to 350,000 € for an identical home with a garden of over 1,000 m2. As for houses of character, they fetch from 500,000 to 700,000 €." And building land ? "Many estates are available with plots of 300 to 400 m2 priced at 80,000 €." Christophe Joullié's clientele consists of first-time buyers and retirees drawn by the charm of the region and its pleasant mild climate.
You will also like