The area south of Toulouse : urban and go-ahead
Communes to the south of Toulouse are currently experiencing a considerable boom. Their infrastructures are being improved, new developments are rising from the ground, and building land is being placed on the market. Ideal addresses for people working in Toulouse, looking for a spot of natural greenery.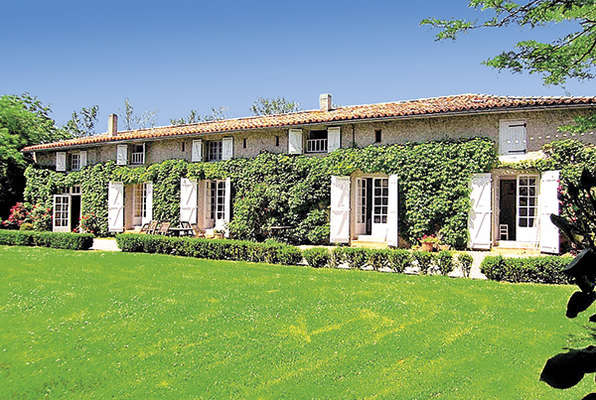 This property just two minutes from Villefranche-de-Lauragais offers living space of 300 m2 in 4,300 m2 of grounds. 483.000 €. Sylvie Sud Immo (05 62 710 192).
15 km south-west of Toulouse one comes across Frouzins, a residential commune with less than 9,000 inhabitants, its gaze constantly turned towards the Rose City, benefiting from being on the A64 ("La Pyrénéenne") and from regular bus services to the city. Even so, Frouzins is itself lively and enjoys a full array of amenities : shops, primary and intermediate schools, a mediatheque... It is home to the Cabinet Bedin, opened 5 years ago and run by negotiator Stéphanie Aubert. The only agency with a window in Frouzins, it also covers Cugnaux, Villeneuve-Tolosane and Seysses, "and very occasionally even further south". A bouyant market : "Numerous residences have been built over the past 5 years, and more are under construction. So we can now propose 1- and 2-bedroom apartments from 120,000 and 180,000 €." The agency's traditional clients are, however, more keen on "pavillons" (small suburban houses) of 90 to 140 m2, priced from 200,000 to 300,000 €. "They are designed for families, though we are seeing more and more requests from young retirees." As for building land, "the PLU has been modified, which has led to more land being split up. Demand is high, but supply is limited. Nevertheless, there are some real opportunities : for instance, we have just put a plot of 1,400 m2 up for sale at the heart of Frouzins at 180,000 €".
Sophie Burlet, manageress of Agora Immobilier, is based in Seysses, a neighbouring commune with less than 8,000 residents, 19 km from Toulouse but also "10 minutes from Muret and Cugnaux and all their infrastructures". In 2013, Sophie Burlet acquired the agency where she had worked as a commercial agent since 1998, a firm founded in Toulouse 40 years ago. "Most of our clients work in the Toulouse agglomeration. They usually sell their apartments in the city to move their families into a villa." When recent, this type of property offers living space of 90 to 120 m2, "occasionally more", and costs around 2,500 € per sq. metre. As for village houses, they range from 120,000 €, "if work needs to be done", to 300,000 €, if fully renovated. "Their surface areas vary from 80 to 120 m2." Otherwise, the sector for apartments is getting a boost : "This year, developments hitherto unseen in Seysses are proposing a choice of new apartments with prices ranging from 2,500 to 2,700 € per sq. metre". Finally, building plots are in particularly high demand : "The PLU applied to the commune has enabled this market to open up". Sophie Burlet currently has three different plots from 2,000 m2 for sale, priced between 120,000 and 130,000 €.
Heading south-east from Toulouse, you will discover Nailloux, a pleasant village in Le Lauragais with over 3,000 residents, where a full range of of amenities is at your disposal. It is, in fact, witnessing major economic and population growth, as part of Toulouse's metropolitan area. Benefiting from direct access to the A66, it is only 15 minutes from the gateway to the "Cité Mondine", enabling over 50 % of Nailloux's working population to work there. And Nailloux is endowing itself with all the necessary modern infrastructures : primary and intermediate schools, a healthcare centre, bus routes, and the Nailloux Outlet Village consisting of 34,000 m2 selling surplus stocks from leading brand names at sharply reduced prices. Sylvie Silve, who runs Sylvie Sud Immo, is very fond of this little town undergoing considerable development. A native of Nailloux with a career of 25 years in real estate, she founded her agency in June 2013 by acquiring one that belonged to a large group. Her motto is to satisfy clients and make sure they stay loyal. "I participate in the commune's rich life of clubs and associations, I know all the shop-keepers, everyone in the administrative services and other main players in the local economy." In Nailloux, "a property's value is very often over-estimated by its owner. In my opinion, only the objective approach of a professional in the property market, and especially someone who has grown up in the village, is capable of estimating a property's real value. Today, only homes that are pegged at their correct market price will sell". In the case of houses, "we propose villas in excellent condition at around 1,900 € per sqm, and renovated village houses which have preserved their character, with 5 or 6 bedrooms and gardens, from 250,000 to 270,000 €. Our portfolio also contains lovely farmhouses of 300 m2, tastefully restored throughout, for about 480,000 €". And building land ? "The price for a plot on a subdivision ranges from 100 to 110 € per sq. metre, while a plot of 2,500 m2 not on an estate can cost from 100,000 € to 150,000 €." Nailloux is quite clearly an attractive village. "The creation of companies and the arrival of new residents enable us to ensure our development and our future."
You will also like