The area east of Toulouse : at the heart of Le Lauragais
The first communes east of Toulouse comprise an area undergoing extensive urban development and now offering a full array of amenities. Then, getting further away from the city, one discovers the delightful countryside of Le Lauragais.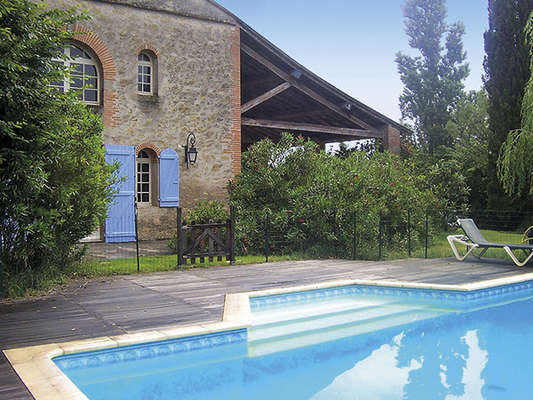 Near Quint-Fonsegrives, this property of 700 m2 comprises 17 main rooms. 1.490.000 €. Quint Immobilier (06 22 26 28 22).
Only 10 minutes from the centre of Toulouse, Quint-Fonsegrives, a commune with almost 5,000 inhab­itants, benefits from the agglomeration's expansion, just like its neighbours. This is where Laurent Ferrieres and Catherine Ciamborrani are based, associate managers of Quint Immobilier, an agency solely to be found on the Internet. "People living in Toulouse no longer hesitate before leaving intra-muros addresses for areas like ours, as they now offer all the facilities available in the town," they explain. They cover the area from Toulouse to Caraman, 30 km away. "We can thus propose new homes in the first ring around Toulouse, currently seeing extensive development, as well as more typical properties such as farmhouses, village houses and master residences in Le Lauragais (a natural region south-east of Toulouse)." New apartments are priced at around 3,500 € per sqm. Not much more than those in old buildings, pegged at around 3,400 €. "For houses, both old and new, one can expect to pay 3,000 € per sqm." The agency's most recent transactions in fact include two farmhouses in Le Lauragais, priced between 250,000 and 300,000 €. The clientele is mainly comprised of young couples in their thirties who sell their apartments in Toulouse to acquire houses on the peri­phery, and older clients who sell their houses to benefit from the convenience of the first ring around the town.
A 35-minute drive from here, one comes across Revel, a small town with 9,500 residents listed as one of the "Loveliest Detours in France", "100 Most Beautiful Markets in France" and "Major Sites in the Midi-Pyrénées". Not forgetting the lake of Saint-Ferréol, partly on this commune and listed in UNESCO's World Heritage. This medieval "bastide" has all the necessary infrastructures : junior, intermediate and secondary schools, a hospital with a retirement home, even an aerodrome, now the subject of plans for a business airport. Florence Biso, manageress of Hall Immobilier, covers a radius of about 10 to 20 km around the commune. Formerly a specialist in the building industry, she systematically proposes restructuring plans for properties "to both buyers and sellers". Within Revel itelf, prices for town houses start from 150,000 € "if in need of renovation", rising to 500,000 € for living space of about 300 m2 with a good-sized outdoor area. Around the centre, 1960's villas of 80 to 110 m2 can be had for 150,000-180,000 €. "Three-bedroomed apartments built in the 1970's-1980's cost from 170,000 to 180,000 €, while 4-bedroomed apartments built in the 1990's-2000's sell from 200,000 to 250,000 €." One km or more from Revel, a few recent villas of 150 to 170 m2 can be found, worth 300,000 to 350,000 €. Further out, houses of approx. 125 m2 in grounds of 2,000 m2 or more fall into the 200,000-220,000 € bracket. "Finally, a few farmhouses can be found, usually offering living space of 200 to 300 m2. Once renovated, they fetch 450,000 €. In their present state, they can be acquired for
200,000 to 250,000 €."
You will also like