The area around Hyères, between sea and hills
In a great location at the foot of the Massif des Maures, on the Mediterranean shore facing the islands of Porquerolles, Port-Cros and Le Levant, Hyères is a pleasant seaside commune, lively year-round, with a property market both diverse and well-balanced...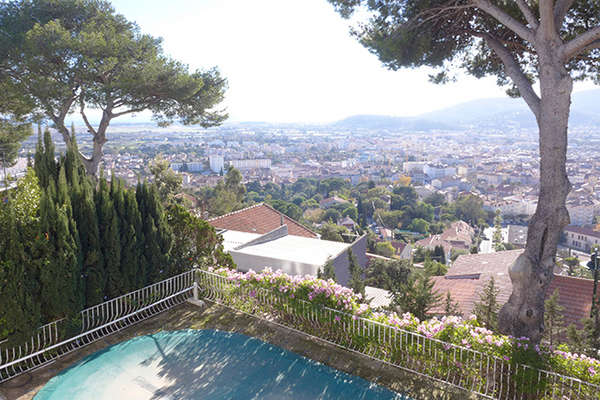 On the hills behind the town, this 3-bedroomed villa built in the 1960's in a garden of 507 m2 with a pool has just found a new owner. 635.000 €. Cabinet Immobilier Ripoll (04 94 01 51 81).
Eighteen km from Toulon and its international airport, Hyères is the southernmost town in Provence, and consequently one of the sunniest. Offering a non built-up coastline 39 km long comprised of sandy beaches and idyllic rocky coves, Hyères has been a popular seaside resort since the early 20th century. Sumptuous bourgeois residences built around its old town testify to its rich past. Benefiting from a first-class sailing centre, the yacht harbour with its sheltered bay is one of the assets of this privileged commune, also backed by an excellent reputation for culture, as it plays host to the Villa Noailles built by architect Robert Mallet-Stevens in the 1920's, now a revered cultural centre staging exhibitions and avant-garde events. Laid out around its historic heart, an old town centre and the seafront, Hyères is also made up of a succession of small neighbourhoods with their own identities.
"The property market in Hyères is seeing fresh momentum for all its various types of homes," says Cyrille Tizon of the Cabinet Immobilier Ripoll founded in 1966. "In addition to retirees who comprise our target clientele, we are seeing the return of younger buyers consisting of the locally employed in search of permanent homes. We have recently handled a considerable number of sales of houses for executives and self-employed professionals, with budgets ranging from 500,000 to 600,000 €." The residential areas of Costebelle and Les Hauts de Hyères are among the most popular. "Currently, the most widely sought-after apartments are those with one or two bedrooms, though all kinds of properties of quality are finding takers. As illustrated by the recent sale of a 3-bedroomed apartment with a terrace of 105 m2 in a recent high-end residence, priced at 552,000 €, and a studio of 32 m2 in need of renovation, in the town centre, priced at 75,000 €."
Lying between the hills and vineyards, the protected and gated Domaine de Valcros is a select micro-market in the area around Hyères. In La Londe-les-Maures, a few kilometres from the town centre, beaches and the airport, this exclusive address benefiting from an outstanding environment occupies over 3,200 acres facing the sea, in the foothills of the Massif des Maures. It hosts an 18-hole golf-course laid out on 111 acres in 1964, and some of its villas offer breathtaking views. The property market on the Domaine de Valcros consists of several "hamlets" and estates offering different types of homes, ranging from charming Provençal residences to streamlined "Californian" villas. The various architectural styles all achieve a certain harmony with their luxuriant surrounding nature. "Over the past year, we have seen a very satisfactory recovery in our activity," says Stéphane Navarro, manager of the Agence de Valcros, the only agency located on the Domaine, perfectly known to all its agents as they all live there themselves. "Clients show an interest in all the properties we propose, whether semi-detached "mazets" priced from 250,000 €, high-end villas with panoramic sea views on offer at over 1 million euros, or building plots of at least 1,000 m2 priced from 300,000 to 500,000 € depending on their location. We are seeing a noticeable comeback on the part of a French clientele, including numerous local buyers wanting to benefit from the Domaine's high security and its very well-preserved
environment."
You will also like