Saint-Raphaël Valescure, the golf-course area
Well-known by fans of the little white ball, Valescure is one of the most highly-prized addresses in Saint-Raphaël for a quiet holiday home in a well-preserved environment. More and more buyers are opting to live there year-round.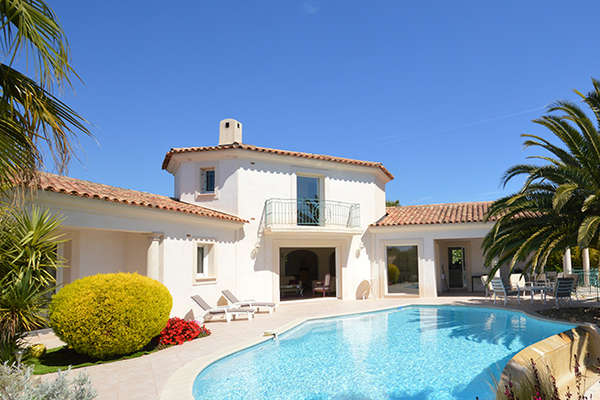 Of recent construction, this select villa in the Valescure neighbourhood offers 4/5 main rooms. 1.250.000 €. WF KING Immobilier (04 94 95 79 55).
45 minutes from Nice, between Cannes and Saint-Tropez, Saint-Raphaël occupies a coastal strip 36 km long between the Estérel hills and the Mediterranean shore. An average-sized town home to some 36,000 residents, Saint-Raphaël is laid out around its old town and harbours. The centre, seafront, Boulouris, Agay, Anthéor-Le Trayas and Valescure constitute its main neighbourhoods. Charmed by the lovely climate and beautiful scenery, Lord Aschcombe of England built the first of the two golf-courses in the Valescure area in the late 19th century. From the 1960's to 1990's, the neighbourhood took off and numerous villas, large properties, private estates and select residences rose from the ground.
"Our agency focusing on the golf-course area in Valescure handles sales at prices mainly around 800,000 € in the case of villas," explains Karim Cordelier of the Canat & Warton agency. "Offerings are currently generous, and buyers do not hesitate to display their bargaining skills." Mostly French, retirees, local company directors or clients from the upper socio-professional category, they appreciate the quietness, status and, of course, the proximity of the greens. A few new residences are currently being marketed. Consisting of 10 to 12 apartments at most, they are built around pools and gardens, and offer high-spec amenities. The Canat & Warton agency proposes apartments with attractive assets such as a 1-bedroomed example of 54 m2 on the top foor, prolonged by a terrace of 20 m2 and priced at 325,000 €, and another 1-bedroomed apartment of 56 m2 with a terrace of 20 m2, on the first floor of two, at 290,000 €.
"The Valescure area is indeed highly sought-after," confirms Philippe Fonteneau of the WF KING agencies with offices in Saint-Raphaël, Boulouris, Frejus, Agay and Valescure. "We are currently seeing steady demand with budgets ranging from 600,000 to 1 million euros. Most of the buyers are from outside the département, mainly from the region around Paris, Lyon, and north-eastern France. The majority of them are retired and have sold their homes, and sometimes their businesses : they are looking to move here on a permanent basis. Our portfolio of properties is comprised of numerous villas put up for sale by owners who, having reached a certain age, prefer to live in a residence or an apartment facing the sea. Many properties in very good locations thus appear regularly on the market." A budget in the 500,000-600,000 € bracket now enables buyers to set their sights on neo-Provençal villas built about 50 years ago, in appealing locations. "Clients do not hesitate to renovate them throughout, redecorating them in modern style and updating their appointments when their locations suit them." The most widely sought-after neighbourhoods ? "Around the golf-courses, and close to shops. Properties at the far ends of Valescure, on the outskirts of Agay, are in less demand."
You will also like