Pyla-sur-Mer, on-going success
Near the town of Arcachon, with which it shares the outskirts of the neighbourhoods of Les Abatilles and Le Moulleau, Pyla-sur-Mer is a highly-prized seaside resort facing Cap Ferret. Parisians and Bordelais are particularly fond of it.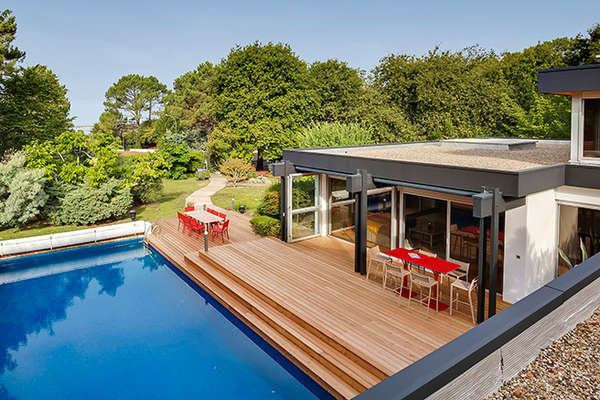 In a quiet spot, this large architect-designed villa of 400 m² stands in grounds of 2,400 m² with a heated pool. Fully renovated, it offers a living-room of 100 m² with a hearth and bar, 7 bedrooms, and a panoramic lounge on the upper floor enjoying a view of the forest and Bassin d'Arcachon. 2,6 M €. Coldwell Banker (05 57 15 88 81).
A place one could well call paradise... Pyla-sur-Mer certainly has everything to please : on one side the ocean, on the other the forest of Les Landes and, above all, a peaceful atmosphere. An exclusively residential address, it is largely comprised of holiday homes. In the high season, owners take up their summer quarters and benefit from memorable holidays on Pyla's beautiful beaches. The recent introduction of the LGV enabling Parisians to reach Bordeaux by train in 2 hrs 4 minutes opens up even wider prospects, undoubtedly including the desire to increase the frequency of their stays...
Jean-Christophe Bardot, manager of the Immobravo agency in Arcachon, describes the property market in Pyla-sur-Mer as "promising", with neighbourhoods such as Haitza benefiting from new developments around the grand Ha(a)ïtza Hotel, and the appeal of the "must" hotel-restaurant, La Co(o)rniche. Pyla-sur-Mer attracts a well-off clientele in search of holiday homes ensuring peace and quiet. "Perfectly possible here, as grounds are sizable and not too overlooked, thus ensuring residents' privacy." The town offers three categories of properties. Pegged at around 700,000 €, the lower end of the range corresponds to Basque-style houses of about 140 m2 with gardens of 800 to 1,000 m2, in Le Haut Pyla. More contemporary villas of around 150 to 200 m2 in grounds of 1,000 m2 with a pool but no view of the Bassin d'Archachon, though not too far away, comprise the middle of the range, from 1 to 1.2 million euros. Finally, the nec-plus-ultra, a house of over 200 m2 on the first row, with private access to the ocean, will fetch around 4 million euros or more, depending on its amenities. These last properties are few and far between. Buyers from Paris, Bordeaux, and a few from abroad, do not hesitate to demolish aging Basco-Landaise houses, replacing them with modern villas. "The quality of the property market thus moves up a notch," concludes Jean-Christophe Bardot.
Marina Tonneau, President of the three Coldwell Banker agencies located respectively in Le Moulleau, Bordeaux, and on Cap Ferret, knows the area extremely well. "In Pyla, the market is always very active. Since the beginning of this year, we have already completed about 50 sales ! And their average price is around 1 million euros." By way of example, a traditional house of 150 m2 in need of renovation, set in grounds of 1,000 m2 in Le Moulleau, on the edge of Le Pyla, acquired by Parisian clients for 1,130,000 €. "This type of property is exactly what the majority of our buyers are looking for," says Marina Tonneau. They are prepared to invest hefty budgets in their second residences for several reasons. Firstly, of course, to benefit from this superb family resort, its beaches and watersports, and to swap their cars for a bike. At Easter, in the summer and during the All Saints' Day break, the population thus rises significantly. Though above all, prospects for the property market's future are such that buyers are reassured by the guarantee of acquiring a sound asset. Marina Tonneau expresses it very well : "The market is characterized by rarity, which is why prices always remain steady and demand never slackens off".
Associate Director of Barnes for the Bassin d'Arcachon, Christophe Vaissié specializes in the front-row area of Le Pyla, properties with sea views or close to the beach. Passionate about his work, he is deeply committed to assisting his clients, explaining the market to them, advising them and, of course, helping them to find the property which best suits their needs. Essential values with Barnes, which has just opened a new agency in Arcachon, on the seafront, in order to cater more efficiently for future buyers. "In Le Pyla, we are lucky to have a sound and stable market," says Christophe Vaissié. "Demand is always very strong and our clients are as demanding as ever, quite rightly so. Luxury here consists of a property's location and potential." Since the beginning of the year, the agency has sold a good number of villas between the Cercle de Voile and La Co(o)rniche. Towards Le Moulleau, the beach has its fans, while towards La Co(o)rniche, buyers are more attracted by elevated positions. "Le Pyla in fact benefits from different atmospheres and everyone can find what they want. Furthermore, we correspond perfectly to the healthy and sporty trend of today. The environment is beautifully serene, all kinds of watersports are available, everything is easy and, very important, within easy reach !" French buyers from other regions, ex-pats, foreigners from London, Dubai, Singapore, Belgium and Switzerland are all looking for a pied-à-terre in Le Pyla. And it's
hardly surprising...
You will also like