Prized addresses around Lake Geneva
Evian-les-Bains, Thonon-les-Bains and, set further back, Collonges-sous-Salève... Highly-prized by people working in Switzerland, these addresses comprise a diverse property market featuring numerous high-end new-builds. An overview of these towns and villages offering privileged settings...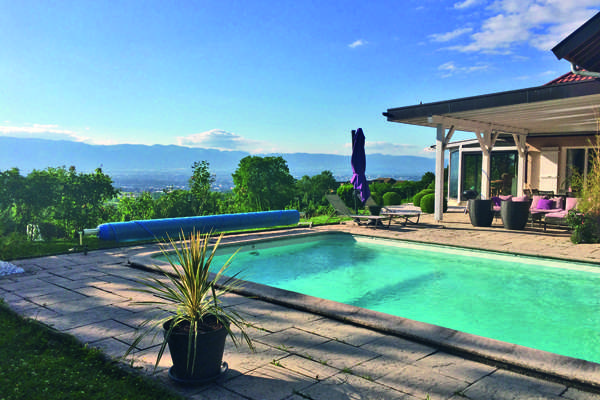 Faisant partie de l'agglomération du Grand Genève, Collonges-sous-Salève se situe entre St-Julien-en-Genevois et Annemasse, au pied du Salève. En constant développement, la commune abrite près de 4000 habitants dont de nombreux frontaliers, séduits par l'environnement verdoyant et surtout la situation géographie stratégique permettant de rallier le centre de Genève en 15 m ainsi que le Plan-les-Ouates (où se situe le site de Rolex qui emploie 1800 personnes) et Carouge en passant par de petites routes désencombrées aux heures de pointe. « Certains acquéreurs travaillant en Suisse sont prêts à débourser des sommes plus importantes pour un bien identique s'il se situe à Collonges. Cela leur offre un confort de vie incomparable » explique Christian Petament de l'agence familiale Affair Immobilier créée en 1996 et installée depuis 2009 à Collonges. « Motivés par les taux d'emprunts toujours bas, de nombreux acquéreurs s'empressent de concrétiser leur projet. Le marché a donc été très actif ces derniers mois et les produits à la vente se font de plus en plus rare sur l'ensemble de notre secteur » précise le professionnel qui vient de réaliser la transaction de 4 des 5 terrains qu'il présentait offrant une vue dominante sur le lac Léman. « À ce jour, il reste une parcelle de 800 m2 affichée à 400.000 €. Tous les autres lots de superficie oscillant autour de 1000 m2 se sont vendus entre 400.000 et 500.000 € » confie l'expert dont la clientèle se compose principalement de frontaliers et de quelques Suisses. Autour de Collonges, quelques programmes neufs proposent des appartements de standing, à l'image de la résidence Equinoxe à Vétraz-Monthoux où les lots sont commercialisés autour de 4400 €/m2, hormis les deux attiques offrant d'exceptionnelles vues plongeantes sur le mont Blanc, les Aravis et l'ensemble du bassin genevois. Ils sont affichés à 6000 €/m2.
L'offre en logements neufs est également riche et variée à Evian-les-Bains où les prix oscillent autour de 4500 €/m2 et à Thonon-les-Bains où ils avoisinent plutôt 3900 €/m2. Situées toutes les deux sur les bords du lac Léman, elles accueillent une importante clientèle de frontaliers en résidence principale et quelques étrangers qui investissent pour une résidence secondaire. Avec ses 8000 habitants, Evian est un grand village réputé pour la qualité de ses installations thermales. À 9 km de là, Thonon, accueille près de 32.000 habitants dont de nombreux retraités appréciant la qualité de vie et l'ensemble des commerces de proximité et commodités offertes par la ville. « À Thonon, les acquéreurs sont plutôt des locaux tandis qu'à Evian les investisseurs reviennent » précise Lydia Christin-Barres de l'agence Imogroup, spécialisée sur le marché autour du Lac Léman. À titre d'exemple, la professionnelle cite la résidence Terre O abritant 43 logements du T1 au T4 à proximité du centre ville de Thonon. Cette réalisation con­tem­poraine offrant des prestations au gout du jour présente des T3 commercialisés à partir de 218 000 €. Une proximité immédiate sur le lac Léman influe immédiatement sur le prix. Tel est le cas de la luxueuse résidence La Palmeraie à Evian. Composée de 2 bâtiments abritant 9 appartements, cette adresse de standing nichée au coeur d'un environnement verdoyant entièrement clôturé se dresse face au lac Léman. Les T3 de 62 m2 sont commercialisés à partir de 359 000 €. « La cote des biens anciens ne baisse pas pour autant, le marché demeure tendu. Toutefois, les biens correctement estimés trouvent rapidement acquéreur » précise la professionnelle.
You will also like