Pézenas : Mediterranean charm
Ideally located between the Mediterranean coast and the hinterland of L'Hérault, Pézenas is a village steeped in history with less than 9,000 residents, a very pleasant place to live. In terms of infrastructures, it has nothing to envy of the large agglomerations close by. Its real estate, much more affordable than that of Provence, is thus seen as a sound investment.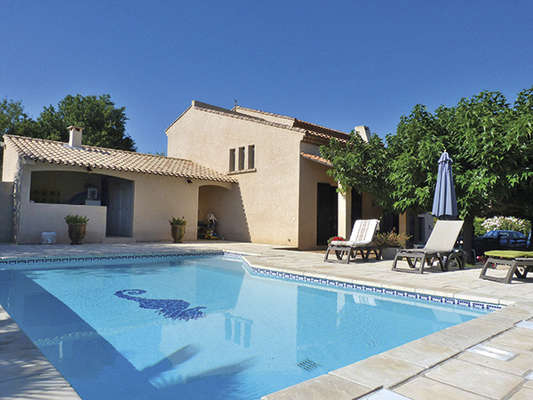 This villa of 240 m2 (eight main rooms including five bedrooms and a lounge of 60 m2) benefits from a pool, garage and mature garden of 2,580 m². Not on an estate, it has no direct neighbours. 736.000 €. Eye Immo (04 67 37 23 96).
Pézenas's motto, "A legacy to be lived", is certainly appropriate : an old town boasting about 30 buildings listed as Historic Monuments, 16th-C. mansions, churches several centuries old, the traces of a medieval Jewish ghetto, museums, cultural and traditional events such as "La Mirondela dels Arts" and the Carnival... The village has a spell-binding past, especially as the great Molière came here in search of inspiration. Though Pézenas also offers the peacefulness of the countryside and a Mediterranean climate. The sea is, in fact, only 20 km away. Easily acccessible on the A9 and A75 motorways, Béziers et Montpellier are respectively 25 and 55 km away. Finally, the "Piscénois" benefit from a well-known market dating back to the 15th century, shops ranging from arts-and-crafts to a supermarket, and several intermediate and secondary schools.
Given all these assets, the property market posts very reas­onable prices. "An apartment in Pézenas ranges from 50,000 € for a studio to 300,000 € for a spacious loft of over 200 m2," says Pauline Vidal, manageress of the Eye Immo agency. "For properties of character with old paved floors and exposed ceiling beams, one can expect to pay from 150,000 to 200,000 €." As for houses, there's a wide choice : from highly sought-after village houses at around 200,000 € to top-quality properties priced at 800,000 €. Single-storey villas with gardens are, however, the most highly-prized homes on the commune. "By way of example, villas of 100 to 150 m2 in grounds of 500 to 1,000 m2 range from 250,000 to 400,000 €."
Buyers are often "people who come from Paris and northern France to plan their retirement in the south," explains Philippe Bariant, manager of the AOIC agency. "Though foreign clients are also pretty numerous : lots of English buyers and, over the past two or three years, Swedish clients whose arrival is directly linked to the development of low-cost flights between Béziers and Stockholm." Our estate-agent has also noticed the appeal of Pézenas among investors for whom, despite the crisis and the banks' reticence to provide mortgages, "small investments of 50,000 €, low risk and intended as rentals, are interesting. Yield is about 7-8 %. No financial investment offers that much !"
You will also like