Mulhouse and its attractive surroundings
Benefiting from well-sustained economic and industrial activity, Mulhouse and its surrounding region offer lots of appeal. Especially as prices here are very affordable, giving appreciable financial opportunities.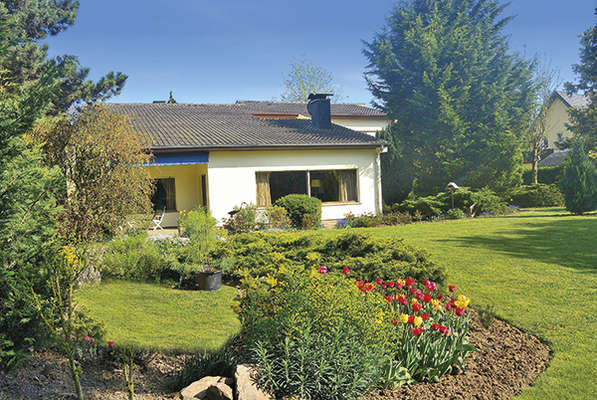 20 minutes from Mulhouse, this property of 460 m2 comes with a garden of almost 4,000 m2. 777.000 €. Latuner Immobilier (03 89 31 18 72).
According to Arnaud Latuner, manager of Latuner Immobilier, an agency mainly handling sales transactions, now is the ideal time to take the plunge in the region around Mulhouse : "Prices are affordable, mortgage rates historically low, and the choice of offerings is very wide". Based in Kingersheim (less than 5 km north of Mulhouse) for the past three years, he covers the "town with 100 chimneys" and the area within a 20-km radius : "Especially in the centre of Mulhouse, where the price per sq. metre ranges from 1,200 to 1,300 €, there are some fine opportunities waiting to be snapped up". In the leafy, middle-class neighbourhood of Le Rebberg, prices can exceed 2,000 € per sqm., with middle-of-the-range prices to be found in areas now attracting buyers, such as Salengro and around the railway station. "To the north of the agglomeration, on communes like Pfastatt, Kingersheim or Wittenheim, the price per sq. metre is about 1,500 € for apartments, 1,900 € for detached houses. To the south, on the very appealing communes of Brunstatt and Riedisheim, it ranges from 1,700 to 2,200 € for apartments, rising quickly to over 2,000 € for houses." As for building land, the price per 100 sq. metres ranges from 17,000 to 20,000 € to the north, 25,000 to 27,000 € to the south and in Le Rebberg. Arnaud Latuner insists on the advantages obtained from consulting a real professional, "particularly since the new provisions in the Alur law". He has no particular client profile : "We receive as many enquiries from first-time buyers as from couples with children looking for larger homes, and also from investors. The yield on rentals, which can attain 8 to 10 % gross in the centre of Mulhouse, is, in fact, extremely attractive".
Thierry Chacon, manager of Ifea Partner, an agency based in Wittenheim (less than 10 km north of Mulhouse) for the past seven years, handles sales and mortgage brokerage in Mulhouse and as far as its outer ring. He confirms that "today, everything signals green for go, to become a home-owner or pick up a bargain. Down 5 to 15 % depending on the area, though stabilizing over the past six months, prices now correspond to real market factors". In the case of apartments, Thierry Chacon says the price per sq. metre ranges from under 1,000 € to over 2,000 € intra-muros. "North of Mulhouse - in Pfastatt, Kingersheim, Illzach or Wittenheim -, you can find 3- or 4-bedroomed apartments from 120,000 €, while the same type of home cannot be had for under 200,000 € to the south." The same goes for houses : "The starting price to the north is 150,000 € as compared to 200,000-220,000 € to the south". Semi-detached houses from 100,000-120,000 € are also available intra-muros, with villas in Le Rebberg priced from 400,000 €. Prices for new apartments, soon to be delivered in a few new developments, vary from 2,000 to 3,000 € per sqm. Thierry Chacon, whose buyers' profiles are also very diverse, recently sold a 1-bedroomed apartment of 45 m2 in Illzach at 74,900 €, and a house of 150 m2 with a garden of 400 m2 in Wittenheim for 219,000 €.
You will also like