Montpellier, a very attractive town
Today the eighth largest town in France with about 260,000 inhabitants, Montpellier has hosted a constantly growing population over the last 50 years. Its centre is particularly appealing, which helps to boost certain neighbourhoods.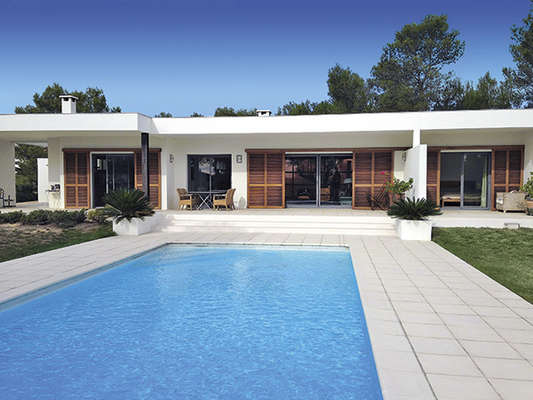 This villa in the northern part of Montpellier offers living space of 250 m2 in grounds of 3,000 m2 with a swimming pool. 1.165.000 €. Agence Galerie Casanova (04 67 66 00 66).
People like Montpellier. And for good reason : a student town with a lively cultural life, it enjoys a Mediterranean climate, is only 10 km from the beaches (Palavas-les-Flots), and a 3 hr 15 minute ride on the TGV to Paris. Claiming almost 20 % of the listed historic monuments in L'Hérault (over 100 buildings), it is also a city with a rich architectural heritage. As evidenced most notably in the town centre, known as "L'Ecusson", which has managed to retain its original appearance in a rather exceptional manner.
Thus named because of its shield-shaped layout, the heart of the agglomeration, home to the famous Place de la Comédie, is in fact the focal point of everyone's attention : "Currently, our clients are very keen to get as close as possible to the centre to benefit from its liveliness," says Gérald Casanova, sales manager for L'Agence Galerie Casanova, which specializes in middle to high end and unusual properties in L'Ecusson and the chic neighbouring areas. As a result : "These surrounding neighbourhoods, ie. Les Arceaux, Les Beaux-Arts, Faubourg Boutonnet and Aiguelongue, have become highly-prized as sound investments. Prices here are stable, life both pleasant and practical, thanks to the proximity of shops and the tramway. Buyers are now prepared to sacrifice some living space in order to live here". Gerald Casanova's portfolio contains houses priced from 400,000 to 1 million euros. "For apartments in the centre, people pay from 130,000 €, and also up to 1 million euros." As for unusual properties, he recently sold a former "orangeraie" of 180 m2 dating back to the Directory period, "with a magnificent façade", and a garden of 800 m2, for 540,000 €.
Carlos Montoro, manager of Consil Immobilier, is based in the Antigone neighbourhood, next door to L'Ecusson. Covering this area as well as those of Richter, Port-Marianne, La Pompignane and Les Aubes, he describes the sector as "highly sought-after, because it benefits from all the necessary amenities, public transport, and fast access to the sea and A9 motorway". He also confirms the appeal of the town centre, "especially for clients close to retirement age". In the case of apartments, prices per sq. metre range from 2,800 to over 4,000 €. "There aren't any houses in L'Ecusson, but many properties in old buildings offer spacious rooms and high ceilings." In Antigone, a more recent neighbourhood, prices range from 2,800 to 3,300 € per sq. metre, while they are slightly higher in Richter : 2,800 to 3,500 €. In Port-Marianne, "they easily exceed 3,500 €, as this neighbourhood has become very fashionable". In the "pleasant area" of La Pompignane, "houses nearest the centre" cost around 400,000 €. Finally, in Les Aubes, with a proliferation of 1970's apartments, "spacious, as per the standards of the time", the average price revolves around 2,700 €.
Laetitia Ferrer-Durand, manageress of the Immo.d.al agency, believes that there are "good reasons to hope for a pick-up in Montpellier's property market as the town continues to exercise its appeal, bringing thousands of newcomers each year". She also mentions the positive effects of low mortgage rates and, above all, the reform of taxation on capital gains, "which incites owners to put their properties up for sale and is thus beginning to boost activity for old properties". She can currently propose a full range of homes : "We have as many studios for sale as 1-, 2- and 3-bedroomed apartments. In L'Ecusson, the average price per sq. metre is 3,300 €. In the surrounding neighbourhoods, it is about 2,700 €. In the case of houses, it is higher than on neighbouring communes : around 3,000 €". The most common transaction is, however, the 2-bedroomed apartment in an old building, costing around 150,000 €. Otherwise, Laetitia Ferrer-Durand has noticed an explosion in the number of sales in new developments, resulting from applic­ation of the Scellier scheme. "This phenomenon is, however, running out of steam, as the Duflot scheme is less enticing."
You will also like