Lovely old stone in Anjou
Even though the duchy no longer exists, the term "Anjou" still designates this historic part of France, now known as Maine-et-Loire. A 90-minute ride on the TGV from Paris, bordered by the airports of Paris, Nantes and Tours, it is very appealing to tourists, mostly thanks to the famous Châteaux of the Loire.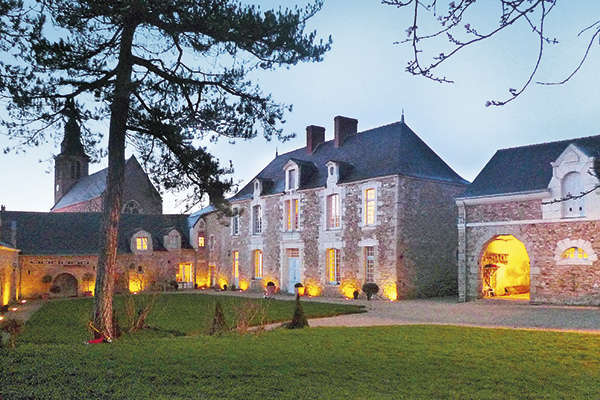 A square inner courtyard, a barn, stables, bread ovens, cellar, dovecote... This restored 17th-C. property is close to the centre of Brissac-Quincé. 750.000 €.Laurent Paillocher Agent Immobilier (02 41 47 28 07).
With its capital Angers, Anjou benefits from a rich cultural heritage which includes famous castles and church buildings in Angers, Saumur, Brissac, Serrant... Anjou is also indissociable from its vineyards, especially those in the renowned southern Loire. Within this luxuriant environment, the lovely views are dotted with many authentic residences, recognizable for their refined architecture and the use of local building materials such as slate and "tuffeau", or limestone. Here, foreigners dreaming of treating themselves to a house with lots of character embodying part of the history of France and its fine art of living are appreciative of the life-style in Anjou, but also the excellent value for money offered by the majority of these charming properties. "The banks of the Loire are as highly prized by the British as by the French," comments Karine Massardier, an associate partner in the Vallée des Rois agency opened in 1998. Its double identity - French and British - enables it to cater for a large English-speaking clientele, mostly from the UK, but also from the USA and Australia. "Just recently, we have also begun to see a few Brazilians and Italians taking an interest in the countryside south of the Loire. Joined by Parisians, our clients are mainly looking for homes of character offering authenticity and classic French charm. Properties thus built of stone, which are not necessarily synonymous with luxury : we propose manor houses and small châteaux, but also typical "longère" farmhouses with ponds, and even ruins in need of total renovation." "Longères" in good condition can be found from 300,000 €, manors cost close on 800,000 €.
Specializing more on Anjou's intra-muros market and the immediate surroundings, Laurent Paillocher, an independent agent based in Brissac for the past ten years, offers his expertise for properties of character benefiting from well-preserved old features and ideally set in wooded grounds. "Mostly from Paris, my clients fall for the charm of residences proposed in the southern Loire. With bud­gets starting from 600,000 €, they can aspire to a lovely residence with stylishness and charm." Among his most recent sales, our specialist mentions a 17th-century property close to Brissac. Offering living space of 350 m2 and grounds of 3,000 m2, it found a delighted taker for slightly over 750,000 €. "Clients looking solely for holiday homes are becoming rather rare. New ways of working are bringing Parisian executives aged 40 to 50 to the market in Angers : after selling their apartments in Paris, they can treat their families to a home and a magnificent setting in the country yet close to a large town, only 1 hr 30 from the capital by TGV. They work from home and spend one or two days a week in Paris," explains Laurent Paillocher, for whom the outlook for 2014 is very promising. "Buyers are there, with serious plans and solid budgets. The estate agent's challenge is therefore to propose offerings meeting their expectations. Today, a well presented property in a good location sells very quickly."
You will also like