Lézignan-Corbières : unbeatable prices
A pleasant little town with a Mediterranean climate, ideally located between Carcassonne and Narbonne, Lézignan-Corbières is undergoing extensive development. Yet its real estate is surprisingly affordable.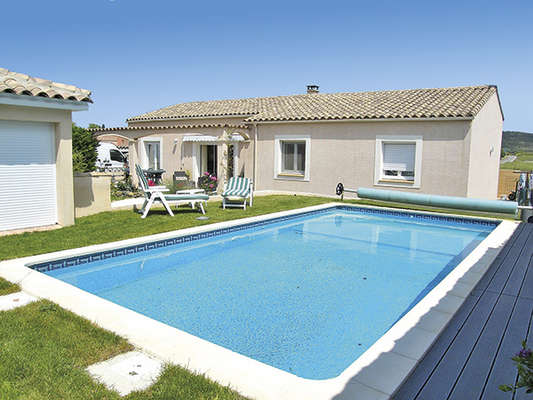 This villa of 140 m2 in Lézignan offers 5 main rooms and a garden of 700 m2 with a pool. 275.000 €. Lezimmo (04 68 33 60 14).
In the Massif des Corbières, Lézignan-Corbières and its 11,000 residents are putting on a show of remarkable dynamism. As witnessed by a secondary school, second intermediate school, mediatheque and a covered market, all opening soon. Infrastructures which will join those already functioning : a train station, aerodrome, hospital, and access to the motorway (the A61, linking Toulouse to Narbonne). Which is in fact the only one between Carcassonne and Narbonne. Another appealing asset : the closeness of the sea. Though the commune's strongest point is undeniably its very reasonable property prices.
"We are less than 20 km from Narbonne, yet prices here are 10 to 15 % lower. Some real bargains can thus be found in Lézignan-Corbières and the surrounding area," claim Bruno Dlachasse and Olivier Alteresco, who opened the Lezimmo agency as partners three years ago. Proposing top-notch service (client assistance, advice, selection of professionals for renovation work and various other home improvements...), they cover a sector stretching from Capendu, "and even beyond", to the entrance to Narbonne, ie. the entire region of Le Minervois and Les Corbières, as well as a few localities in Le Pays Cathare. "You can find some pretty little villas in Lézignan in excellent condition, with gardens of 300 to 500 m2, for 160,000-170,000 €. Very affordable homes for young retirees." Village houses, "usually of more interest to the locals", cost less than 150,000 €, while "really desirable properties intended for wealthier retirees or as second residences range from 270,000 to 450,000 €, which is half as much as in some areas around the Mediterranean. Not forgetting that the environment here is much less built-up". As for building plots, they are larger, easier to find and three times less expensive as in Narbonne : "A plot of 600 to 1,000 m2 is likely to cost from 50,000 to 70,000 €". Prices which inspire our estate agents to comment that "Lézignan proposes the cheapest sunshine in the Mediterranean".
Nathalie Vidal manages L'@gence which has four addresses, in Marcorignan (opened in 2004), Gruissan (2011), Narbonne (2012) and Lézignan-Corbières (2007). She also covers a good part of L'Aude, "the least expensive département in Languedoc-Roussillon", its urban areas, coastline and back-country. "Properties that sell very easily in Lézignan are single-storey villas on estates and town houses with outdoor areas, seen as indispensable." The first are sought after by retirees. "Many come from the northern half of France, though others come from all over the country." The second are acquired as holiday homes or rental investments. Nathalie Vidal has in fact just placed a town house with a small courtyard on the market at 90,000 €. What about apartments ? "A 2-bedroom apartment in the town centre can be had for 80,000 to 90,000 €." Also receiving enquiries from a few Belgian and Swiss clients, Nathalie Vidal sees "some real opportunities to be snapped up in and around Lézignan, especially in recent housing". Hardly what one would expect in a town seeing such wide-scale expansion...
You will also like