Le Gers, a rural world bordering on Toulouse
The undulating scenery of Le Gers is home to 185,270 people. One of the sunniest "départements" in France, it has a low population density of around 30 inhabitants per sq. kilometre, ie. one-third of the national average. Not very built-up, the region offers a life-style of undeniable quality. Our experts fill in the details...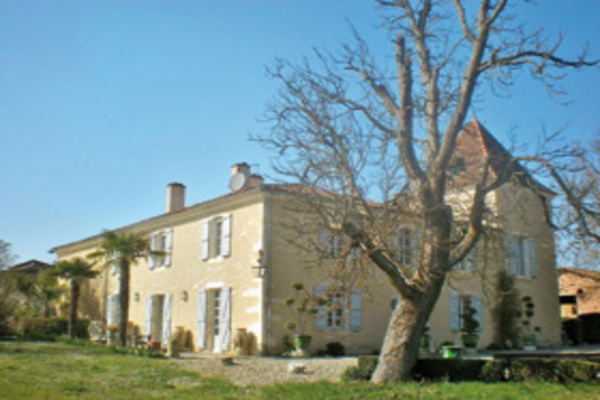 At the entrance to a small village in Le Gers, this residence of 390 m2 comes with three self-contained apartments, outbuildings, a chapel, winter garden, swimming pool and two barns, on approx. 66.7 acres of land. 2.050.000 €. Donjon Immobilier (06 73 19 88 54).
The local economy is mainly based on agriculture and the tourist industry. Le Gers grows corn, wheat, rapeseed and sunflowers, while also producing Armagnac and other spirits, and an AOC wine called Madiran. In 2009, the region welcomed 890,000 tourists providing a total 2,400 jobs directly related to the activity. Of the 6,400 holiday homes in the area, nearly one-fifth are owned by foreigners.*
"A region as authentic as one could wish, Le Gers lies between the Pyrenees and the Atlantic Ocean," says Martine Rivière of Donjon Immobilier. "Some of its villages have been awarded the "Most Beautiful Villages of France" label. A description of the area inevitably has to include the roads to Saint-Jacques de Compostelle, the Abbey of Flaran and the Cathedral of Auch. Gastronomy reigns supreme in the homeland of D'Artagnan : "foie gras", "confit de canard" and Gascon "pastis" fill the market stalls." Before the financial crisis, the property market was booming, especially small houses in need of restoration. Buyers were mostly English, a source of business which has since melted away. Over the past two years, prices, which naturally declined, have finally stabilized and this type of property has virtually disapeared from agencies' files. Le Gers is composed of three main sectors. The first, characterized by its proximity to Toulouse, encompasses L'Isle-Jourdain, Samatan, Gimont and Mauvezin. Locals live here all year round, fond of the countrified atmosphere. Building plots range from 50 to 130 €/m2, depending on whether they are in Mauvezin or closer to L'Isle : villas range from 1,000 to 2,200 €/m2. Depending on the amount of renovation required, fans of old stone pay from 1,200 to 2,500 €/m2. Auch, Fleurance, Castera and Lectoure comprise the second sector, where the famous "Gasconne" house really comes into its own. Village houses cost from 800 to 1,500 €/m2, building land 40 to 110 €/m2, homes of character from 1,200 to 2,500 €/m2. Finally, the third sector, L'Armagnac, lies at the edge of the Landes, home to Condom, Nogaro and Eauze. Here, one can still find houses to restore from 800 to 1,200 €/m2, whereas prestige properties can reach 2,500 €/m2. The clientele is as diverse as their reasons for wanting to buy. Martine Rivière also points to the wide disparity in prices, which decline the further one moves away from urban centres. Le Gers offers a good calendar of events : the jazz festival in Marciac, country music festival in Mirande, "Tempo Latino" in Vic-Fezensac, "Escota é Minja" in L'Isle, not forgetting the car-racing track in Nogaro.
"L'Isle-Jourdain and its neighbouring communes are really part of the west side of Toulouse," says Hélène Thulliez of the Agence 124 Immobilier. "Employees in the areonautics industry, based in Colomiers, no longer hesitate to acquire a home 33 km from the Place du Capitole, a 25-minute drive since the opening of the bypass (dual carriageway) in July 2010." Properties are more affordable here, the terrain more hilly, open and airy : residents also enjoy a good array of basic infrastructures, shops and amenities, especially with TER trains providing an easy way of reaching the "Ville Rose". The many on-site facilities include schools up to secondary level. Hélène Thulliez does not deny a slower rate of activity during the crisis, but stresses constant demand for both sales and rentals. The bulk of transactions are in the 200,000-300,000 € bracket. A couple of first-time buyers just bought a duplex apartment of 68 m2 opening out to a terrace of 70 m2 for 149,500 €. Another young couple acquired a brick village house of 72 m2 with a garden of 1,200 m2, right in the centre, for 270,000 €. Finally, another buyer transferred to the region paid 230,000 € for a home of 88 m2 in good condition with a garden of 1,500 m2, about 4 km from a village.
* (Source Wikipedia)