Le Barcarès and Leucate
The first, with almost 4,000 residents, lies 22 km from Perpignan to the extreme north of the Pyrénées-Orientales, between the lake of Salses and the Mediterranean. The second, hosting 3,860 people, in the Corbières-Maritimes, belongs to the "département" of the Aude. Our estate-agents take us on a tour...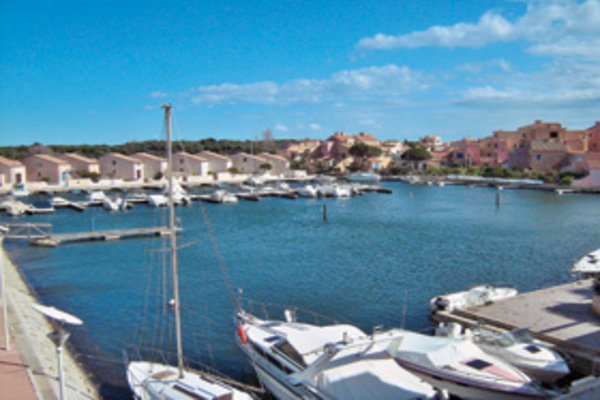 This studio in La Coudalère enjoys an unimpeded view of the lake, sleeps four people and has a secure private parking place. 66.000 €. Acil Immobilier (04 68 86 01 00).
For many long decades, the coastal strip where one now finds Le Barcarès was an unwelcoming desert. In the 19th century, it became a real fishing harbour. Shipyards then built the famous Catalan boats known as "barques", while "sea-bathing" became very popular. Launched in the 1960's, the mission (called "Racine") to develop tourism along the coast of Le Languedoc-Roussillon called for the construction of a seaside resort. "Le Lydia", a steamer voluntarily beached on the shore, became its symbol. Half-way between Perpignan and Carcassonne, Leucate, a stronghold in the pay of royalty in the 16th and 17th centuries, forms a peninsula boasting 17 km of beaches and a marine lake covering an area of 17,290 acres. Three AOC wines are produced within its territory.
"The village of Le Barcarès mainly caters for locals living here year-round, wanting to be fairly close to amenities, shops and the market. Modest houses of 45 to 60 m2 with an outdoor area range from 100,000 to 140,000 €. Some offer a sea view," says Karine Argence of Méditerranée Home. A distinction is then to be drawn between the fishing harbour and the sailing area. Apartments built from 1970 to 1975 benefit from relatively generous surface areas. A 1-bedroom apartment, usually offering living space of 45-50 m2, costs around 100,000 €, while a 2-bedroom apartment in a luxury residence is close on 150,000 €. La Cou-dalère then offers all the advantages of the marine lake, including water-sports which compensate for the absence of a real bathing area. Prices are lower than on the Mediterranean side, which is about 1.5 km away. A 1-bedroom apartment facing both the lake and Le Canigou is worth 70,000-80,000 €, a recent house of 60-70 m2 will fetch 150,000-160,000 €. Real bargains under 60,000 € can be found at La Grande Plage. Lively from March to October, this family resort is laid out around the Place du Tertre. A 1-bedroom apartment with mezzanine costs 75,000 €, or from 80,000 to 85,000 € if it comes with a panoramic view of the water.
"With the exception of two or three apartment buildings, Le Lido features detached and semi-detached villas of 100-170 m2 with gardens from 350 to 1,000 m2, priced from 300,000 to 550,000 € Some have been split into apartments," adds Rosy Pino-Bresson of Acil Immobilier, an agency specializing in sales, rentals and management under the terms of the FNAIM. As a prolongation of the harbour, La Presqu'île, a quiet peninsula surrounded by water, is evenly shared out between locals and occasional residents. Sailing enthusiasts look upon the pontoon as a real asset. Prices range from 100,000 to 200,000 €, with revamping often necessary. A house of 60 m2 with a garden of 181 m2 and a garage can be found for under 200,000 €. On the lake side, just 400 metres from the beach, Cap de Front offers "pav-illons" from 100,000 to 150,000 €. Leucate, composed of three different areas - the beach, town and harbour -, 4 km from each other in the continuity of Le Barcarès, is a tourist destination and, therefore, seasonal, coming alive from June 15th to September 15th. This aspect explains price differences of 20-25 %, as does the environment. For example, a garage costs around 30,000 € in Barcarès-Village, as compared with 22,000 € at Port Leucate, a natural fall-back market. "Almost all transactions, under 100,000 € in the majority of cases, concern holiday homes," concludes Karine Argence. "People from Toulouse, the Parisian region, northern France, Alsace and Lorraine all appreciate the address. In addition to personal enjoyment, many buyers are looking for income from seasonal rentals. Finally, first-time buyers, who do not exceed 5 % of the clientele, cannot afford to pay more than 150,000 € for their homes."
You will also like