La Croix-Valmer, an insider address
Nestling at the southern entrance to the Saint-Tropez peninsula between Le Lavandou and Sainte-Maxime, La Croix-Valmer is a seaside resort in Le Var benefiting from a fabulous location and maximum sunshine. Backing onto the Corniche des Maures, in the midst of a very luxuriant setting, it has managed to retain its peacefulness while offering immediate proximity to the bustling Saint-Tropez.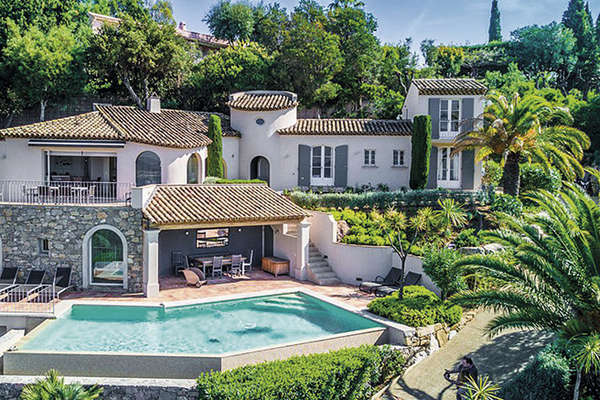 Offering a stunning panoramic view of the sea, this property with 5 en-suite bedrooms is just 2 km from the beaches of Gigaro. A very desirable location. 3.300.000 €. Heraclee - Darnis Immobilier (04 98 12 94 12).
Boasting seven natural sandy beaches renowned for their beauty and the quality of their bathing water, La Croix-Valmer stretches out along a coastline 6 km long. Rated by many connoisseurs as one of the loveliest in the département, the beach of Gigaro is one of the resort's maritime gems. Comprised of a protected nature park of about 543 acres, La Croix-Valmer also proposes delightful walks in the woods lining the shore, along the old customs path. Overlooked by the Tour de l'Horloge (Clock Tower) built in the 14th century, the old village lays claim
to the unspoilt charm of an authentic Provençal village.
Convinced of the potential offered by La Croix-Valmer, the Heraclee agency of Saint-Tropez recently opened a branch on the commune by taking over the Agence Darnis.
"La Croix-Valmer offers an outstanding environment just 20 minutes from Saint-Tropez. Our clients appreciate the excellent value for money represented by villas enjoying stunning views of the sea. La Croix-Valmer is not, however, solely a fall-back market, but an address deliberately chosen by connoisseurs," confides Filippo Speranza Patrignani, the manager of this agency whose clientele is mainly comprised of French buyers looking for semi-main or holiday homes. Most of the sales it handled recently involved villas priced from 1 to1.5 million euros. Top-notch properties naturally cost more, like one example with lots of character, set in almost 8,000 m2 of grounds overlooking the Gigaro beach. Up for sale at around 1.7 million euros, it should find a taker very soon.
Inaugurated in 2016 by a team backed by two decades of experience in the area around the Gulf of Saint-Tropez, the Immosûr agency covers a radius that includes Gassin, Grimaud, Cavalaire, Rayol-Canadel-sur-Mer, Sainte-Maxime and, in particular, La Croix-Valmer. "Halfway through 2017, activity is steady, borne along by appealing prices," says Guillaume Videcoq, who manages the agency with his Dutch partner, Johanna Evers. "95 % of our transactions involve a majority of foreign buyers led by Belgian, Swiss, Dutch and German clients in search of holiday homes." Reassured by the result of the presidential election, potential buyers now want to put their plans into practice as quickly as possible. "They opt for La Croix-Valmer for the quality of the site itself, especially its well-preserved natural heritage with its low density of buildings. They also appreciate the easy access to Saint-Tropez and Ramatuelle. Furthermore, the commune is lively year-round with shops and amenities making everyday life easy." Demanding buyers are nevertheless beginning to come up against scarcer offerings, with high-quality properties becoming thin on the ground. As an example of properties forming the agency's core market, Guillaume Videcoq mentions the recent sale of a charming villa in the neighbourhood of Le Paillon. Offering Provençal authenticity likely to spell love at first sight, this villa in a quiet spot enjoying a sea view and requiring no renovation, just sold for 1.6 million euros, within just one month. "When owners are realistic about their offering price, sales go through very quickly," says Guillaume Videcoq. "All factors combined, we can really look forward to some very successful sales."
You will also like