La Clusaz and Les Gets : lively village resorts
Much appreciated in winter but also in summer, La Clusaz and Les Gets offer an ever wider array of activities aiming to appeal to summertime holidaymakers keen on green vacations.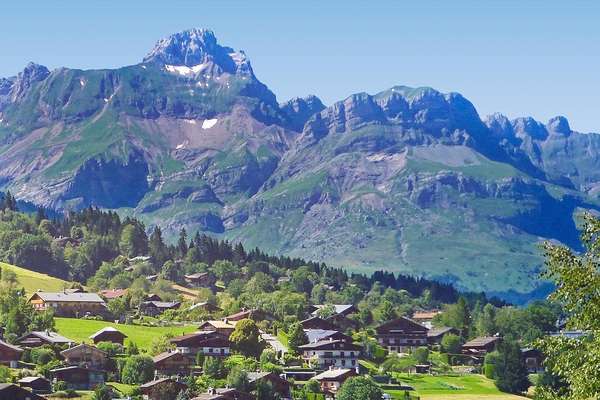 Straddling Savoy and Upper Savoy, the mountain chain of Les Aravis offers a fantastic playground in both summer and winter.
Launched in 1989, Arvis Immo can claim expert knowledge of the market in La Clusaz. Specializing in sales of apartments, chalets and land, the agency also distinguishes itself for the efficiency and quality of its holiday rentals and management service, as well as its partnership with the Rives du Lac agency in Veyrier-du-Lac, enabling it to make a unique lake-plus-mountains proposal. "Mostly French with a few Belgian, English and Swiss buyers, our clients target apartments in the centre of the village at prices ranging from 200,000 to 600,000 €, or comfortable chalets from 1 to 4 million euros," explains agency manager Joël Baud. Ideally located between Annecy and Geneva, the village resort of La Clusaz has developed by focusing on outdoor activities appreciated in all four seasons. "In La Clusaz, skiing is definitely the N°1 wintertime activity, but other sports such as mountain biking appeal to a growing summertime clientele. Add shops and amenities open year-round, plus a wide choice of entertainment for the entire family, and you understand why our address has become more and more popular." Rather narrow, the property market nevertheless posts prices that have stabilized over the past year. Here, a 1-bedroom apartment in a good location can be envisaged from 250,000 €, and a chalet from 900,000 €. "Real partners for our clients, we make it a point of honour to assist them throughout the entire procedure. Clients who have bought properties through the agency can entrust them to us in their absence. We select tenants for them, whom we pamper in order to guarantee their total satisfaction. From house cleaning, the delivery of wood, hire of additional equipment, to restaurant reservations, purchasing of ski passes, and even the services of a home chef, we offer them a wide array of services, like a hotel conciergerie."
Nestling between Lake Geneva and Mont Blanc, Les Gets is an authentic village in Savoy proposing exciting activities and major sporting events such as the World Cup in Downhill and Cross-Country Mountain Biking. With easy access from the TGV station in Cluses and Geneva's airport, this commune offering an elegant family atmosphere benefits from a lake for bathing with an aquatic park, and an 18-hole mountain golf-course open yearly from the month of May. Founded in 2012 by Angèle and Patrick Pernollet, Immo Select specializes here in sales, rentals and property management. Providing its clientele of holidaymakers and owners with an efficient conciergerie service, the agency has a portfolio of quality and premium properties for sale and rental management, comprised of studios, penthouses, rehabilitated farmhouses, beautiful chalets and new developments. "Due to steady demand, new properties meet with real success. We are currently marketing 11 developments at prices around 8,900 € per sq.m if they are in the centre, and from 7,400 € per sq.m within a radius of 800 metres," explain Angèle and Patrick Pernollet. Mainly French-speaking, the agency's clients also set their sights on lovely chalets. "Budgets for chalets range most frequently from 850,000 to 1.2 million euros. The most luxurious we are offering today are priced around 3 million euros."
You will also like