La Clusaz and Le Grand-Bornand, at the heart of Les Aravis
Awarded the very select quality label "Top of the French Alps", Le Grand Bornand and La Clusaz are neighbouring village resorts of international renown. At the heart of the Massif des Aravis, between Lake Annecy and the Mont-Blanc mountain chain, these two addresses are emble­matic of Upper Savoy.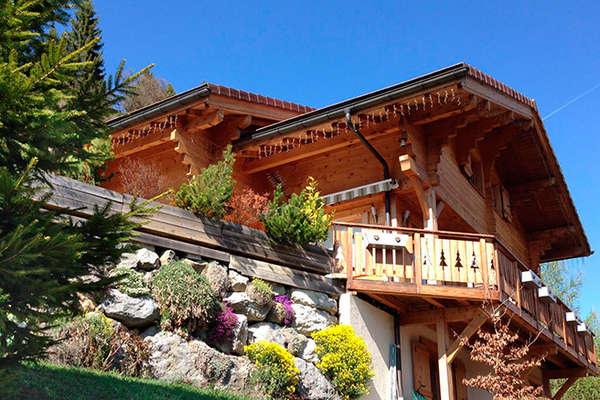 Near the centre of Le Grand-Bornand, this recent chalet of 214 m2 offers a beautiful living area opening out to a terrace, and an independent 1-bedroom apartment at garden level. 797.500 €. Century 21 Aravis Immobilier (04 50 02 20 18).
In 2013, and again this year, in Dec­ember 2017, Le Grand-Bornand will have hosted the Biathlon World Cup. At an altitude of 1000 m, the village, lively in all four seasons, offers an atmosphere typical of Savoy, while at 1300 m, the resort is prized by fans of the slippery slopes, particularly enthusiastic about its snowpark - one of the top five in France -, its 90 km of slopes and 32 ski-lifts. In summer, families come for hiking and nautical activities on the nearby Lake Annecy, and children look forward to entertainment specially laid on for them, including the festival "Au Bonheur des Mômes", held each year in August.
Comprised of apartments in small, timber-clad residences, and chalets offering traditional architecture, the market in Le Grand-Bornand provides a satisfactory mix of properties. "The highest demand is for homes at the heart of the village or those described as "ski-in, ski-out"," explains Catherine Rey of Century 21 Aravis Immobilier, an agency based in Le Grand-Bornand for the past 45 years. "1- and 2-bedroomed apartments range from 170,000 to 320,000 €, though buyers - mostly French, with a few Belgians, Swiss and Dutch -, are facing increasingly limited availabilities in the most desirable locations. The market here attracts lots of interest. Benefiting from interest rates that are still low, many buyers have completed their plans to acquire main or holiday homes on neighbouring communes, under favourable conditions." Prices for apartments range from 4,400 to 5,700 € per sq. metre depending on their locations and quality. Some very recent or refurbished properties post even higher prices. By way of example, Catherine Rey mentions a 1-bedroom apartment with a garage that she recently sold very quickly for 6,000 € per sq.m. Chalets are priced from 500,000 to 850,000 €. As for clients with hefty budgets, they are presented with a choice of prestige properties worth over 1 M €.
Since 1985, La Clusaz, 27 km east of Annecy, has played host to 18 Cups and a World Championship. Linked to Manigod, this resort born in 1907 and equipped as from 1955 with its first cable-car, harmoniously blends authenticity, comfort and liveliness. It offers 84 slopes in all, ie. 132 km shared out over five massifs, plus 52 km dedicated to cross-country skiing. With well-controlled property development and architecture perfectly integrated into nature, La Clusaz now offers around 4,500 homes in an outstanding environment for all categories of skiers. "The market is very buoyant and, overall, prices are trending upwards, as supply cannot keep up with demand. Today, a 1-bedroom apartment in a good location starts from 200,000 to 250,000 €," says Nicolas Kachelhoffer, manager of the two Luxalpes agencies in La Clusaz and Thônes. "Our clientele consists of local buyers, people from Paris, Lyon, and a good number of Swiss, who benefit from an exchange rate that encourages them to buy in France. A few Belgian and English buyers account for a low percentage of our clientele," adds this estate agent, also mentioning the return of substantial budgets over the past few months. The majority of sales orchestrated by Nicolas Kachelhoffer and his team in recent months have involved properties bearing price-tags of over 1 M € : a budget enabling these clients to aim for a chalet of approx. 200 m2 with high-spec appointments. For such a property in a prime location in La Clusaz, prices start from 1.3 M €.
You will also like