Hossegor and Seignosse, must-have addresses in Les Landes
Extremely popular among tourists, Hossegor and Seignosse offer stunning panoramic views of nature. A world-renowned hot-spot for fans of surfing, Hossegor has long been the N°1 destination in Les Landes.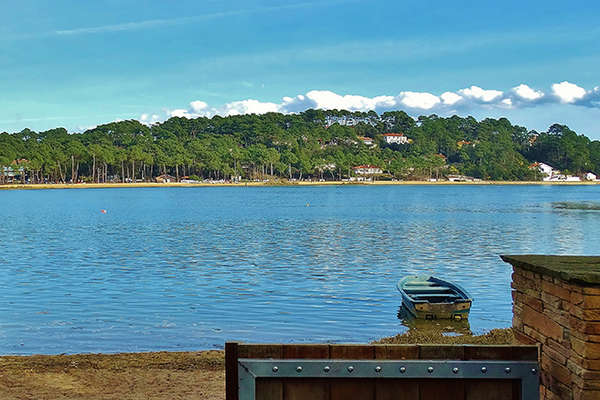 Designed by an architect, this house of 265 m² is on the front row between lake and ocean in Hossegor. Offering 3 en-suite bedrooms and a study, it is prolonged by a covered terrace. The landscaped grounds of 1,400 m2 benefit from a pool with pool-house. 2.400.000 €. Agence Terres & Océan (06 61 17 69 41).
At the entrance to the Basque country, the coastal part of Les Landes has a rather tight property market posting high prices. Between the ocean, lakes, the golf-course and countryside, Hossegor and Seignosse are both characterized by elegant, diverse architecture, including houses in Basco-Landaise style and smart contemporary properties. With a beach 6 km long, Seignosse occupies an area of about 8,940 acres including almost 6,175 acres of pine forests.
Inaugurated on July 10th, the Barnes agency in Hossegor is now the only one to represent a prestigious international name in the area. "This new office is dedicated to the market comprised of Hossegor, Seignosse and Capbreton. It is a market different in many respects from those of Biarritz and Saint-Jean-de-Luz, where Barnes already has agencies. We though it wise to be on site, to maintain closer contact with our clients," explains associate director Philippe Thomine-Desmazures. "As for the entire Basque coast, the market is very buoyant, and offerings are scarce. Les Landes consist of a flat, sandy area. On the front row, desirable properties can attain 4 million euros. On the shores of the lake, smart contemporary houses and 1920's residences of character are also highly-prized." By way of example, Philippe Thomine-Desmazures mentions one property currently in his portfolio : a contemporary front-row villa of 280 m2 facing the beach of Les Estagnots in Seignosse, a few minutes from the centre of Hossegor. Sheltered by the dune, this house extended by large wooden terraces is on offer at 3,990,000 €.
Acting as sole agent for a good many properties of charm, prestige and exception, the Terres et Océan agency has been based in Hossegor since 2007. "The first half of 2018 has confirmed extraordinary momentum," says Serge Pilke, manager of this agency with a portfolio mainly comprised of carefully selected villas and large properties. Among those currently offered for sale with the agency as sole agent, he mentions a top-notch property in the highly sought-after area between the beaches and lake of Hossegor, in Seignosse. This villa of over 450 m2 with a lounge of 80 m2, five bedrooms, a 2-bedroomed apartment and two self-contained studios stands in mature grounds of 1,800 m2 with a heated pool, garage and double car-port. Benefiting from lots of assets, it is priced at 1,890,000 €. "Many clients focus their searches on both Hossegor and Seignosse. These two neighbouring communes are natural extensions of each other," says our specialist, who can also offer properties of quality for more modest budgets, such as a charming 4-bedroomed villa of 170 m2 enjoying a superb view of the Seignosse golf-course, currently up for sale at 890,000 €.
You will also like