Central Alsace : a very enviable location
Living in the centre of Alsace means benefiting from the proximity of the mountains (Vosges), the region's famous vineyards, Strasbourg, Mulhouse, Switerland and Germany, all at a very affordable price.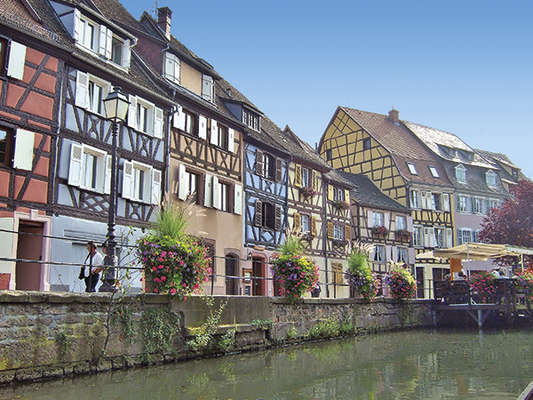 Colmar has lots of buildings typical of Alsation architecture such as these charming half-timbered houses.
"Le Centre-Alsace" is dominated by Colmar, a very lively agglomeration with almost 70,000 inhabitants, which is also a town of art and history on the famous "Route des Vins" (of which it is said to be the capital). "An historic town, offering living conditions of very high quality," sum up Christine Remonato, manageress and Sandra Vorburger co-founder of L'Immobilier Autrement 68, an agency covering a 10-km radius around the town for the past three years and offering a quality personalized service. Specializing in the residential area of Les Maraichers, which accounts for over 70 % of their sales, they say that prices per sq. metre range from 2,700 € for recent apartments to 3,700 € for those in new residences. "Prices of houses in Les Marai­chers differ widely depending on their condition. We recently sold a house of 140 m2 for 272,000 €, though it required extensive renovation work, which is often the case." Other­wise, prices per sq. metre fluctuate in Colmar and its surrounding area from 1,400 to 2,400 €. "Very attractive, for a home between Mulhouse and Strasbourg." An increasing number of first-time buyers are, in fact, calling on Christine Remonato and Sandra Vorburger's services.
Marc Landis, president of SAS Landis Consulting, manages three agencies in Central Alsace, in Sélestat (since 1988), Munster (2005) and Colmar (2011). Backed by very sound experience and a team of ten, he shares his observations : " The price per sq. metre for apartments in old buildings ranges from 1,300 to 2,000 €, in new residences from 2,800 to 3,500 €". As for village houses, "prices are even slightly lower, given that renovation work is frequently required : 1,000 to 1,500 € per sqm". A detached house in good condition costs 2,000 € per sqm. By way of example, Marc Landis mentions among his most recent sales a house of 90 m2 with a garden of 400 m2 at 190,000 €, a 1-bedroom apartment of 55 m2 at 75,000 €, and a recent 3-bedroom apartment of 90 m2 at 200,000 €. The most widely sought-after properties are, in fact, those whose prices remain within this type of budget (except in large towns). "Our clientele tends to be active rather than retired, with lots of first-time buyers."
You will also like