Carcassonne : a market with a good choice of affordable homes
Known worldwide for its impressive medieval city, Carcassonne offers an enticing array of opportunities. In this unique setting, the choice is wide and prices unbeatable.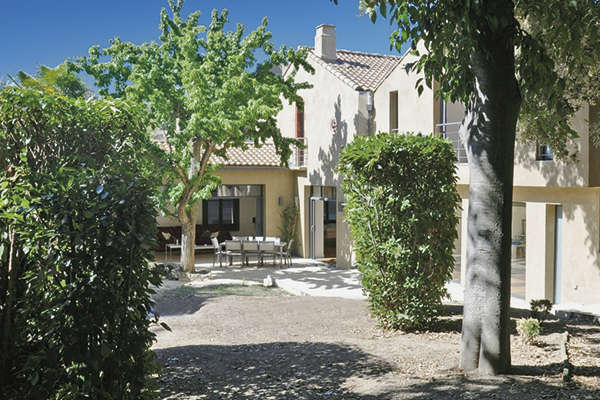 Near the medieval city, this 4-bedroomed house benefits from a garden of 865 m2. 630.000 €. R. Chayla Immobilier (04 68 71 57 27).
Carcassonne is, of course, an architectural ensemble dating back to the Middle Ages, exceptional for its size and state of conservation, listed in UNESCO's World Heritage, and a magnet for some 4 million visitors a year (France's second most popular tourist attraction after Le Mont-Saint-Michel). It is also a stopover not to be missed on the famous Canal du Midi, which is also listed. In addition, it is a town with almost 50,000 inhabitants benefiting from shops, well-developed arts and crafts, schools, healthcare facilities and an international airport. Ideally located between the Med­iterranean Sea and the Atlantic Ocean, the commune is crossed by the Autoroute des Deux Mers (more precisely, by the eastern section of the A61). It is thus only 1 hour from Toulouse and 1 hour 30 mins. from Montpellier.
Yet Carcassonne's property market is particularly affordable. "For an apartment, one can expect to pay from 800 to 1,200 € per sq. metre, depending on its condition and neighbour­hood," says Rodolphe Chayla, manager of R. Chayla Immobilier. "If it offers a lift, terrace and garage, the price can rise to 1,500 € or even 1,800 € per sq. metre. Though this is rare, as high-quality residences benefiting from such amenities are thin on the ground." As for houses, representing 80 % of the agency's activity, a 3-bedroomed "pavillon" of 100 m2 built in the 1970's-1980's in a residential area around the centre (such as Les Capucins or Pasteur), "with a small garden and garage", costs from 1,300 to 1,800 € per sq. metre. Further outside the town, prices are pretty much the same, though their gardens are larger and their design more recent. As exemplified by one of Rodolphe Chayla's latest transactions : a house of 120 m2 in grounds of over 2,000 m2, sold for 180,000 €, ie. 1,500 € per sq. metre. "The existence of a pool, which is not uncommon, does however take the price up to 2,000 € per sq. metre." High-end properties, one of the agency's specialities, usually range from 1 to 1.5 M €. "I currently have a genuine opportunity on the books : a fully renovated château of 2,000 m2, on offer at 2 M €."
Henri Kervran, manager of Kervran Immobilier Conseil, confirms these very low prices, emphasizing "the outstanding value for money offered by Carcassonne's property market" and a wide choice "of both houses and apartments". Although aware of prices practised at around 1,000 € per sq. metre, this estate-agent prefers not to talk in these terms. "It corresponds more or less to reality, but depending on the neighbourhood and appointments proposed, the value of a property can actually double. Real sales provide more meaningful examples". His last three transactions include a small house in need of renovation with 2 bedrooms, a terrace and garage, at 55,000 € ; a 3-bedroomed house on an estate with a garage and small garden, at 108,000 € ; and a 4-bedroomed villa of about 140 m2 in elevated grounds of 2,000 m2 offering a view, at 224,000 €. As regards building land, Henri Kervran also prefers to mention a recent sale (a plot of 2,000 m2 at 124,000 €) rather than give a price per sq. metre, "as it differs significantly, depend­ing on the view, position, neighbourhood and whether or not utilities are already installed". Another plot on offer in the agency's files consists
of 3,000 m2 at 119,000 €.
You will also like