Ax-les-Thermes, a dual vocation
Perched at an altitude of 720 metres, this commune in L'Ariège is both a thermal spa and a winter sports resort. On the Paris-Barcelona axis, it lies at the gateway to Andorra and Spain, offering its residents bountiful nature and high-quality water.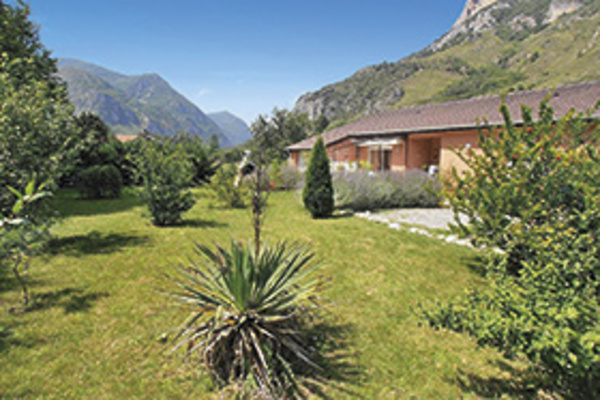 Built in 2004, this single-storey villa of approx. 123 m2 with 5 main rooms stands in flat grounds with an above-ground pool. 178.000 €. Ariège Pyrénées Immobilier (05 61 04 82 65).
Appreciated since the days of Ancient Rome, Ax lies at the confluence of the valleys of L'Ariège, La Lauze and L'Oriège, and accommodates 1,450 year-round inhabitants. Crossed by these three rivers, it is a listed thermal spa. An output of 2 million litres of water per day, 63 springs and temperatures ranging from 23 to 77° play their part in the treatment of rheumatism and respiratory ailments. Ax-3-Domaines, the skiing resort founded in 1955, offers 80 km of signposted trails.
"Tourism is an ancestral tradition for this little town set between five skiing resorts, 2 hours from Barcelona, 1 hr 30 from Toulouse and 30 minutes from Andorra," says Nicolas Barthez of Ariège Pyrénées Immobilier. "As witnessed by 1930's villas originally built as holiday homes. In both winter and summer, the population multiplies ten-fold." This is the only resort in the Pyrenees to benefit from a direct rail link with Paris. Among his most recent sales, Nicolas Barthez mentions a 2-bedroomed apartment of 80 m2 in need of renovation, acquired for 81,000 € by a couple from Toulouse wanting to benfit from it personally and rent it out in season, and a studio of 30 m2 in perfect condition, sold to a buyer with a similar profile. A third client treated himself to a barn of 80 m2 requiring rehabilitation, 10 minutes from Ax, priced at 23,000 €. Recent villas with gardens start from 200,000 €. L'Ariège is still one of least expensive "départements" in the region, proposing excellent value for money.
"The casino brings in a select clientele," adds Danielle Grassaud of Altaïr Immobilier. "And the spa of Le Couloubret, the 2nd busiest centre in the Midi-Pyrénées, is popular among fans of well-being." Urban rehabilitation is well underway ; shops are making their appearance, together with a cable-car linking Ax to Bonascre, while the road takes you to Ascou-Pailhères and Porté-Puymorens. 60 % of purchases concern second residencs, a market fulled by buyers from within the region, the Gironde or Languedoc. Demand centers on 1-bedroomed apartments, priced from 80,000 to 90,000 €, or 2-bedroomed apartments from 100,000 to 150,000 €. Small chalets of 80 m2 in the surrounding villages range from 150,000 to 160,000 €. This category can attain 240,000-300,000 € for larger surface areas offering high-quality appointments. Keen on individual houses, the locals pay around 150,000 € for their homes and are willing to settle in Ax's more outlying areas.
"Regarded as middle-class given its prices and clientele, the commune is lively ten months out of twelve," says Krysthel Collet of Action Immobilier. Depending on the degree of comfort, apartments in the centre of Ax cost from 1,700 to 2,700 € per sq. metre. Our estate-agent regrets that the road is traffic-laden as from Tarascon. If Ax is well worth the detour, its promotion must now go beyond the frontiers of the region. Her last transactions mainly involved pieds-à-terre priced under 100,000 €, even units to restore at less than 50,000 €, properties likely to bring an annual return of 12,500 € on the basis of 25 weeks of occupancy per year. Furthermore, investors can benefit from the advantageous scheme of furnished rentals. From Easter onwards, rental clients tend to focus more on the lively town than the skiing resort.