Arcachon, faultless ratings
long-established resort facing the Atlantic Ocean, Arcachon is renowned for its delightful lifestyle. Drawing constant enthusiasm, its property market is very bouyant, a trend reinforced by the recent introduction of the LGV line placing it 2 hrs 30 from Paris...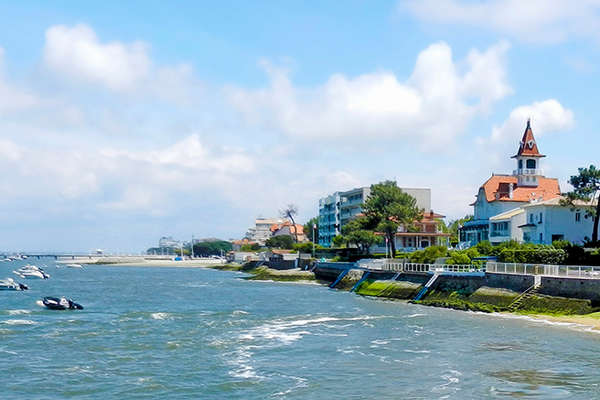 Arcachon offers 7 km of sandy beaches, right in the town centre and at the foot of the maritime gardens
Highly-prized since the 19th century, the commune took off thanks to the Pereire brothers, affluent bankers who owned the railway line between Bordeaux and La Teste. They decided to extend it as far as Arcachon, aiming to make this little town an attractive address with a sea-bathing establishment. The town was then on its way, with many buildings inspired by the colonial style, endowing the commune with unique charm. Today, Arcachon is a lively little town in all four seasons, offering a growing number of families moving in year-round an outstanding environment.
Based in Le Moulleau for the past five years, the Coldwell Banker agency specializing in residences of charm and prestige currently offers about 50 properties for sale from 300,000 to 6.5 million euros. "The properties we present are mostly priced over and above 1 million euros," says manageress Marina Tonneau. "The best addresses are still the seafront, the Ville d'Hiver, Le Moulleau and Pereire. Though there are also some highly-prized streets outside these areas." Marina Tonneau has just handled the sale of a villa on the second row, priced at around 2 million euros. "The market is very active. There are many buyers and prices are stable, but high. Some exceptional properties are even seeing a slight rise. A tendency thus favourable for sellers, especially as the buyers – company directors, senior executives, ex-pats, retirees and a few foreigners - are confronted by slim offerings."
Based for over five years in Pyla sur Mer, the Barnes agency, focusing on high-end and prestige properties, inaugurated a superb branch of 200 m2 on the seafront in Arcachon just over a year ago, at the foot of the Grand Hôtel. "The market in Arcachon does indeed benefit from constant buoyancy with many potential buyers targetting a pleasant house or apartment, ideally on the seafront," says Christophe Vaissié, manager of Barnes for the entire Bassin d'Arcachon. "Scarce availabilities of properties of quality ensure that prices stay well inside their upper bracket. Even so, buyers, who are well-informed, are not inclined to pay outlandish sums of money, whence the importance of posting prices that correspond to our estimates. Highly sought-after, contemporary houses or those renovated to offer appointments meeting today's taste sell very quickly." By way of example, Christophe Vaissié mentions a recent villa with a pool at the heart of a privileged area. Barnes orchestrated its sale brilliantly, in a single day, at a price around 1.5 million euros. "Lovely residences requiring renovation also find takers, especially as Barnes has the expertise necessary to assist our clients in each stage of their project. One example is a magnificent historic villa on the seafront in Le Moulleau." What about apartments ? "A view of the sea and closeness to the town centre are the main search criteria. Today, a property with a terrace and view of the ocean will fetch from 10,000 € per sq.m. Due to limited offerings, the few new developments meet with instant success if they are well-located and offer high-end appointments. We have just marketed apartments in the prestigious Villa Capucine residence comprised of about ten properties. On offer from 7,000 € per sq.m, they drew buyers' interest immediately."
You will also like