Appealing fall-back markets in addresses near Monaco
On the market for prestige properties and luxury apartments, Monaco has just stolen the title for the world's most expensive city from Hong Kong... With its staggering prices per sq. metre, many are they who cannot find a home here and are obliged to re-orient their searches towards neighbouring towns...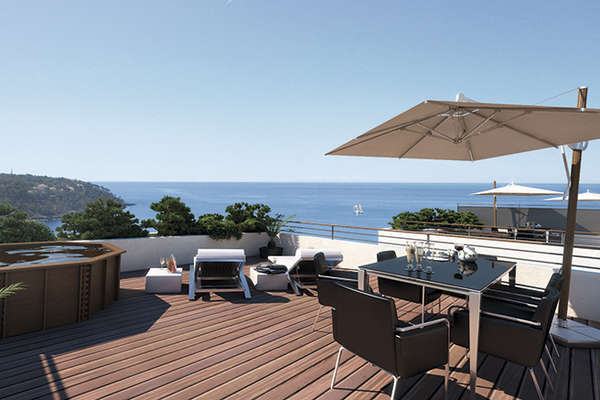 In a new development of 4 villas with sea views in Roquebrune-Cap Martin, at the heart of a secure gated estate, this house of 80 m2 benefits from generous outdoor areas. 565.000 €. Immobilia 2000 France (04 93 51 98 86).
Menton, Cap d'Ail, Roquebrune-Cap Martin and Beausoleil are all addresses more or less close to the Principality. For people working in Monaco, buyers from outside the region looking for a pied-à-terre, and rental investors, these towns offer affordable and appeal­ing possibilities far from lacking in either assets or charm.
The Immobilia 2000 France agency in Beausoleil was founded about 10 years ago. This little town is particularly coveted by people working in Monaco without the financial means to live there and this, despite the tax advantages this would represent. "The presence of these clients, looking above all for a property of quality, pulls Beausoleil upwards on the ladder," says agency manager François Coletti. The other aspect of the market here consists of second residences. English, Italian and a few Russian buyers set their sights on smart residences on Boulevard Guynemer and the Moyenne Corniche. Many locals, but also residents of Monaco, invest in Beausoleil to benefit from its very buoyant rental market. As explained by François Coletti : "Beausoleil is made up of several micro-markets posting a very wide variety of prices. Prices start from 3,500 € per sq.m, sometimes attaining 13,000 € for rare or outstanding properties. In old buildings, you can however observe an average price of 4,500-5,000 € per sq.m". Densely built-up, Beausoleil mainly proposes apartments, such as one of 35 m2 in need of a revamp, offering a pretty view, sold by the agency for 158,000 €, or a 2-bedroomed example of 69 m2 in a new residence which found a taker at 565,000 € including a garage. To emphasize the very wide price-bracket, François Coletti mentions a desirable apartment of 240 m2 with a double box-garage in a high-end residence with a pool, which sold for 2,700,000 €. Several examples illustrating the vocation of Immobilia 2000 France : to accompany all types of clients, whatever their budgets or requirements.
Dario Griffone of the Agence Edouard VII in Roquebrune-Cap Martin, whose head office is in Menton, covers Monaco's surrounding areas : Roquebrune, Beausoleil, Cap d'Ail, La Turbie. The core of his activity consists of the top end of the market, with properties priced between 500,000 and 2.5 million euros. "For an apartment in Roquebrune-Cap Martin, you can expect to pay from 6,000 to 10,000 € per sq.m ; for a house, you need a budget ranging from 600,000 to about 2 million euros. The most recent transactions handled by our agency are good examples : a 2-bedroomed apartment of 90 m2 with a terrace of 150 m2, a parking place and cellar, which sold for 850,000 €, and a house of around 250 m2 with a garden of 1,500 m2, which found a new owner at close on 2 million euros. Today, demand mostly focuses on large surface areas, homes with three or four main rooms. Clients have precise criteria : quietness, a lovely view and an outdoor area. Though they are willing to make concessions if need be." With exclusive pre-commercialization of a high-quality development called "South Beach", Dario Griffone will be able to satisfy numerous clients. Scheduled for delivery in 2018, this new residence will be comprised of 19 apartments, from studios to three main rooms, with parking facilities and good-sized terraces, some with sea views. The average price here is 5,500-6,000 € per sq.m.
You will also like