Angers, a highly-prized address
The main town in the département of Maine-et-Loire occupies a surface area of 11,326 acres, including 1,551 acres devoted to open greenery, all shared by 147,580 residents. 48 % of the population are under 30 years old ; 30,000 are students. A 90-minute ride on the TGV from Paris, 3 hrs 40 from Brussels, the historic capital of Anjou is an essential stop-over when visiting the Pays de la Loire.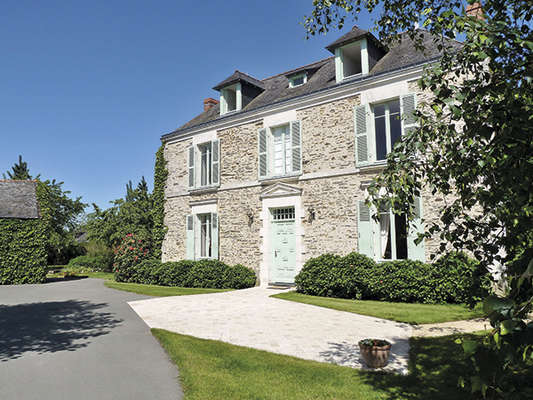 5 mins from Angers, this impressive property with high-quality appointments offers several reception rooms and six bedrooms in a park of 4,000 m2 with pool and guest-house. 895.000 €. Agence Laurendeau (02 41 79 27 23).
Two thousand years of history to its credit... Angers can claim to be both "the Gothic seat of the House of Plantagenet, a flourishing town during the Renaissance and now a large, modern town in western France". At the centre of an urban agglomeration hosting 283,000 people, the prefecture of Département 49 makes its living from IT, the car industry, transport equipment, chemistry and the agro-food business. In 2006, the magazine "L'Entreprise" listed this Town of Art and History second in the national rankings of the most attractive destinations in France.
"Business is holding steady despite the current context. In the centre, prices are stable, though over-priced properties don't get any visits. Only those pegged at the going rate actually sell," says Sandrine Laurendeau of the Agence Laurendeau. A standard 3-bedroom house ranges from 160,000 to 450,000 €, the top end bringing a prime location in the "Golden Triangle" of Lafayette-La Madeleine-Foch. Among her most recent sales, our estate-agent mentions a detached house of 160 m2 with top-quality appointments and a garage, opening out to a town garden in La Madeleine, snapped up at 420,000 €. Studios start at 55,000 €, while renovated apartments can attain 2,500 € per sq. metre in imposing Haussmann buildings. Recently, an apartment of 74 m2 in need of total restoration found a taker at 1,800 €/m2. At the moment, the market for houses in fact seems to be more active than that for apartments. When a property languishes for too long in the files, its price inevitably comes into question. It's better to adopt a realistic approach from the start than agree to lower the price after several months of stagnation. Buyers are showing more interest in the hyper-centre and desirable addresses. Their choices are partly determined by the price of gas and expenses inherent to a location too far out.
Jean-Michel Dereeper of AB Immobilier notes a scarcity of contemporary houses - ie. post-1990 - in the first ring around Angers - offering living space of 130-170 m2 and costing from 300,000 to 400,000 €. They usually appeal to young retirees and the actively employed in their forties. The most popular communes are Avrillé, reached by tram, Beaucouzé and Bouchemaine, for the quality of their surroundings. The market in Angers can be split into two types of buyers : those dead-set on the hyper-centre and fans of the rural periphery, offering much more space. The area in between, more built-up, is in less demand. On the other hand, everyone wants a home benefiting from good public transport services. In fact, if they do not exist, prices drop drastically. "Until May 2012, it took about three months to sell a house. Since then, we're talking more about six months at least," comments Jean-Michel Dereeper. On the subject of the gap between supply and demand, he adds : "Only a third of the stocks available correspond to buyers' requirements. The challenge is to find a middle solution".
You will also like