A lively property scene around Valence
Benefitting from the vitality of a town with about 65,000 residents, the area surrounding Valence proposes a pleasant environment with an efficient array of road and rail connections. An area proposing very reasonable prices, highly appreciated by members of the working population.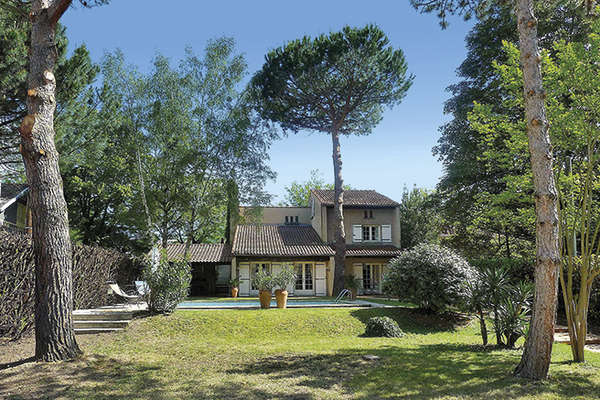 In Tournon-sur-Rhône, this architect-designed house of 170 m2 stands in grounds of 1,030 m2 with a pool. 440.000 €. Square Habitat (04 75 08 59 36).
In addition to living conditions of undeniable quality, the area around Valence proposes an ideal location at the heart of the corridor of the Rhône. Thanks to a high-performance road and motorway network (A7 and A49), Lyon, Grenoble, Saint-Etienne and Orange can be reached in under an hour, with Marseille less than 2 hours away. Then there are many rail connections, including the Paris/Marseille LGV.
"These arguments persuade more and more residents of Valence to move to the outskirts, thus creating lots of activity on the local property scene," say Jérôme Reynier and Ludivine Dumourier, co-managers of JL Immobilier, an independent agency opened in 2012 and based on the neighbouring commune of Portes-lès-Valence. Covering a radius of up to 20 km and handling sales, rentals, rental management and "viagers", they reveal prices which are indeed very attractive : "For houses, the price per sq. metre ranges from 2,000 to 2,300 €, as in the case of a single-storey villa of 100 m2 with a garden of 600 m2, which recently changed hands at 230,000 €. The same price range applies to recent blocks of apartments in the town centre. On the other hand, residences further out or built in the 1960's-1970's cost less than 1,000 € per sqm. They have seen a real drop in their value as they almost always require renovation or work ensuring conformity to norms, and also often suffer from excessively high co-ownership charges". Building plots in the centre of Portes-lès-Valence are available from 130 to 150 € per sqm.
"The areas surrounding Valence and their infrastructures appeal to people working as far away as Grenoble or Lyon," adds Sophie Seabra, who manages six Square Habitat agencies in Valence (which joined the network in 2006), Tain-l'Hermitage, Saint-Vallier, Romans-sur-Isère, Saint-Marcellin and Privas (which all joined in 2007). Their activities include sales, rentals, management of both old and new properties, and corporate real-estate. "Despite taxation which is hardly enticing and the new regulations regarding rentals, investors remain active, drawn by rental returns guaranteed by the presence of several universities and colleges of higher education in Valence. They are mainly local people looking to obtain additional income when they retire by renting studios to students which cost 40,000 to 50,000 €." Otherwise, demand is mainly for houses priced from 180,000 to 220,000 € or apartments from 80,000 to 120,000 €. "Some fine opportunities are, however, also to be snapped up by those with higher budgets : such as a villa of 170 m2 in Saint-Marcel-lès-Valence with grounds of 3,000 m2, which just found a taker at 425,000 €." Even though prices have dropped locally by 4 to 6 % and mortgage rates are at record lows, Sophie Seabra is nevertheless seeing less demand from first-time buyers : "The majority of our clients are in fact now moving on to their
second or third acquisition".
You will also like