A holiday home in Hossegor
Between the forest of Les Landes and the shores of the Atlantic Ocean, this seaside resort so popular among surfers from all over the world offers a life-style giving precedence to sport, nature and relaxation. A sought-after address for a holiday home...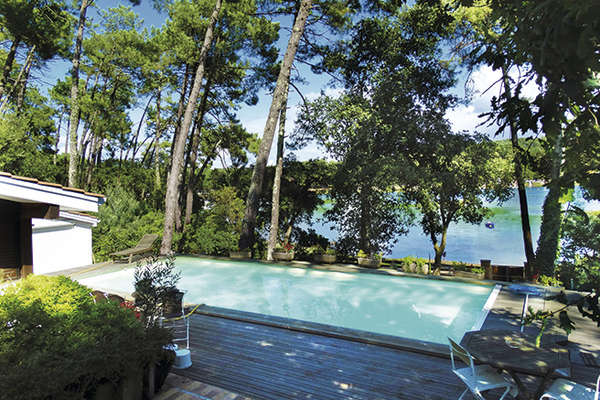 At the edge of the lake in the highly-prized "Between lake and sea" area, this villa of 280 m2 designed by an architect has just been sold. Autour de 1,8 M €. Agence Terres & Océan (05 58 43 60 41).
As in every year in September, Hossegor has just hosted a World Surfing Championship event and is now reverting to a more laid-back ambiance in harmony with its well preserved nature. A neighbour to Capbreton and Seignosse, this commune playing host to the head-offices of several brands of sports clothing, as well as the French Surfing Federation, has a property market which is somewhat hermetically sealed. In Basco-Landais or contemporary style, its detached houses are much in favour with French clients who fall for the charm of this flagship address in the southern part of the Landes. The area the most highly-prized by buyers with generous budgets from 1 to 2 million euros is that between the lake and sea. Maximum sunshine, tranquillity, large grounds, and immediate proximity to the beaches and shores of the lake guarantee undeniable appeal for this address. Then there is the golf-course area, where smart contemporary properties offer appointments designed to convince the most demanding clients.
"There is good momentum, and prices are tending to stabilize," says Serge Pilke of the Terres et Océan agency, specializing in sales of high-end properties. "However, French clients from Paris, Toulouse and Bordeaux with budgets ranging from 600,000 to 800,000 € are confronted by rather limited offerings. Properties up for sale in this price bracket are often in need of refurbishment." By way of example, he mentions the recent sale of a villa of about 200 m2, requring renovation. In the golf-course area - 2 km from the town centre -, benefiting from grounds of 2,200 m2 and a pool, it just found a taker at around 700,000 €. Another house of 115 m2, already treated to renovation by an architect, with a garden of 500 m2 between the canal and town centre, in immediate proximity to the yacht harbour - a sought-after area -, just sold for 620,000 €. "There are more and more clients with budgets exceeding 1 million euros. We are, in fact, actively searching for properties that will meet their requirements," says Serge Pilke, who has just handled the sale of villa designed by an architect at the edge of the lake, in the popular "between lake and sea" neighbourhood. Offering tasteful appointments, this front-row property of 250 m2 in grounds of 1,400 m2 was priced at 1.8 million euros.
"In fact, even though it is a niche market, the prestige property segment certainly exists and is even developing in Hossegor," says Philippe Thomine-Desmazures of the Barnes Côte Basque agency. "Our clients set on this address are drawn by the natural and holiday atmosphere that characterizes the commune, and also by the contemporary architecture of some of its homes. In Hossegor, urban planning allows for more modern constructions than in the Pays Basque : today's villas with timber cladding and houses offering airy, cubic design all form part of the properties we are currently proposing between 1 and 2.5 million euros." Among his recent sales, he mentions a contemporary 5-bedroomed house of 270 m2 in Basco-Landais style, set in grounds of 1,177 m2, on the golf-course. A large heated pool and its pool-house complete the list of desirable appointments offered by this property, which just changed hands at 1.5 million euros.
You will also like