A diverse market west of Toulouse
Benefiting from the activity generated by the Airbus site in Blagnac (Aérocons­tellation), the property market on the west side of Toulouse posts a wide range of relatively high prices. Illustrations in Plaisance-du-Touch, Pibrac, Brax and Grenade.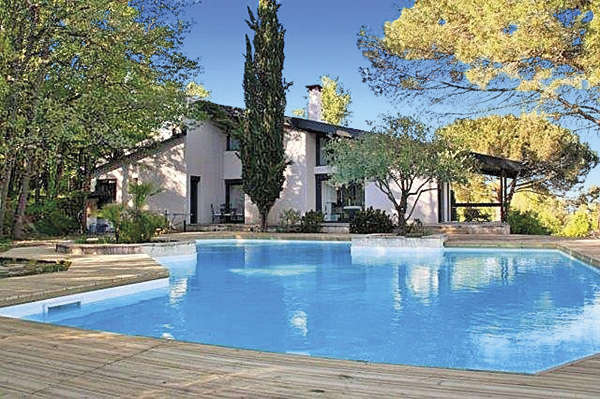 This top-quality architect-designed villa in Pibrac offers living space of 280 m2 in grounds of 5,800 m2. 860.000 €. Bégué Immobilier (05 61 86 39 39).
A former bastide founded in the Middle Ages, Plaisance-du-Touch is now a small town with 16,000 residents about 13 km west of Toulouse and less than 15 km south-west of Blagnac. "A particularly attractive area for those working for Airbus, our main clientele," says Sandrine Lannoy who runs SLC Immobilier, an agency opened in 2010 specializing in middle to top of the range properties and asset management in Plaisance-du-Touch and the surrounding communes (Tournefeuille, La Salvetat-Saint-Gilles, Fonsorbes, Frouzins and Cugnaux). "Most demand is for houses built 15 to 20 years ago, as today's buyers no longer want to take on renovation work. Most of them are looking for 4 bedroomed houses, if possible all on one floor and in the town centre, at prices around 400,000 €." The price range is, however, very wide : 300,000 to 700,000 € for living space of 110 to 400 m2. By way of example, a contemporary villa of 250 m2 built in 2010 in grounds of 1,000 m2 and priced at 530,000 €. Under these conditions, Sandrine Lannoy's clients are very rarely first-time buyers. "In add­ition to people working in Blagnac, we are contacted by retirees from outside the region."
Backed by their team of eight collaborators, Marie-Hélène Bégué and Jean-Henri Romanet of Bégué Immobilier are based in Brax and Pibrac (about 2,600 and 8,000 inhabitants), less than 20 km west of Toulouse. Marie-Hélène is passing on her two agencies to her son-in-law after a career of over 30 years in the area. "Bégué Immobilier is a family enterprise comprised of qualified experts, especially in the market value of property assets." The zone covered by the agency, "which benefits from genuine appeal due to the proximity of Airbus, the Toulouse-Blagnac Airport, the Victor Hugo international secondary school and the forest of Bouconne", extends from Colomiers as far as Le Gers. "Detached houses with three or four bedrooms, gardens and garages, are here the most widely-demanded homes. They cost around 350,000 €." Other examples of recent sales : a house in Brax at 228,000 € and another near Lévignac at 590,000 €. "As for apartments, we recently handled the sale of one of 80 m2 with three bedrooms in Colomiers at 220,000 €." The price of building plots sometimes exceeds 200 € per sqm, "and more in residential areas". Our specialists talk about a "buoyant market" attracting middle and senior executives, as well as a foreign clientele with high budgets. "On the other hand, first-time buyers looking for large surface areas now have to search as far away as Le Gers, where a member of our sales team is at their disposal."
About 20 km further north, one comes across Grenade, a commune with over 8,000 residents, ideally located between Toulouse and Montauban. Steeped in history (several listed monuments, including the Church of Notre-Dame-de-l'Assomption and the Halle Jean Moulin), it is also only a 25-minute drive from Blagnac. As a result : "Just like localities west of Toulouse such as Tournefeuille, our clients are mainly employed by Airbus", says Thierry Giner, manager of Atout Immobilier, an agency founded in 2000, handling transactions in all types of properties in a large area north-west of Toulouse. "Here, however, prices per sqm. are much lower." As evidenced by his two most recent sales : a 4-bedroomed village house of 110 m2 in the centre of Grenade at 180,000 € ; and a late 19th-C. farmhouse of 150 m2, partly requiring renovation, with outbuildings and grounds of 3,600 m2 on the neighbouring commune of Pelleport, at 188,000 €. "Properties priced from 200,000 to 230,000 €, village houses and villas with four or five main rooms, are the most widely sought-after, especially by first-time buyers." Conversely, the market here is dragging its feet for homes above 300,000 €. "There are lots of offerings of this type of property." As for building land, Thierry Giner is currently proposing two plots of 450 and 480 m2 at 69,000 € each. "A rather reasonable price." Elsewhere, a plot of 1,000 m2 can cost from 120,000 to 150,000 €.
You will also like