Uzès and its surrounding region : lively and authentic
A lush countrified region in Le Gard with a remarkable architectural heritage, the sunny "Uzège" (Uzès and its surrounding area) also benefits from very easy access and a full range of amenities. A great place to live - all year round...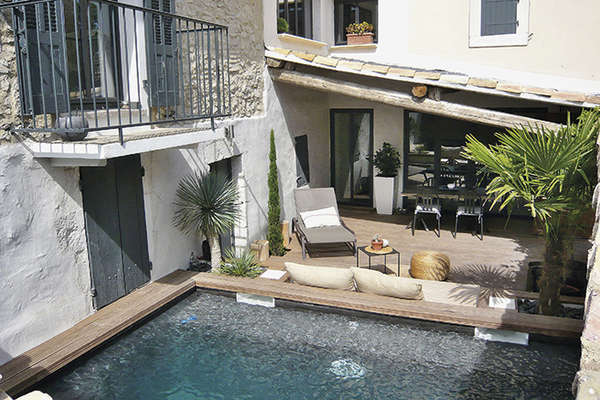 On a commune north of Uzès, this renovated village house offers 3/4 bedrooms and a pool. 340.000 €. Uzès Résidences (04 66 37 47 99).
A town of Art and History with about 40 listed or registered monuments (castles, the Duchy, Fenestrelle Tower...), Uzès (pop. 8,500) offers very appealing living conditions in an undulating landscape covered with vines and garrigue. Especially as its many amenities and its closeness to Nîmes, Avignon and the TGV train station (less than a 40-minute drive) ensure liveliness all year round. Dynamism which benefits the surrounding villages such as Montaren-et-Saint-Médiers, Saint-Quentin-la-Poterie, Saint-Maximin, Arpaillargues-et-Aureillac and Blauzac : charming addresses also steeped in history, and now highly sought-after.
"The property market here attracts a vast majority of clients from outside Le Gard - including many foreigners - looking for the ideal spot in which to retire," says Johanne Meurant, manageress of Demeures du Sud par Cigal'Immo, an agency opened in Uzès in 1999 handling real-estate transactions within a radius of 20 km. "For a town house in Uzès, usually built on several floors and offering a certain stylishness, one can expect to pay from 250,000 to 350,000 €. On the outskirts of the centre, you can then find renovated old houses with small gardens, costing around 600,000 €. Further out, there are houses on estates priced from 250,000 to 300,000 €, and more recent and more comfortable properties with large grounds and pools, from 500,000 to 650,000 €. By way of example, a recent villa of 185 m2 with a garden of 1,330 m2 and a pool is currently up for sale at 545,000 €." In the nearest villages around Uzès, prices are slightly lower, ranging from 2,000 to 2,400 € per sq. metre. "As for building land, which is rather rare, a plot of 2,000 m2 will cost close on 240,000 €." In Johanne Meurant's opinion, prices have stabilized locally after registering declines over the past two years.
"The financial crisis can at least be credited with cleaning out the market and eliminating overvaluations," comments Cathy Matera, manageress of Uzès Résidences, an agency launched in Uzès in 2007 proposing in particular a wide choice of stone properties up to 20 minutes from the town, or even 30 minutes for very enticing examples. "In the centre of Uzès, a town house with a small outdoor area and at least three bedrooms can't be found for under 300,000 €. In nearby villages, a lovely stone house with three or four bedrooms will cost from 300,000 to 400,000 € as, for example, a property with four bedrooms, a courtyard and terrace with a pretty view, which recently sold for 300,000 € in Saint-Siffret (5 minutes from Uzès)." Houses of approx. 200 m2 in over 2,000 m2 of grounds are, in fact, in strong demand. "Proposed from about 500,000 €, they are mostly situated 20-30 minutes from Uzès." Finally, highly desirable properties, especially very spacious stone "mas", restored and enjoying lovely views, are priced in proximity to Uzès from 1.6 to 2 million euros. "If you are prepared to move about 20 minutes further out, these properties benefit from much larger grounds - 2.5 to 5 acres - and more beautiful views, as the scenery is then comprised of rolling countryside. And, of course, prices here are more attractive : from 1 to 1.5 M €." Cathy Matera's clientele mainly consists of French buyers from the Ile-de-France and Rhône-Alpes regions, and foreigners (from England, Belgium, Scandinavia, Australia and New Zealand).
"In the case of apartments, demand is mostly for those with 1 or 2 bedrooms priced from 150,000 to 180,000 €," says Yann Wojtera, manager of Côté Soleil Immobilier, an agency based in Uzès since 2010 covering L'Uzège and the Pont du Gard area. "For example, a 2-bedroomed apartment of over 65 m2 in a 17th-C. building in Uzès is currently on offer at 157,500 €, while a split-level 2-bedroomed apartment of 50 m2 in a select residence with a pool can be had for 180,000 €." When it comes to houses, this agency most frequently receives enquiries for those in the 300,000-600,000 € bracket : "Our portfolio contains, for instance, a recent 4-bedroomed villa of almost 150 m2 with grounds of 1,560 m2 in Uzès, priced at 320,000 €, a 3-bedroomed bungalow of 110 m2 in Saint-Quentin-la-Poterie with a garden of 535 m2 at 367,000 €, and a 5-bedroomed villa of about 260 m2 offering a superb view in grounds of 6,100 m2, pegged at 590,000 €". Côté Soleil Immobilier proposes all types of properties including vineyard estates : one such example offering almost 57 acres of vines (AOC Côtes-du-Rhône) and another 12 acres of land is on offer at 799,500 € (with air-conditioned wine cellars, hangars etc...).
You will also like