The most highly-prized neighbourhoods in Toulouse
Toulouse is now the agglomeration posting the highest population growth in France, thanks in particular to its historic centre and privileged neighbourhoods, which accommodate senior excutives transferred here from all over the country.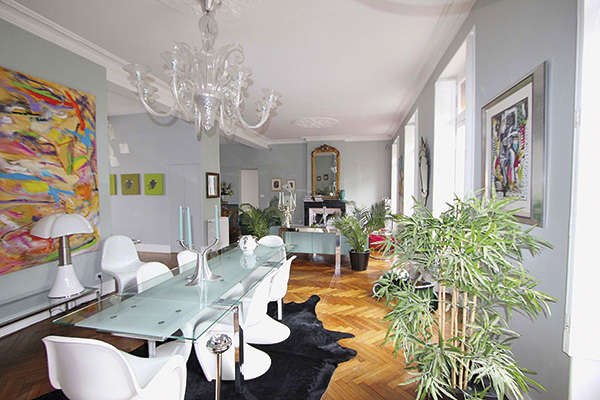 In the Grand Rond neighbourhood, this very high-end split-level apartment of 240 m2 with 6 main rooms is in a small late 19th-C. building. It comes with a cellar and parking place. 1.260.000 €. Groupe Immobilier Mercure France (05 34 417 427).
Managing Director of the Mercure Toulouse-Midi-Pyrénées agencies, Anne de la Sauzay heads one office focusing on rural properties of charm - the oldest agency in Toulouse, founded in 1936 -, and another specializing in urban homes of prestige and character in the most sought-after neighbourhoods : the historic centre, "highly-prized for its apartments close to shops", Les Chalets, "where you can find houses with gardens near the centre", Le Busca, "popular for its lovely large houses next to the Jardin des Plantes", and La Côte Pavée, "whose villas occasionally benefiting from pools are near private schools with good repuations". In the centre, Anne de la Sauzay is currently proposing a renovated 2-bedroom apartment of over 130 m2 at 550,000 € and has just put another apartment of almost 200 m2 up for sale with 7 main rooms, at 772,000 €. "In Les Carmes, we also have a detached "chartreuse" of 190 m2 for sale, renovated, with 6 main rooms and a garden of 70 m2, priced at 880,000 €." In Les Chalets, the most recent sale involved a late 19th-century family residence of 230 m2 with a garden of 370 m2 and a price-tag of 1,130,000 €. In Le Busca, a town house of 210 m2 with a garden of 150 m2 found a taker at 871,000 €. And in La Côte Pavée, a villa of 300 m2 in a garden of 650 m2 with a pool is on offer at 950,000 €. "Our clientele consists of senior executives, company directors, self employed professionals - frequently transferring to the town -, and retirees looking for their main homes offering quality in a quiet setting. We deal with lots of Parisians, though our buyers come from all over France."
Manager of Zaf Immobilier (two agencies in Toulouse opened in 2008), Frédéric Zafran mentions two types of clients aiming for prized neighbourhoods in Toulouse : "Executives usually transferred form other regions with budgets over 400,000 €, but also rental investors looking for studios or 1-room apartments. Priced from 80,000 to 100,000 € depending on their level of renovation, these properties offer living space of 17 to 22 m2. We recently sold, for example, a studio of 21 m2 in Le Busca : initially on offer at 81,700 €, it found a taker at 77,000 €". Prices in fact show a slight downward tendency, and are subjected to longer and keener bargaining due to the wide choice proposed to buyers. "As for large apartments, such as one top-floor example of 115 m2 recently up for sale in La Côte Pavée at 360,000 €, we are seeing strong demand. Especially in buildings with lifts, unfortunately too rare." Other amenities which are sought-after but hard to find are garages and terraces. "Buyers are however prepared to do without a terrace if the apartment is not overlooked." For clients interested in houses, properties in Les Chalets and La Côte Pavée ranging from 160 to 200 m2 sell from 400,000 to 600,000 € depending on their classiness, condition, location and the size of their gardens. In a residential area near the town centre (Guilheméry), a fully renovated house of 235 m2 with a garden of about 470 m2 is currently on offer at 779,000 €.
You will also like