Saint-Rémy-de-Provence, at the heart of the Alpilles
Founded by the Celts over 2,500 years ago, the capital of the Alpilles is renowned worldwide for an art of living combining Provençal traditions, refined boutiques, good restaurants and art-galleries. Not forgetting its well-preserved natural landscapes of very wide appeal...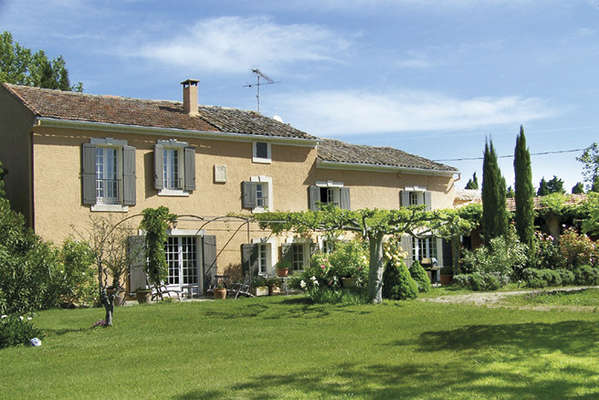 10 mins. from Saint-Rémy, this old "mas" of approx. 220 m2 in need of renovation stands in 6,000 m2 of grounds. It has just found a new owner. 650.000 €. Actuel Immobilier (04 32 60 16 62).
Immortalized by Vincent Van Gogh who produced over 150 paintings here, Saint-Rémy lies to the north of the mountain chain of the Alpilles, between Avignon, Cavaillon and Arles. Home to close on 11,000 residents, it lies at the heart of the Regional Nature Park of the Alpilles and can pride itself on an outstanding legacy, both natural and man-made. Only 20 km from Avignon's TGV station, this town of culture holds "La Route des Artistes" from May to October each year : a large art-market in which many artists and craftsmen take over the town centre throughout the high season.
Specializing in the centre and areas to the south of Saint-Rémy, Michelle Joly, who runs JP Immobilier with her husband, René Joly, describes rising demand for properties in the town centre. "Often retired or close to retirement, our clients are looking for a more simple life-style. Maintaining grounds becomes too burdensome. Mainly French, this new clientele prefers to acquire a smaller property in a loc­ation allowing them to walk to shops and restaurants," explains our expert, often working like a home-hunter to find the ideal property for each of her clients. Confronted by a non-extendable market which is clearly limited in the centre, rare new properties meet with instant success. "We are currently preparing the marketing, as sole agent, of the Résidence de Petit Puits. A high-end development with a pool, comprised of only eight apartments, all proposed with garages and cellars. Apartments from 62 m2 are priced at around 5,300 € per sq. metre." A residence scheduled for delivery early in 2019.
Main attractions in the Alpilles, villas are the properties most often sold by Actuel Immobilier, an agency opened over 10 years ago. "Demand is currently very steady for houses priced from 750,000 to 800,000 €," explains manageress Valérie Lucien. "Location is the decisive factor. Clients are perfectly willing to undertake renovation to bring properties in line with today's taste and decorative norms, especially as these properties often then find themselves on the holiday rental market. Their buyers do not want to go beyond 1 M €, including the cost of renovation and notary's fees." In Saint-Rémy, this type of budget allows clients to set their sights on villas of about 200 m2 in grounds of 1,500 m2. They are, however, faced by scarce offerings in this sector. With slightly more availabilities, villas from 1.2 to 1.3 M € are apparently now generating more enquiries than in previous months. "This is a rollercoaster market, with quiet periods followed by much busier weeks. This new trend is still rather timid, we're hoping it will soon get into its stride." Saint-Rémy is always seen as a sound investment. While presidential elections often have an impact on the market for holiday homes, the gradual rise in interest rates should soon motivate hesitant buyers
to take the plunge.
You will also like