Loire-Atlantique, the call of the ocean !
Crisis or not, a house on the ocean shore forms part of the dreams of a good many buyers. As a holiday or year-round home, this dream can come true thanks to prices which have calmed down significantly. Though you still have to unearth your little gem !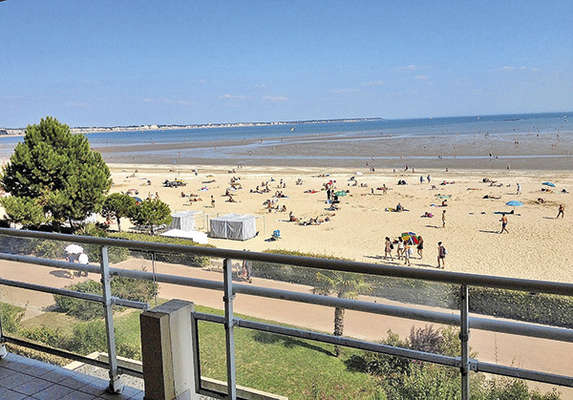 Extended by a large terrace, this 4-bedroom apartment of 162 m2 offers a view encompassing the entire bay. Another bonus is its lounge of 70 m2 surveying the Benoit beach in La Baule. 1.980.000 €. Aprogim (02 40 45 89 14).
Based for almost two decades in La Baule, Jean-François Clément, director of the Axel Colin Immobilier agency, has witnessed storms and periods of calm in this market around the bay of La Baule that he knows by heart. "Whether it is in La Baule, Le Pouliguen or Pornichet, a property's precise location is still the main argument when it comes to completing a transaction of quality. Demand mostly focuses on houses on the front row or close to the beach. In La Baule, this type of home is to be found on a strip of coast 500 metres long. Inevitably, fine properties that are actually available are not thick on the ground." As for prices, Jean-François Clément cites a house in need of renovation in the neighbourhood of Les Oiseaux, near the market and beaches. Offering living space of about 130 m2, it should sell between 580,000 and 600,000 €. Another property in the same area may well be estimated at somewhere between 800,000 and 1 million euros if it benefits from living space of approx. 180 m2 in impeccable cond­ition. In the case of apartments facing the sea, prices range from 7,000 to 10,000 € per sq. metre, and may attain 13,000 € per sqm. for an outstanding top-floor property with a large terrace 4 metres deep. On the highly-prized market of La Baule, new developments are rare : most of its residences were built from the 1970's to 1980's.
Another market near Saint-Nazaire is the Saint-Marc-sur-Mer area, which decided Maryse Guizien to base the AJP Immobilier agency there three years ago. This niche rental market benefits from year-round occupancy thanks to students from the engineering college in Saint-Nazaire, the IUT and nurses' college (from September to June) and holiday-makers in the summer. Investors are therefore drawn by small surface areas. Studios of approx. 20 m2 facing the sea in 1970's residences sell from 110,000 to 120,000 €. Maryse Guizien's recent sales include an apartment with 1 to 2 main rooms near the beaches, with a small bedroom alcove, priced at 134,000 €. Here, first-time buyers from Saint-Nazaire can acquire 3-bedroomed terrace houses for 230,000-240,000 € in the neighbourhood of Les Rochelles. In the town itself, villas with three or four bedrooms, within walking distance of the beach, range from 400,000 to 500,000 €, while enviable residences facing the ocean are pegged at around 1 million euros. These lovely holiday homes attract a well-heeled clientele from the Parisian region, La Sarthe, Le Mans, Tours, and a few buyers from Angers and Nantes. What about building land ? "There's high demand, and a few building plots can still be found. A plot of 300 m2 near the town will cost 110,000 €. Near the ocean, it will fetch from 180,000 € to 200,000 €."
Covering Saint-Nazaire, Pornic and La Baule, Didier Léandri, in charge of sales for the asset management firm Aprogim, is fully acquainted with the specific aspects of the market along the coast. "You can single out three attractive areas, each with its own special identity. The first encompasses Le Pouliguen, Batz-sur-Mer and Le Croisic, the second La Baule and Pornichet, and the third, beyond Le Pont de Saint-Nazaire, comprised of Saint-Brevin-les-Pins, Pornic and La Bernerie-en-Retz. Clients know exactly what they want and choose an area for its intrinsic characteristics." In each zone, the top end of the market, ie. a house on the ocean front with direct access to beach, is a rare commodity. There's also a scarcity of large apartments. "Very few properties offer living space of over 150 m2, even in new developments," says Didier Léandri. For all of the communes concerned, buyers are mostly French. From Nantes, Rennes, Angers, Paris..., they are looking for a pied-à-terre or a holiday home that can accommodate a family, then be transformed into a permanent home when they retire. In terms of style, coastal properties satisfy a wide range of tastes. The very varied choice includes Californian-style villas with roof-terraces, early 20th-C. homes with lots of character, houses in Basque or neo-Provençal style, fishermens' cabins, Vendéenne villas all on one floor with tiled roofs, houses built of stone... "The area certainly doesn't have a clearly defined architectural style."
An appealing market currently posting a slight downside tendency, the coast is a sought-after area where an up-turn has apparently made itself felt since the beginning of this year. Any acquisitions made today - at a time when prices have again become reasonable - should prove to be prod­uctive investments for the future. The ocean will make sure of that.
You will also like