Drôme Provençale : sunshine and authenticity
Roughly corresponding to the southern third of the département, the Drôme Provençale is a particlarly sunny tourist region where many charming addresses invite visitors to explore a rich heritage in a natural undulating setting.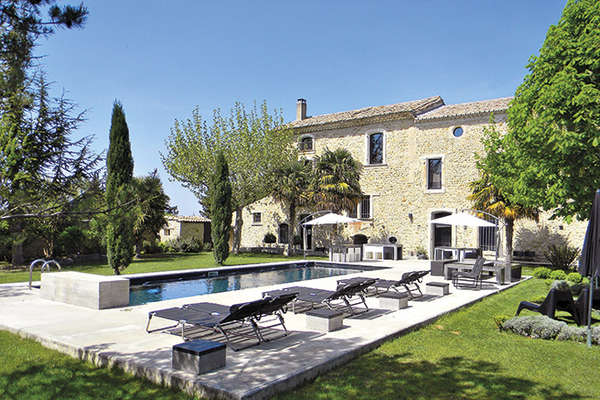 Nestling amidst the vines, this restored 17th-C. "bastide" offers living space of 900 m2 and a swimming pool. 1.920.000 €. Solis Immobilier (04 75 01 97 97).
Thus named because of its geographic and cultural closeness to neighbouring Provence (Vaucluse and Haute-Provence), the Drôme Provençale stretches from the Pre-Alps of Les Baronnies to the valley of the Rhône, proposing varied scenery comprised of both plains, valleys and hills. The ideal setting in which to enjoy hiking, biking and horse-riding excursions, hang-gliding, para-gliding and even climbing. In this privileged environment with a very favourable climate, numerous communes also host a remarkable architectural heritage, including Montélimar, Grignan, Nyons, Saint-Paul-Trois-Châteaux, Montjoyer and Pègue. Not forgetting La Garde-Adhémar, Le Poët-Laval or Montbrun-les-Bains, listed as three of France's most beautiful villages. Nor the countless local gastronomic specialities : nougat, Picodon goat's cheese, olives from Nyons, truffles from Le Tricastin, "croquette" from Vinsobres, and many different wines... All about 1 hr 30 from the sea, and reached by the A7 motorway (two exits) and the TGV train service (Montélimar).
As for real estate, offerings are relatively affordable and diverse. "Prices for houses in the Drôme Provençale range from 1,000 to 1,800 € per sq. metre for old homes to renovate, or from 2,300 to 2,500 € per sq. metre for a high-end property," explains Aurélie Caulay, manageress of Aurel'Immo, with two agencies in Montélimar and Cléon-d'Andran proposing transactions, surveying and corporate real estate. "As for building land, prices range from 130 to 150 € per sqm. for serviced plots in Montélimar, 70 to 90 € per sqm., also serviced, in its surrounding region." Finally, apartments cost from 1,300 to 1,700 € per sqm. in old buildings, 2,500 to 2,800 € per sqm. in new residences. "Apartments are mainly to be found in Montélimar, though a market also exists in small localities where village houses have been converted into apartments." Aurélie Caulay's clientele is mostly comprised of families looking for houses with budgets of 150,000 to 250,000 €, or large families and retirees often in search of holiday homes. "Their budgets range from 450,000 to 1 million euros."
Philippe Tarriotte, manager of Tarriotte Immobilier, runs agencies in Montélimar, Grignan and Dieulefit, at the heart of the Drôme Provençale, and Alba-la-Romaine, in Ardèche. Specializing in sales, his agencies propose in particular a wide choice of stone "mas". "These sought-after properties with lots of character sell for around 500,000 € for living space of 200 m2 plus outbuildings, in good locations, but with refurbishment on the cards." Otherwise, his portfolio contains village houses priced at around 200,000 €, and two kinds of villas : "Those of almost 100 m2 in residential areas or on estates, costing about 250,000 €, and houses of over 150 m2 in the country with much larger grounds, priced from 300,000 to 350,000 €". Building plots on estates are pegged from 100 to 150 € per sqm. for small surface areas of 350 to 600 m2. "These plots are becoming increasingly smaller. Though a few larger plots are still available : for 2,000 sqm., one can now expect to pay about 65 € per sqm." As for apartments in Montélimar, Philippe Tarriotte quotes 2,000 € per sqm. in old buildings and over 3,000 € per sqm. in new developments. "For year-round homes, our clients are local. For second residences - accounting for about 40 % of our transactions -, buyers are foreigners or French, from large towns."
The manager of Solis Immobilier, an agency based in Valaurie, Denis Allouche specializes in stone properties of character, mainly in the Drôme Provençale, but also in the northern Vaucluse, northern Gard and southern Ardèche (the agency is also active in real estate promotion and land development) : "In the southern part of the Drôme, the most highly-prized property, a restored stone "mas", costs from 600,000 to 900,000 € for living space of 250 m2, or considerably more for outstanding properties. We recently sold, for example, a very beautiful property for several million euros". If the "mas" is in need of renovation, its price will be somewhere between 300,000 and 550,000 €, depending on its location, surface area, the grounds, and the work to be done. "For a village house to restore, with a garden, the starting price is 250,000 €. If it is in good condition, it could be worth up to 1 million euros." According to Denis Allouche, these prices are now relatively stable, "especially for properties of quality". 70 % of his clients are French, looking for holiday homes which will often become their permanent addresses when they retire : "They come from Lyon, Paris, Marseille, even the Côte d'Azur, looking for a family residence. Otherwise, we receive enquiries from foreigners, mostly from Belgium, Holland, Luxembourg, Switzerland and the UK".
You will also like