Divonne-les-Bains : pleasant and convenient
An appealing thermal spa with well-developed infrastructures, Divonne-les-Bains lies at the far end of Le Pays de Gex, on the frontier with Switzerland. A location which is especially attractive among people working over the border, looking for living conditions of higher quality.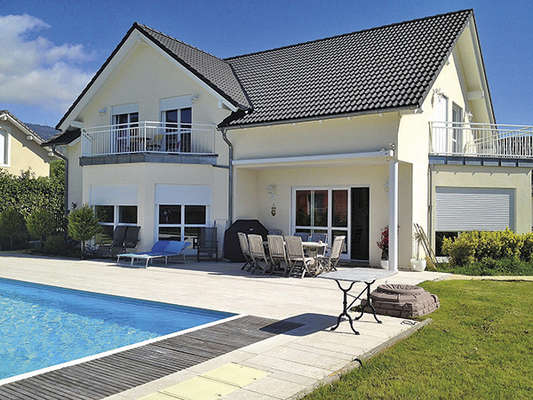 In a peaceful area, this 4-bedroomed villa of 225 m2 benefits from mature grounds with a swimming pool. 1.290.000 €. Landecy & Associés (04 50 99 01 20).
Living in Divonne-les-Bains (pop. over 8,000) means benefiting from the privileged setting of a lively and well-equipped thermal spa : an area of 10,000 m2 dedicated to thermal treatments, an artifical lake of 106 acres, a sailing centre, casino, hippodrome, golf-course, sports facilities... It also means benefiting from a full range of amenities : lots of shops, nursery and primary schools, an intermediate school... All just a 20-minute drive from Geneva and less than 40 minutes from Lausanne thanks to the A1 motorway. Persuasive assets making Divonne a very attractive address.
As for its property market, "apartments are priced on average at 4,500 € per sq. metre in old buildings - with considerable variations depending on their location, condition or classiness - and at 6,400 € per sqm. in new residences," explains Eric Bentejac, associate manager of Landecy & Associés, an agency specializing in sales opened in 2002 with three addresses in Le Pays de Gex (including one in Divonne-les-Bains) and another in Haute-Savoie. "Most demand is currently for 1- and 2-bedroomed aparmtents. For example, we recently handled the sale of a new apartment of almost 40 m2, priced at 220,000 €." As for houses (representing over 40 % of accommodation in Divonne), another recent sale concerned a typical property : a house of 180 m2 designed by an architect in 1,300 m2 of grounds, priced at 940,000 €. "Prices have seen a setback over the past 18 months, especially for houses built in the 1980's. Some real opportunities are waiting to be snapped up." The few building plots available are priced around 570 € per sq. metre with services installed.
Founded by Serge Bastien, an expert on the area since 1969, the Agence Bastien Immobilier in Divonne-les-Bains proposes sales and promotion of new developments throughout Le Pays de Gex (a second agency is to open its doors in the autumn, in Saint-Genis-Pouilly, less than 20 km from Divonne). Its manager, Didier Bastien, also notes " a wide array of prices for old apartments, though the majority of sales range from 4,600 to 4,700 € per sqm". In new residences, the average price is over 6,000 € per sqm. As for houses : "A classic villa of 180-200 m2 will sell for 800,000-950,000 €", like one example of 190 m2 which recently sold for 875,000 € or a villa of 185 m2 in grounds of 1,300 m2 currently on offer at 980,000 €. "Properties particularly sought-after by people working over the border and ex-pats drawn by the town's proximity to Switzerland." According to Didier Bastien, prices in Divonne "amongst the highest in Le Pays de Gex", are currently stabilizing.
You will also like