Castres, between town and country
Close to the Monts du Sidobre, an outstanding granite site, and the Montagne Noire, rising to an altitude of 172 metres, Castres is crossed north to south by the River Agout, a tributary of the Tarn. Reflected in its waters are the "Provençales", colourful old houses bearing witness to its past.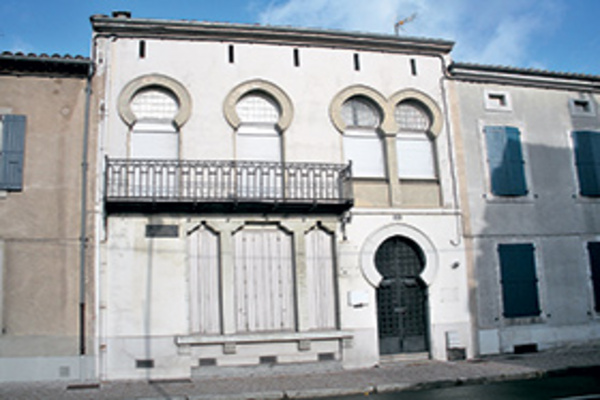 A short walk from the Theatre, this town house with four bedrooms opens out to a very intimate courtyard. 260.000 €. Abri Immobilier (05 81 33 00 10).
Castres is known for three main reasons : as the birthplace of Jean Jaurès, as home to a museum dedicated to the painter and sculptor Francisco Goya, and for its professional rugby team, the Castres Olympique, currently fifth in the Top 14. Situated 68 km from Carcassonne and 72 km from Toulouse, the commune also plays host to the Pierre Fabre laboratory and the 8th regiment of marine infantry parachutists, both sources of employment. Military or not, local workers are shared out between the hyper-centre and its surrounding areas. Known as "L'Ecusson", the hyper-centre is mainly made up of town houses, some with inner gardens, terraces and, for the privileged few to be counted on one hand, a swimming pool. Life here is typical of that of a medium-sized town (Castres has 42,701 inhabitants), with its main square and four markets a week. A budget of 1,000 €/m2 is required for old accommodation, 1,800 €/m2 for renovated properties and up to 2,200 €/m2 for an apartment in a recent residence with elevator. Of particular interest to students and temporary residents, studios sometimes benefit from a terrace and parking place ; they are then priced from 34,000 € to 45,000 €. Neighbouring Albinque is being treated to rehabilitation, begun two months ago and expected to last two years. Here, one finds small detached houses, often on two floors and with gardens. Young couples are happy to obtain living space of 100-130 m2 with a small, long garden of 200 m2, for 1,700 €/m2. This old working-class neighbourhood still offers a few examples to renovate, from 1,200 €/m2. In Le Corporal, the clientele is the same, though the houses are slightly bigger, ranging from 130 to 170 m2, with gardens of 1,000 m2. Families appreciate the immediate proximity of the centre, hardly a 10-minute walk, and pay on average 1,700 €/m2. It also takes ten minutes to reach the heart of town from La Cercloise and Roulandou. On the market here, one finds houses with small gardens (180,000 to 200,000 €) and a few apartments in residences built in the 1970's/1980's (120 m2, from 140,000 to 150,000 €). Another neighbourhood, Lameilhé, offers houses built from the 1950's to 1970's, where living space of 90 to 110 m2 costs from 90,000 to 120,000 €.
"Military personnel based in Castres are ready buyers in Lameilhé," says Nicolas Marcou of the Agence Castraise. They live there for a while and when transferred, they rent out easily, for about 600 €/month. If they return to Castres, they take back their homes. "While preferring the town and its immediate surrounding area, the locals also buy outside the commune. Small villages such as Saïx and Viviers-les-Montagnes are doing quite well. Toulouse is easy to reach from these addresses, and the area has turned that into an asset. Very popular houses all at ground level are legion here. They are not on estates, but rather scattered around, with generous gardens of 2,000 m2 and living space of around 120 m2. They are worth 220,000 € to 240,000 €. Then some people working locally, fond of the country, acquire pleasant properties or small farmhouses, within a radius of 10 to 15 km around Castres. They are looking for houses full of charm, dating back to the 1900's, to renovate or not : when perfectly restored, they fetch from 200,000 € to 250,000 € (living space of 200 m2 with a garden and pool). For a restored farmhouse of 180-200 m2 with outbuildings, on about 2.5 acres of land, one can expect to pay from 400,000 to 450,000 €. Only 25 % of the market for second residences is made up of French clients, mostly from Paris, who buy with the intention of living full-time in Castres when they retire. The remaining 75 % of this market is comprised of Dutch, Belgian, English, a few Spanish, and even rarer Canadian buyers. In these cases, it's a matter of "love at first sight" with the houses themselves winning the day. The only imperative is to be one hour at most from the airport. It's worth noting that the properties chosen are usually old, already renovated with quality materials. There are then two possibilities : the renovation has either respected the existing style, possibly treating it to Provençal floor tiles and all the charm of yesteryear, or has made an about-turn, opting for a home designed by an architect with loftier volumes and omnipresent modernity. In both cases, a view is a bonus, together with a pool (or at least the possibility of adding one). A very desirable property of this kind, offering living space of 300 m2 starts at 500,000 € and can attain 700,000 €. In the area surrounding Castres, small châteaux can be found for 1 million euros.
While 2011 was not, generally speaking, a particularly tough year for Castres, its estate-agents are expecting a lot from the project for a Toulouse-Puylaurent motorway, which would open up the commune. "Castres will then benefit from economic development which would be positive for its property market," explains Bruno Maurel of P & B Patrimoine. "We have all the basics, we just need the plan to be carried out. Last year, we chalked up more sales than in 2010, though the properties concerned were mostly priced around 120,000-130,000 €. If you compare the market in Castres to that of Albi, 40 km away, you'll see that prices here are 20 to 25 % lower." Initially, the motorway was scheduled for 2013, today it looks more likely to be 2016. An observation shared by Nathalie Robin of Abri Immobilier : "The fact that we are in an enclave does indeed put a brake on the market. Though Castres also faces a problem which it shares with others : properties are often too highly estimated and one has to explain to owners that they will not sell at those prices. Lower prices and a return to reason seems to me to be essential."
You will also like