Aubenas and the surrounding region
70 km from Val­ence and 45 km from Montélimar, this commune in the south-eastern part of the Ardèche is not far from the famous gorges, Mont Gerbier-de-Jonc and the Cévennes, the medieval village of Largentière and the thermal spa of Vals-les-Bains. From its rocky spur, it offers a commanding view of the valley.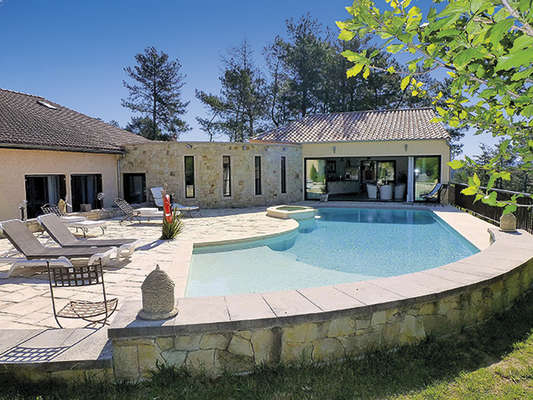 Au sein d'un secteur prisé et résidentiel, cette maison d'architecte affiche environ 400 m2 sur une parcelle de 1548 m2. 595.000 €. L'Immobilière (04 75 93 55 30).
The capital of the southern Ardèche is home to 11,330 people, with a further 57,800 in its urban area, all delighted to enjoy a Mediterranean climate and lots of sun. It makes its living from commerce, tourism and the agro-food industry. A mediatheque, two stadiums, two gymnasiums, a multi-sport centre and sailing centre, not forgetting schools up to secondary level... All the facilities required for everyday life are right on hand.
"Aubenas serves as an urban centre for a homogeneous area which extends beyond its supposed boundaries," says Gilbert Uribes of L'Immobilière. "There are others in the département such as Annonay and Le Teil. Except that Aubenas is located in the southern part of the Ardèche, a quiet region with a temperate climate, and relatively safe. The panoramic views are extremely varied, from vales to plateaux, mountains to rivers." Within its perimeter, some properties still post affordable prices even though this is a tourist area. Out of every ten sales completed, one or two are acquired by buyers from large French cities, looking for peacefulness, sunshine and quality living conditions. This clientele is likely to pay from 270,000 to 400,000 €, while locals can only afford homes costing 200,000 € at most. One of the most recent sales handled by this estate-agent was a plot of 1,000 m2 with building rights for a house of 300 m2, acquired for 70,000 € within a total budget of 195,000 €. Buyers now in fact seem to function within the context of a budget, especially as conditions for obtaining mortgages have become quite drastic. In this particular case, the house will not execeed 120 m2, though it may benefit from residual building rights at a later date. Another sale involved a single-storey house of 85 m2 in need of refurbishment, with a garden of 350 m2, priced at 145,000 €. Finally, clients from Lyon, spending their holidays in Aubenas before settling in year-round when they retire, acquired a building plot of 1,000 m2 for 75,000 €, intending to spend a total 320,000 € on their new home.
Sandrine Raoux of Terre d'Ardèche is based in Lavilledieu, 10 minutes from Aubenas, 15 minutes from Vallon-Pont-d'Arc and the gorges, and 20 minutes from the TGV station in Montélimar. Unlike the communes at the entrance to the gorges, this one is lively throughout the year thanks to an array of well-established infrastructures. Apart from two transactions concerning holiday homes, the sales handled by the agency over the past year involved year-round homes and a majority of new or recent villas of about 90 m2 with gardens of approx. 1,000 m2, priced around 200,000 €. In today's climate, fans of older properties, often expensive, are thin on the ground. By way of example, two houses with lots of character totalling 240 m2 on almost 35 acres of land with a swimming pool, in a wonderful environment, bear a price-tag of close on 598,000 €. Despite undeniable value for money, the property has not received a single visit. In 2007, this type of property would have found a taker in next to no time. The crisis thus seems to have weakened the market for second homes and contributed significantly to the decline in budgets. Over and above 350,000 €, it's hard to get clients to sign on the dotted line. Yet the address still shows promise, especially for potential buyers from the Lille, Paris, Lyon and Grenoble corridor, known as being fans of rural landscapes.
You will also like